8 Great Cooking Channels To Subscribe To On YouTube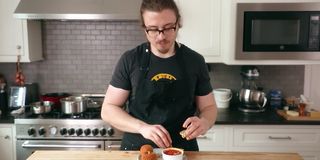 With a new year comes new resolutions, and occasionally that means learning to cook can be a wary thing for people to handle. Trying to figure out how to cook the perfect steak, to finding the best way to make bread or all the possible ways you can fry an egg – it can be overwhelming at times.
Cooking shows have been around since the dawn of television, and while streaming on popular websites like Netflix or Hulu is nice, there are plenty of other options out there that don't require any subscription – specifically YouTube. The popular video platform has been giving chefs, new and seasoned alike, the ability to share their skills with the world, revealing recipes that the beginner or expert chef could pick up within seconds.
From baking, frying, or sautéing, these are some of the best channels to look to if food is in your future.
Binging With Babish
Now, this was one of the first online cooking shows I ever watched, and for good reason. Binging with Babish is a great channel to check out for beginners, especially because the man himself has a whole entire series dedicated to learning the beginner tips of cooking, called Basics with Babish. If someone is looking to just start out cooking, this is one of the best places to go, as he'll take you through so many different recipes, from learning how to make bread to making short ribs.
Another key aspect of his channel is that Babish (his real name is Andrew Rea) recreates key menu items from movies, TV shows, and video games. For example, he's done the ratatouille from Ratatouille, Kronk's spinach puffs from Emperor's New Groove, and many more. And along the way, he teaches you how to do it yourself.
Check Binging with Babish out on YouTube here.
Joshua Weissman
This man is a legend of cooking, due to the skills that he has. Joshua Weissman is a master at making everyone's favorite comfort food – but making it better. Think of the McDonald's McFlurry, or Pizza Hut pizza – Joshua aims to make those popular items that the public loves so much, but with more taste, spice, flavor, or all of the above, with step-by-step instructions. For the junk food lover who wants to start saving money on take-out, this is your guy.
Joshua also does some simple episodes too for beginner cooks and uses ways to somehow make meals cheaper. In one of his recent videos, he was able to make sushi for under two dollars a roll – something that's pretty astounding compared to how expensive sushi usually is.
Check out Joshua Weissman on YouTube here.
Laura In The Kitchen
Back when I was a wee little girl who was just learning how to cook, Laura in the Kitchen was my girl to go to. Having been on YouTube for years, Laura shows viewers how to cook some of the most basic recipes out there, like spaghetti or chicken parmesan, with simple recipes to follow.
But on other occasions, she will step out of her comfort zone and make something like Japanese cabbage fritters -- something totally different that's still just as delicious. Laura also has some baking videos on her channel as well if you wanted to check those out, from cinnamon rolls to pies, with some of the easiest recipes to adapt - a way to replace those cinnamon rolls you might have been missing from Disney. She's a jack of all trades when it comes to cooking.
Check out Laura in the Kitchen on YouTube here.
Rosanna Pansino
I feel like if you're into anything related to the kitchen and streaming content, you know about Rosanna Pansino. She is one of the most subscribed cooking channels on YouTube, with 12.7 million subscribers, and has been steadily going strong for years now.
Rosanna has been recreating some of the pastries from our dreams in her desserts and creations, as well as some other options. Rosanna has made viral videos of Frozen cakes, My Little Pony cupcakes, and plenty more on her segment called Nerdy Nummies, even putting out a cookbook to show off her work and for people to use. Not only that, but she's done other videos as well related to food, such as cooking cakes in crockpots, because why not?
Check out Rosanna Pansino on YouTube here.
Jamie Oliver
While he is famous for television appearances and his restaurants, Jamie Oliver has a YouTube channel that really helps beginner cooks learn the absolute minimum for cooking. From there, those skills can be transferred into other recipes on his channel that require a little bit more skill but are worth the practice to make.
He teaches viewers how to make a variety of meals, from breakfast to lunch to dinner, and even has plenty of Vegan options for people to choose from as well. I remember the first time I ever tried to learn how to poach an egg, it was from Jamie Oliver, and now I'm learning to make Eggs Benedict at least once a week. He explains things simply, and that's what you need when you're first starting to cook.
Check out Jamie Oliver on YouTube here.
Tasty
Tasty is actually a subsidiary of Buzzfeed that became so popular it ended up getting its own channel. Tasty has a variety of videos to choose from. Some are simple recipe videos that anyone can follow, most of which can be found in their cookbooks out in the world as well.
Other videos feature the chefs of Tasty making things like three different kinds of chicken wings that take a different amount of time, to trying to make candy fancy. I sort of think of Tasty as my go-to for food-fun videos. While they do teach you how to cook all the time, from healthy meals to cheat-day treats, it is entertaining to see someone try and make a huge chicken nugget.
Check out Tasty on YouTube here.
Gordon Ramsay
The man, the myth, the legend – yes, the Gordon Ramsay has a YouTube channel and it is as popular as you would expect it to be, with nearly 17 million subscribers. But thankfully there will be no yelling at you in these videos as you learn how to cook from the famous chef.
But wait, you must be thinking that because it's Gordon Ramsay, the recipes have to be fancy? Nope. In fact, he's made all simple kinds of recipes, from learning how to make the perfect grilled cheese, to trying to learn how to properly cook a steak. Gordon is really there to help you and give you the skills to adapt, despite his reputation. That way, you can take on those heavy-set recipes in the future. Trust me, there's a reason why his food is so popular. The guy knows what he's doing.
Check out Gordon Ramsay on YouTube here.
Epicurious
I adore Epicurious, specifically for the videos that feature three different levels of chefs, and a food scientist at the end to analyze each recipe. They all have completely separate recipes for the same type of food, and it's so interesting to see how different-leveled chefs prepare the meal. Some examples of what they have done are brownies, lasagna, burgers, and more.
What makes these videos even better is that they show you directly how to make what they are making. So whether you want to stick to the level one chef, or go all the way up to level three if you're feeling ambitious, you're able to. They really give you free rein over what you want to do. Just be careful with some of those level three recipes – you might need to get some fresh cilantro for that sort of stuff.
Check out Epicurious on YouTube here.
Whatever channel you choose to proceed to, no doubt there will be plenty of new recipes for you to follow and get your cook on. What are you excited to make?
Big nerd and lover of Game of Thrones/A Song of Ice and Fire. Will forever hate season eight. Superhero and horror geek. And please don't debate me on The Last of Us 2, it was amazing!
Your Daily Blend of Entertainment News
Thank you for signing up to CinemaBlend. You will receive a verification email shortly.
There was a problem. Please refresh the page and try again.