Tulsa King's Success Already Has Paramount+ Thinking About Spinoffs, And I Have Three Ideas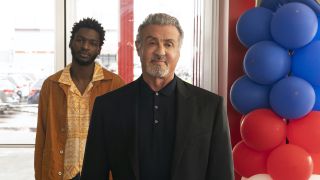 (Image credit: Paramount+)
There will be spoilers for Tulsa King Season 1 in this feature, so back out now if you haven't yet watched it, and want to remain unscathed.
Once upon a time, there was Yellowstone. And it was good. So good, in fact, that it spawned 1883, which in turn led to 1923. They also were good. So when Yellowstone mastermind Taylor Sheridan cooked up the idea for a Sylvester Stallone series titled Tulsa King, and joined forces with Boardwalk Empire's Terence Winter, we assumed it also would be good. And it was. In my own personal opinion, it's some of the best stuff Sylvester Stallone has done. That's saying something. Which explains why executives at Paramount+ are talking about the possibility of expanding the Tulsa King universe… and I have three ideas on directions in which the spinoffs could go.
Tulsa King, at the moment, centers on New York gangster Dwight Manfredi (Sylvester Stallone), who gets ostracized by his Mafia family after spending 25 years in prison for what we learn is a mercy killing. Manfredi is sent by his bosses to Oklahoma, where they assume he'll dry up and blow away. Only, Manfredi figures out how to earn… and create a lot of problems for the locals. Due to the events that happened in the season finale (read more about them in this article), Dwight seems to be on a collision course with a character we thought was an ally. No spoilers. Go watch the show, if you have a Paramount+ subscription.
Speaking with Indiewire, Paramount+'s chief programming officer Tanya Giles was asked about the possibility of spinning out on Tulsa King and giving the show the Yellowstone treatment following its successful debut season. And she replied:
Given what we know about the first season of Tulsa King, and the threads it will continue to pull on moving forward, here are three areas of the story that could easily be explored further with a spinoff show.
The Invernizzi Crime Family
We first met this crime "family" when Dwight Manfredi was released from prison in the pilot episode of Tulsa King, and made his pilgrimage to pay tribute to and kiss the ring of Pete "The Rock" Invernizzi (A.C. Peterson). The family immediately banished Dwight to Tulsa, but you know that's a sliver of the activity the Invernizzi's were running through Pete, his short-tempered son "Chickie" (Domenick Lombardozzi), and their various soldiers.
A spinoff focusing on the comings and goings of the Invernizzi family could shift the focus back to Manhattan, where you just knew a cesspool of criminal activity is happening under Pete's watch. It would allow Dwight (Sylvester Stallone) the opportunity to periodically check in, but primarily focus on the Manhattan members of this enterprise, and the various wars they likely are having with rival families around the area. It's never a bad idea to explore the gangster lifestyle in a weekly format. Terence Winter also has plenty of experience from The Sopranos, and would make for an excellent showrunner on this potential program.
The Black Macadams
This next idea veers closer to a Sons of Anarchy or Mayans M.C. type program, of which we also could use more. When Dwight started to expand his operations in Tulsa, he branched into marijuana, which led him to nitrous oxide, a valuable commodity in a community that loves finding new ways to get high. Only, nitrous already was being provided in the vicinity by an outlaw biker gang called The Black Macadams. Their leader, Caolan Waltrip (Ritchie Coster), took an interest in Dwight as the season went on… leading up to an epic confrontation in the season finale of Season 1.
And yet, similar to the Invernizzi crime family, it feels like Tulsa King only scratched the surface of what The Black Macadams were up to when they weren't dealing with Dwight and his small crew. Waltrip was on the ATF's radar, and likely is a small cog in a much bigger machine that's providing illegal drugs to a complete network that spreads throughout the West. Paramount+ can explore an alternate type of violence, drama, and intrigue if it decided to plunge audiences into the world of the outlaw bikers working over Caolan. Just look at the fear he put into Roxy after learning that she had been double crossing the crew?
Young Dwight Manfredi
This was another surprise feature of the Tulsa King season finale. In a fiery flashback scene, we got to witness the murder Dwight reluctantly pulled off that got him sent away for 25 years. So much of Tulsa King's tone is established by the regret Dwight feels over that act – and the time it cost him – that I think more stories from this compelling gangster's past could power a spinoff.
Now, you couldn't do a CGI Sylvester Stallone for an entire season. But given the fact that the Yellowstone universe of shows dips into the past legacies of the family line, a Tulsa King spinoff showing the early days of the Manfredi family could be interesting, maybe even one that does a Godfather Part II angle and establishes its action in Italy? We followed Dwight to Tulsa. Why not follow his ancestors to Tuscany for a spinoff series?
Either way, it's very encouraging to hear that Paramount+ believes enough in Tulsa King to now only continue it for Season 2, but to possibly dig deeper beneath the surface of its stories and characters to find new directions in which showrunners can go. It does feel like very fertile ground to explore, so as they say, let's strap in and see where it all goes.
Your Daily Blend of Entertainment News
Sean O'Connell is a journalist and CinemaBlend's Managing Editor. He's frequently found on Twitter at @Sean_OConnell. ReelBlend cohost. A movie junkie who's Infatuated with comic-book films. Helped get the Snyder Cut released, then wrote a book about it.