Upcoming Yellowstone TV Shows: What's Ahead For The Series And Upcoming Spinoff And Prequel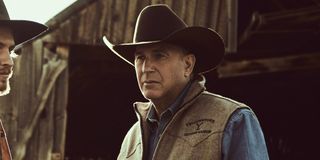 I would love to know what was going through Taylor Sheridan's head the moment he initially pitched Yellowstone all those years ago. I wonder if he knew that his neo-western show about a family struggling to maintain their way of life in Montana would become one of the biggest shows on television and spawn multiple seasons, not to mention spinoff and prequel series that will soon anchor an entire streaming service from one of the biggest entertainment entities. Regardless if Sheridan, or Kevin Costner, knew what the future would hold, here we are, anxiously awaiting the arrival of Yellowstone Season 4, 1883, and 6666, and whatever else the writer/director has in store for us.
Below is a breakdown of each of those upcoming Yellowstone shows, where you'll be able to see them, as well as two other projects Taylor Sheridan has coming out in the very near future.
Yellowstone Season 4 - November 7, 2021 (Paramount Network)
In the months following the shocking Yellowstone Season 3 finale with all those cliffhangers, fans of the Paramount Network's crown jewel have been going crazy with all those Yellowstone fan theories, rumors, and other speculations about John Dutton and the rest of the family on and off the ranch. Hell, even the writer behind Dallas' iconic "Who Shot J.R.?" cliffhanger had something to say about the way things ended in September 2020.
While there are more than a few things that need to happen when Yellowstone Season 4 premieres November 7, 2021 on the Paramount Network, the biggest concern from the show's diehard fans has to do with the status of family patriarch John Dutton. His fate is still up in the air, but you can guarantee there will be some sweet, sweet revenge being carried out if the upcoming season's teaser trailer is to be believed. You can't say something like "Revenge will be worth the wait" without going through with such a lofty promise.
There is also that business about Jefferson White, who plays Jimmy Hurdstram, saying Yellowstone's next chapter is the best season yet. And this very well may be the case with the additions of Jacki Weaver, Piper Perabo, and Kathryn Kelly to the show's large ensemble cast.
1883 - December 19, 2021(Paramount+)
It was only a matter of time before there was a Yellowstone prequel series, especially with a family and location with unexplored stories coming from every direction, and now it is becoming a reality. Announced ahead of Super Bowl LV, 1883, which will land on Paramount+ on December 19, 2021, will serve as an origin story to the main series and follow the Dutton family as they set off for a new life in the American West back in the late 19th Century. Leaving their old life, civilization, and creature comforts behind, the Duttons will push through the Great Plains before setting off for the wild unknown that is Montana over the course of the show.
And while there are a great deal of unknowns surrounding 1883, there are actually more than a few things we already know about the series in addition to its basic premise, speculation about the significance of its title, and how it could continue the franchise for years to come. The biggest one? 1883 has already started to assemble a notable cast which includes Sam Elliott, Faith Hill, and Tim McGraw.
6666 - TBD (Paramount+)
1883 isn't the only show set within the world of Yellowstone to be making its way to Paramount+ in the future as the spinoff series 6666 (working title) is currently in the works. Unlike the prequel series which will be set in a different time period and not feature any of the main show's characters (for obvious reasons), 6666 sounds like it will be more closely tied to Yellowstone proper in that it features two characters from the Paramount Network powerhouse though in a much different setting, per the show's logline:
Taking up residence at this new West Texas ranch will be Jimmy Hurdstrom (Jefferson White) and Walker (Ryan Bingham, who has a remarkable story), though it remains unclear if they will be sticking around after Yellowstone Season 4 or if there will be a cross-show arc to bridge that gap. It also remains unclear as to when 6666 will debut on Paramount+ or if the working title will be thrown out for something else.
Other Upcoming Taylor Sheridan Projects
But it isn't all Yellowstone for Taylor Sheridan, as the Oscar-nominated screenwriter, director, and producer has several upcoming movie and TV projects on the horizon. Here's a quick breakdown of each of those…
Mayor Of Kingstown - November 14, 2021 (Paramount+)
Taylor Sheridan will be getting back together with Wind River star Jeremy Renner for the upcoming Paramount+ series Mayor of Kingstown, which is set to premiere November 14, 2021. The show will center on the McLusky Family, a powerful and well-connected family in the town of Kingstown, Michigan, who was kept the community afloat through the business of incarceration. In addition to Renner, who will lead as Mike McLusky, the series will also feature Dianne Wiest, Hugh Dillon, Pha'rez Lass, Tobi Bamtefa, Emma Laird, Derek Webster, and Taylor Handley.
Mayor of Kingstown crime drama will kick off just 10 days before Renner reprises his role as Clint Barton on the Disney+ Marvel TV show Hawkeye, which is set to premiere November 24, 2021.
Lioness - TBD (Paramount+)
Taylor Sheridan is also working on yet another Paramount+ series under the title Lioness. According to Deadline, the series will follow a young marine who is recruited to befriend a terrorist's daughter in hopes of bringing down the organization from the inside out. Not much is known about the project at this point, but be on the lookout for more information in the coming months.
Land Man - TBD
Based on the 11-part Texas Monthly Podcast Boomtown, Taylor Sheridan's Land Man has been described by Deadline as being a modern day tale of fortune seeking in the West Texas oil and gas industry. The series, which doesn't yet have a release date, cast, or all that much information, will debut on Paramount+ at some point in the future.
Those are just the confirmed projects from the Yellowstone franchise and the mind of Taylor Sheridan. With a franchise as successful as the Paramount Network mainstay and writer/director/producer as busy as Sheridan, this looks like it's only the beginning. Speaking of successful television franchises, don't forget to check out all the new and returning shows on the Fall 2021 TV schedule.
Philip grew up in Louisiana (not New Orleans) before moving to St. Louis after graduating from Louisiana State University-Shreveport. When he's not writing about movies or television, Philip can be found being chased by his three kids, telling his dogs to stop yelling at the mailman, or yelling about professional wrestling to his wife. If the stars properly align, he will talk about For Love Of The Game being the best baseball movie of all time.
Your Daily Blend of Entertainment News
Thank you for signing up to CinemaBlend. You will receive a verification email shortly.
There was a problem. Please refresh the page and try again.