Yes, That Emma Watson Mistake Has Been Confirmed By The Harry Potter Anniversary Producers, And Will Be Fixed
By Mike Reyes published
If only they could Obliviate the audience into forgetting it happened in the first place.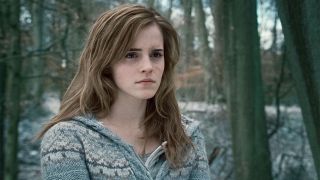 (Image credit: Warner Bros.)
As die hard fans jumped into the heartwarming reunion that was Harry Potter 20th Anniversary: Return to Hogwarts, a rather glaring error presented itself early on. By total accident, a photo of actor Emma Roberts was used in a segment that was supposed to be showing young Emma Watson, in her pre-Potter childhood. Thanks to the eagle eyed fans that spotted this mistake, the producers of the special have confirmed that there was a mixup, and have promised that all will be fixed.
Responding through a statement made to EW, the producers of the recent HBO Max special fessed up to the unintentional switcheroo. Even better, the promise of a "new version," with the correct childhood photo of Ms. Watson, isn't going to be far off. Here's what the short, but sweet, statement said:
While the confusion between the American Horror Story star and Hermione Granger herself was noticed rather quickly, it certainly didn't spoil the enjoyment of the special at large. It's still interesting to try and think how such a mistake was possible, but when stories of Daniel Radcliffe admitting his crush on Helena Bonham Carter are in the mix, the joy of the Harry Potter legacy is easy to keep in frame. Also, this mistake reads better than the potential to confuse Emma Watson's childhood photos with that of fellow Wizarding World co-star Emma Thompson.
To cut those who worked hard on Harry Potter 20th Anniversary: Return to Hogwarts some slack, there's definitely a slight resemblance between both Emmas in that photo. It's not enough that someone wouldn't have eventually noticed, so this situation would have still needed to have been resolved. And yet, there's enough of a grey area here that we'd like to suggest that still in the works Face/Off sequel include Emma Watson and Emma Roberts somehow swapping faces; just to make things a little more fun.
In case you've come into this story after the updated version of Harry Potter 20th Anniversary: Return to Hogwarts has been sent to the HBO Max library, here's the scoop on what happened. Upon the initial release of the finished product, someone noticed that a photo of a little girl in mouse ears wasn't Emma Watson. As she talked about her connection to the legacy of the books, the photo from Emma Roberts' Instagram post embedded below came up on screen:
Putting this editing snafu aside, there's a chance that this HBO oopsie can now replace the Game of Thrones coffee cup debacle as the network/streamer's gaffe of pop culture choice. At least the producers didn't try to throw anyone under the bus on this trip around the internet, and Harry Potter fans can be proud of their internet sleuthing skills yet again. Whether that mistake is still online by the time you read this rundown or not, Harry Potter 20th Anniversary: Return to Hogwarts is available to enjoy on HBO Max, along with all eight installments of the franchise. Oh, and a suggestion to Emma Roberts: have your agents try to get you in on the fun and games for the next two Fantastic Beasts sequels. There's clearly a connection to be made here.
CinemaBlend's James Bond (expert). Also versed in Large Scale Aggressors, time travel, and Guillermo del Toro. He fights for The User.