The Flash Showrunner Elaborates On Scrapped Blackest Night Storyline, Reveals It Would Have Been A Major DC Crossover
I wish this would've happened.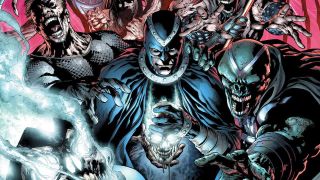 (Image credit: DC Comics)
After nine seasons, and just a few weeks ahead of the long-awaited The Flash movie premiering in theaters, The CW's The Flash TV series is now over. The final episode, titled "A New World, Part Four," wrapped up various plot threads and even left the Speed Force Door open for possible spinoffs, but there were also a lot of ideas that showrunner Eric Wallace and his team had to toss aside once the show's fate was decided. Among those was a Blackest Night adaptation, and among the new details Wallace has shared about The Flash's version of the scrapped storyline is that it would have been a major DC crossover.
Written by Geoff Johns, illustrated by Ivan Reis, and published between June 2009 and May 2010, Blackest Night was a Green Lantern-centric crossover event that saw numerous dead heroes and villains in the DC Universe being resurrected as Black Lanterns to serve the personification of death known as Nekron, who sought to eliminate all life and emotion from existence. The Flash dipped into this story a bit in Season 8 with its use of Deathstorm, but as Wallace told EW, he initially planned to follow up the "Death Revisited" arc with a full-blown Blackest Night saga:
In the comics, Deathstorm was initially just Ronnie Raymond's corpse reanimated as a Black Lantern, but then in the Brightest Day event, a sentient version was introduced that came into being through the Firestorm matrix being combined with the Black Lantern Corps' power. This was the version that The Flash's Deathstorm was inspired by, though the show instead fashioned it as a cold fusion entity that gained sentience after Robbie Amell's Ronnie sacrificed himself in the Season 2 premiere. Danielle Panabaker's Frost gave her life to defeat Deathstorm, but as Eric Wallace explained, that would have paced the way for Nekron to unleash his army on the universe Blackest Night-style.
While the showrunner didn't make it clear if The Flash's take on Blackest Night would have involved actual Green Lanterns (though that would have been a good way to follow up on John Diggle's cosmic Arrowverse storyline), he did say that the event would have included the show's heroes teaming up with characters from Superman & Lois, Titans and Stargirl, all of which take place in other universes:
So had The Flash's Blackest Night gotten off the ground, it sounds like this would have been the Arrowverse's biggest crossover since Crisis on Infinite Earths, which saw a new multiverse being created and all the main CW DC shows at the time being established on Earth-Prime. Unfortunately, once it was decided that The Flash would end, Blackest Night ended up on the chopping block, though it wasn't alone. Eric Wallace also mentioned that the "graphic novel" The Forever War was cut, which would have kicked off Season 10 and seen Barry, Iris and their allies dealing with a despot from the 64th century called the Chronarch, whom David Dastmalchian's Abra Kadabra mentioned in Season 7.
The Flash fans will just have to imagine what would have specifically unfolded in Blackest Night and The Forever War, but the good news is that along with the shows first eight seasons being available to watch with a Netflix subscription, the final season will arrive on the platform June 1. You can also peruse our guide of upcoming DC TV shows to learn what this corner of the superhero media market has in the world.
Your Daily Blend of Entertainment News
Connoisseur of Marvel, DC, Star Wars, John Wick, MonsterVerse and Doctor Who lore. He's aware he looks like Harry Potter and Clark Kent.