I'm Bummed One Ant-Man And The Wasp: Quantumania Star Had Such A Small Role To Play
Could have been fantastic...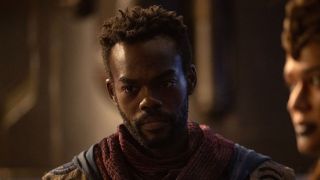 (Image credit: Marvel Studios)
SPOILERS are ahead for Ant-Man and the Wasp: Quantumania. Proceed with caution!
Look, Marvel casting has always been on point. The studio knows how to find the right actor to adapt comic book favorites into believable on-screen characters to root for or fear, and it has done so for decades. However, when it comes to Ant-Man and the Wasp: Quantumania, the latest Marvel movie, I have one gripe about the casting. Why was The Good Place and Love Life actor William Jackson Harper so underutilized?
William Jackson Harper is a 43-year-old actor with an exciting resume to his name, but Ant-Man and the Wasp: Quantumania is his first blockbuster film. He's best known for his lovable role in the NBC hit series The Good Place, where he played Chidi Anagonye, a professor of ethics and moral philosophy who finds himself experiencing the afterlife alongside a group of misfits played by the likes of Kristen Bell, Jameela Jamil and Manny Jacinto. Harper has also been in the horror favorite, Midsommar. I, along with many fans of the the actor, had high hopes for a bigger MCU role for the actor, but now that I've seen Quantumania, I'm officially bummed he had such a small role to play in the movie... figuratively and literally.
William Jackson Harper Was Rumored To Play A Fantastic Role
When it was announced that William Jackson Harper had been cast in Ant-Man and the Wasp: Quantumania in October, it was reported that his role was a "closely guarded secret," leading many fans to believe he was going to play a key role in the MCU. The most predominant rumor that began to emerge was that Harper could be introduced as the franchise's Reed Richards (a.k.a. Mr. Fantastic) ahead of the MCU's Fantastic Four movie being among upcoming Marvel movies and set for release on February 14, 2025.
Many Marvel fans jumped to the idea of William Jackson Harper being cast as Reed Richards because 1) he's best known for playing an academic type thanks to his most famous role in The Good Place, and 2) we knew Jonathan Majors' Kang the Conqueror would be introduced in the movie, and he's well known in the comics for being a descendant of the Fantastic Four founding member. Given the origins of Kang and the forthcoming Fantastic Four movie needing to be set up at some point, it just made sense to fans. The casting idea was even popular amongst CinemaBlend's staff when we did our own fan casting for MCU's Fantastic Four back in 2020. Harper found himself in the flurry of another grand (but untrue) fan rumor, but it was an inspired idea that I walked into Quantumania thinking about.
The Role William Jackson Harper Plays In Ant-Man 3
William Jackson Harper had a small supporting role in Ant-Man and the Wasp: Quantumania, playing Quaz for around ten minutes of screen time in the big-budget Marvel movie. Harper provides some fun comedic relief as a member of the Quantum Realm's freedom fighters who is a telepath and reading Paul Rudd's Scott Lang's mind after he is captured by them. Quaz is a character who was invented for the purposes of Quantumania. While the third Ant-Man movie is all about the little guy, Quaz feels like a throwaway character to bring some comedy along the way, as opposed to Harper being utilized for a larger role that can continue to grow.
Now there has been an instance of a great actor being used for a small role like this and then getting a much bigger role in another Marvel movie, so perhaps that could happen for William Jackson Harper. I'm specifically talking about Gemma Chan, who first briefly played Minn-Erva in Captain Marvel before finding a leading role in Eternals as Sersi. But in terms of where we currently are with Harper, he was chosen for a small role in Ant-Man 3, and it feels like a missed opportunity for the actor to find a leading role in the MCU.
Why I'm Bummed About William Jackson Harper's MCU Role
The MCU has served as an avenue in the past for actors to become icons. Chris Hemsworth and Tom Hiddleston's roles as Thor and Loki are prime examples of actors who instantly became massive names as a result of portraying Marvel characters. Since being a fan of The Good Place, I've been rooting for William Jackson Harper to be in more movies and television shows, and don't get me wrong, he's doing great for himself. Since wrapping The Good Place, he's been in numerous shows, like The Underground Railroad, Love Life and The Resort, along with a 2021 sweet comedy called We Broke Up. It just would have been so dang cool if he was Reed Richards in the MCU.
He'd absolutely kill it as a Marvel leading man, and Reed Richards is an especially great role for him. William Jackson Harper has a great ability to offer a depth to his roles while also being really funny and charismatic. This is the kind of energy I want for the MCU's Reed Richards after the brooding 2015 Fantastic Four movie starring Miles Teller in the role, and the ultra cheesy version from the mid-2000s that starred Ioan Gruffudd as Reed.
I guess what it comes down to is the fact that I fell into a good rumor and wanted it to be true so badly that when it was wrong, I was not happy about it. Remember when Spider-Man: No Way Home leaks were going off on the internet? I thought it was impossible, and then Tobey Maguire and Andrew Garfield's roles in it absolutely blew my mind. Even though I'm bummed that William Jackson Harper is not the MCU's Reed Richards, it was truly great to see him part of a Marvel project. I just hope he'll be given more major roles going forward.
For the time being, we don't know much about the direction of Fantastic Four aside from its 2025 release date and the fact that WandaVision's Matt Shakman has signed on to direct the flick. The latest report is that casting is about to begin, with Sue Storm reportedly being chosen first before the rest of the Fantastic Four team is cast. We'll keep you updated here on CinemaBlend regarding Fantastic Four and other MCU news.
Your Daily Blend of Entertainment News
YA genre tribute. Horror May Queen. Word webslinger. All her writing should be read in Sarah Connor's Terminator 2 voice over.