Now That Marvel's Ant-Man And The Wasp 3 Is Out, It Confirms That The Major Script Leak Was True
Spoilers ahead, so beware.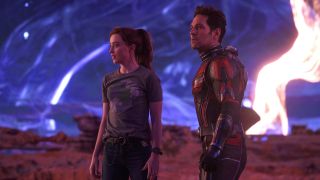 (Image credit: Marvel Studios)
The following story is going to get into massive spoilers for Ant-Man and the Wasp: Quantumania. Do not read this article if you haven't yet seen the film, and still want to go into it unspoiled.
Marvel Studios has always gone to great lengths to ensure its storylines, casting decisions, plot twists, and post-credit scenes remain under wraps until a movie reaches theaters. This doesn't mean it always works. The studio has endured a wide array of leaks over the years, from something as simple as new merchandise revealing a key detail to Marvel co-star Mark Ruffalo leaving his phone on during a World Premiere. Secrecy is hard, yet we were still shocked to see that the script for Ant-Man and the Wasp: Quantumania landed online a month before the movie was released. And now that the movie is out, it turns out that leak was accurate.
Related: Marvel Movies In Order: How To Watch The MCU By Release Date And Chronologically (opens in new tab)
We're not going to link to any leak. We still believe in going into any movie, specifically a Marvel one, knowing as little as possible makes the ride that much more enjoyable. However, having now seen the movie, we can confirm that a number of key details that were in the leaked script (which was basically presented as just lines of dialogue and didn't spell out specifics) absolutely showed up in the final film. This dates all the way back to the first look we got at Jonathan Majors' Kang the Conqueror courtesy of a stunt team member t-shirt. Also, there were things that were NOT included. Let's discuss them below.
Here's What Was In The Ant-Man Leak
Roughly 95 percent of details that one could read in the Ant-Man and the Wasp: Quantumania script ended up in the finished movie… so whomever got their hands on this dialogue and shared it had access to the real thing. As was revealed in the leak, Scott Lang (Paul Rudd) was a published author, and his extended "family" makes fun of him for it. Cassie (Kathryn Newton) does get sprung from prison, though she's in there for activism reasons… not because she's a criminal, like her father used to be.
As was shown in the Ant-Man and the Wasp: Quantumania trailer, the group gets sucked into the Quantum Realm when Cassie sends a signal down into it. And in the Quantum Realm, Scott, Cassie, Hope van Dyne (Evangeline Lilly), Hank Pym (Michael Douglas) and Janet van Dyne (Michelle Pfeiffer) encounter Kang, a man who has been exiled there by other Kangs, and needs Ant-Man's specific skills in order to break free from this prison.
This all played out as stated in the script leak. It also revealed the fact that MODOK was Corey Stoll's Yellowjacket, banished to the Quantum Realm in the first Ant-Man movie. It revealed that Scott would agree to help Kang once the dictator took Cassie prisoner.
Here's Where The Movie Changed
The most significant, if only real, change to the movie from the version that was leaked to the version that's currently in theaters is who was left in the Quantum Realm following the final battle. As we pointed out in our Ending Explained feature, a bloodied Kang tries to stop Scott Lang from stepping through a portal and returning home. Scott is willing to sacrifice himself so that Kang doesn't escape the Quantum Realm. Only, Hope returns to the Realm and helps Scott ultimately defeat Kang.
In the leaked script, Hope doing that dooms the two of them to banishment in the Quantum Realm. Hope states that they likely will be OK, as Cassie now has the tech to track and retrieve them. But the leaked script definitely left Hope and Scott in the Quantum Realm, with Cassie, Hank and Janet safe at home on Earth.
Also, Kang survived in the version of the script that landed online. ComicBook notes that the leaked script ended on more of a cliffhanger, with Kang escaping and Cassie running simulations to try and rescue Hope and Scott. We don't see her rescuing them. And given the fact that Kang survived his confrontation with Kang, it meant that different factors could have been in play regarding how Marvel Studios would lead itself into the next Avengers movie, Avengers: The Kang Dynasty.
When you think about the fact that a version of the Ant-Man and the Wasp: Quantumania script might have left Scott in the Quantum Realm, it really does make the final scenes of the movie feel like a reshoot. We get another monologue from Scott, a dinner scene with the family members, and Lang basically just thinking to himself, "We took care of that Kang guy, didn't we?" Well, no Scott, you didn't.
But that all gets explained in the post-credit scenes, which feature many different versions (or variants) of Kang.
Based on the pending slate of upcoming Marvel movies, it might be some time before we learn of the next steps of Kang. James Gunn likely will not be contributing to the overarching arc of the Multiverse Saga, being content to just bring his trilogy of Guardians of the Galaxy movies to a satisfying conclusion. Maybe Adam Warlock will have a larger role in the ongoing story, but don't expect too much tie-in as part of May's big movie release.
Looking ahead to The Marvels, it's possible that they encounter some threat that's connected to Kang. We know next to nothing about the plot of The Marvels, save for the fact that it joins the three heroes of that pocket of the universe: Carol Danvers (Brie Larson), Monica Rambeau (Teyonah Parris), and Kamala Khan (Iman Vellani). Joins them against what? We're not sure, but we did witness a teleportation twist at the end of Ms. Marvel on Disney+.
But we do expect more of Kang's story to be explored in season two of Loki, which is expected to land on the Disney+ streaming service later this summer.
Your Daily Blend of Entertainment News
Sean O'Connell is a journalist and CinemaBlend's Managing Editor. He's frequently found on Twitter at @Sean_OConnell. ReelBlend cohost. A movie junkie who's Infatuated with comic-book films. Helped get the Snyder Cut released, then wrote a book about it.