Zachary Levi Explains Why Shazam Would Beat Black Adam If They Fought On Screen
He's been giving this a lot of thought.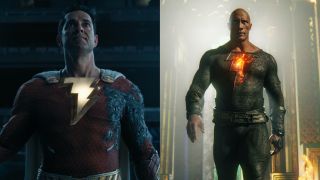 (Image credit: New Line Cinema/Warner Bros.)
Although Shazam and Black Adam are adversaries in the comics, these two have never crossed paths on the big screen. There was time when the latter was set to be the main antagonist in the former's first movie, but it was later decided that Dwayne Johnson's Black Adam debut was worthy of its own movie. As things stand now, it's not looking likely that Johnson's Black Adam and Zachary Levi's Shazam will ever collide, but if the fight were to happen, Levi is confident that his character would emerge victorious.
Zachary Levi discussed this hypothetical battle while appearing in a panel at FAN EXPO Cleveland with Shazam! Fury of the Gods costar Jack Dylan Grazer, who plays Freddy Freeman. CinemaBlend's own Laura Hurley was in the audience, and among the things she heard was Levi explaining to Grazer his rationale for why Shazam would beat Black Adam if they fought onscreen:
"Zachary Levi: I think it would be epic!
Jack Dylan Grazer: In the comics, Shazam beats him!
ZL: Ultimately, yes, because we're fucking good! We're good.
JDG: And we got a whole family behind us. He's just him, and maybe some foot soldiers that die immediately.
ZL: But also, if you're looking at the stats of the characters – we're doppelgängers, he's our evil twin. So it would be an incredible fight. There's a whole anime cartoon – I'm sure a lot of you guys have seen it – where it's basically Superman, Shazam, and Black Adam all having this awesome fight. That kind of stuff. I think that would be really cool. But I think ultimately, good wins. That's what I believe, anyway. That's what I want to believe, that good always wins over evil. That's how I would see it going."
While Dwayne Johnson's Black Adam is shown in an antiheroic light, just like how the character has chiefly been depicted in the comics for the last few decades, Zachary Levi mainly believes his version of Shazam would be the winner because he's all-the-way good. But, as Jack Dylan Grazer more practically pointed out, Shazam also has the benefit of being aided by the other members of the Shazamily, a.k.a. his superpowered foster siblings Freddy, Mary, Pedro, Eugene and Darla. That's nothing to sniff that, though I'd be remiss if I didn't point out that not only is Black Adam arguably more adept with these powers, he's unquestionably more ruthless, which gives him an edge in battle since he's willing to take certain actions that the Shazamily won't.
Needless to say there's no shortage of printed and onscreen stories featuring Shazam and Black Adam exchanging fisticuffs that you can look at yourself and see who was the winner in each scenario. But as far as the DCEU is concerned, as previously mentioned, we may never get to see if Zachary Levi is correct. Even ignoring the fact that both Black Adam and Shazam! Fury of the Gods critically and commercially underperformed, and there are no plans for Dwayne Johnson to reprise Black Adam anytime soon (if at all), but there's also been no connectivity established between these two characters outside of Dijmon Hounsou's Wizard being involved in both of their origins.
It's no secret that Dwayne Johnson wanted his Black Adam to someday battle Henry Cavill's Superman, as evidenced by the Man of Steel showing up in the Black Adam movie's end-credits scene. More importantly though, it was reported last week that Johnson not only put the kibosh on a Shazam cameo in Black Adam, but also prevented director Shazam! Fury of the Gods director David F. Sandberg from including any Justice Society members in his movie's own end-credits scene. As things currently stand, there's no guarantee we'll see Johnson's Black Adam and Zachary Levi's Shazam again, especially since the forthcoming DC Universe projects will reboot certain aspects continuity around. So unless there's drastic behind-the-scenes development, fans will just have to imagine how a clash between these versions of Shazam and Black Adam would go down.
Shazam! Fury of the Gods is still playing in theaters, and you can stream Black Adam with the other DC movies in order with your HBO Max subscription. Those with their eyes planted firmly towards the future would be wise to scan through the lineup of upcoming DC movies.
Your Daily Blend of Entertainment News
Connoisseur of Marvel, DC, Star Wars, John Wick, MonsterVerse and Doctor Who lore. He's aware he looks like Harry Potter and Clark Kent.