10 Great TV Shows That Should Have Gotten More Than One Season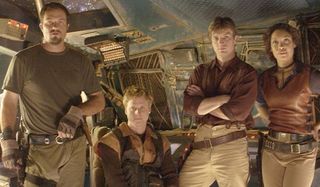 There are a lot of shows that are killed by networks on television but end up becoming cult favorites later on. These are the shows we binge on Netflix and share with our children when they reach the appropriate age. These are shows set in space and shows set closer to home. They are animated programs, coming of age programs, and everything running the gamut in between. These are shows that have stuck with us long after their 12-episode, 22-episode or whatever episode runs have ended and that we wish could come back for one last hurrah.
Check out our picks for the TV shows that should have gotten more than one season.
Firefly 2002-2003
It wouldn't be a good list if it didn't kick off with Firefly, the 2002 drama about space cowboys living and working in the fringes of the solar system. The show's stars, Nathan Fillion, Alan Tudyk, Gina Torres, Adam Baldwin and Summer Glau all went on to steady acting careers, but Firefly is still the series that is closest to our hearts. At least we got the movie sequel Serenity out of the series.
Clone High 2002-2003
The animated comedy Clone High was another one that was kicked off of TV after the 2002-2003 TV season. (Apparently, it was a bad year for executive decisions.) The Phil Lord and Chris Miller series was a parody comedy, following teen versions of Abraham Lincoln, John F. Kennedy, Ghandi the latter of who's depiction caused a hunger strike in India. It got pulled from TV soon after by MTV, leaving Lord and Miller to create things like The Lego Movie and 22 Jump Street. Still, we would take more hilarious jokes set to not-so-hot animation.
My So-Called Life 1994-1995
Claire Danes first made a name for herself as a fresh-faced teen on ABC's My So-Called Life, which aired 19 episodes during the 1994-1995 TV season. The show was lauded at the time for tackling tough issues, like guns in schools and drinking. Unfortunately, it had a tough Thursday night timeslot, and didn't live to see a second season. Luckily, the cancellation didn't really have an effect on the careers of Claire Danes or Jared Leto.
Space Above and Beyond 1995-1996
Set in 2063, Space Above And Beyond had a premise to match its lofty title, with humans on Earth heading into space to fight battles within our solar system against an alien species known as the "Chigs." Sci fi dramas of this ilk often need time to grow, and the creators reportedly hoped for at least five seasons to tell its story. Unfortunately, fans only got one season, and it ended on a cliffhanger, to boot. Fox should have gone above and beyond with this one.
Terriers 2010
Donal Logue has been everywhere in recent years, popping up in a slew of projects like, Vikings, Copper, Sons of Anarchy and recently, Gotham. While the actor is quietly amassing a resume that most TV actors can only dream of, we really, really wish he was still starring opposite Michael Raymond-James in Terriers, an FX series about two unlicensed Private Investigators doing business in Ocean Beach. Like many of the shows on this list, the odd duck series didn't land a huge cult following until after FX pulled the plug. But no worries, at least we get to see Donal Logue work entirely in his wheelhouse on Gotham each week.
The Tick 2001-2002
Throwing Patrick Warburton into a giant blue superhero costume may not have worked back in the early 2000s, back before Marvel and DC made comic-related projects cool on both the big and small screens. The 9-episode Fox series ran from 2001-2002 but TV wasn't ready for it at the time. That looks to be changing, as Amazon has expressed interest in reviving the comic series, with Patrick Warburton again as the lead. That would be a story of redemption that most of these one-off shows never get. Besides, I'd rather think of Warburton as the Tick than the dude who narrates the Soarin' over California intro video.
American Gothic 1995-1996
Today's version of drama on CBS is some form of a procedural, but back in the nineties, the network was still a bit experimental. One of the shows it attempted to air was American Gothic, a disturbing supernatural program featuring an awesome cast including Sarah Paulson, Gary Cole and a young Lucas Black. While American Gothic would be sitting pretty next to the likes of Supernatural and Penny Dreadful, the ratings just didn't work at the time. On the bright side, you can see Black on CSI: New Orleans, Gary Cole on The Good Wife and Paulson in the American Horror Story franchise. There's something poetic about that last casting.
Almost Human 2013-2014
In a way, it's sort of a positive that Fox has so many entries on the list. Almost Human, like so many other Fox programs, was a quirky series, well-liked but featuring a niche fanbase. Thirteen episodes were originally ordered by Fox for the J.J. Abrams-produced series about a police detective working with a DRN android that has human emotions, but the network decommissioned the program before the show could nab a second season, leaving fans to voice their very human anger on social media.
Rubicon 2010
Believe it or not, when Rubicon premiered on AMC in 2010, its 2-million opener was the highest-rated program the cabler had ever debuted. Unfortunately, it hit the schedule just a couple of months before The Walking Dead came in and began absolutely dominating everything around it. AMC may have thought they could attain heights much greater with a drama about an intelligence analyst, which is why something like Rubicon could get cancelled while something with lower expectations like Halt and Catch Fire could get a second season on the network.
Freaks and Geeks 1999-2000
While Undeclared could just have easily made this list, Judd Apatow and Paul Feig's first bat at TV has found a snug spot in the cultural lexicon. Its coming-of-age themes and early eighties references lend a bit of nostalgia to the drama, which features Lindsay Weir trying a new gang of friends—the freaks—while her brother, Sam, learns to self-define as a geek. There are more complex plots and emotions to the series, of course, and those who get through one episode often hungrily power through all 18. It helps that the NBC drama featured future a-listers James Franco, Seth Rogen and Jason Segel, not to mention Martin Starr, Busy Phillips, Linda Cardellini and a slew of other famous guest stars.
Your Daily Blend of Entertainment News
Reality TV fan with a pinch of Disney fairy dust thrown in. Theme park junkie. If you've created a rom-com I've probably watched it.
Your Daily Blend of Entertainment News
Thank you for signing up to CinemaBlend. You will receive a verification email shortly.
There was a problem. Please refresh the page and try again.