10 Greatest TGIF Comedies Of All Time, Ranked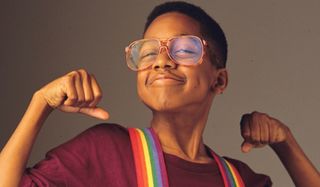 We are so very close to the Season 1 premiere of Netflix's Fuller House, the revival of the classic cheesefest Full House that has been drawing mixed reviews from critics over the past few days. The return of the Tanner family, and the introduction of the clan's next generation, has us guiltily excited about its future, but this also feels like a good time to peer back into the past to ABC's sitcom heyday with its Friday night comedy block, marketed as TGIF.
Here are the 10 greatest sitcoms from the TGIF era, all ranked and ready for everyone in the studio audience to cheer and applaud. Note that not all of the shows that aired during TGIF will be seen here, obviously. For instance, Mr. Belvedere was a Friday night fixture, but only part of its final season aired during the newly established TGIF block before being moved. And there are a bunch of short-lived shows, like Going Places and Camp Wilder, that just weren't memorable at all. I still have an unapologetic soft spot for Baby Talk, though.
10. Muppets Tonight
One of those Muppet projects that usually gets brushed under memory's rug, Muppets Tonight got only part of a single TGIF season in 1996 before it was chopped up and shipped off to the Disney Channel. While it wasn't necessarily the most hilarious thing out there, it hit all the Muppet talking points by centering on a variety/talk show and utilizing sketches that brought in multiple guest stars from all walks of entertainment. It even went so far as to bring back "Pigs in Space" for "Deep Dish Nine" scenes, and was also where Pepé the King Prawn came into being. Anything Muppets-related is automatically better than most other things, but Muppets Tonight could only round out the Top 10 where TGIF is concerned.
9. Hangin' with Mr. Cooper
Let's be real here. No matter what the circumstances, Hangin' with Mr. Cooper would earn a place on this list (and many others) based solely on the clothing that Mark Curry wore as the titular basketball coach. We're talking every color of the rainbow and all kinds of uncomfortable styles for the quite tall comedian. But there were surely other plusses about the show that kept it popular during its few seasons within the TGIF schedule, such as Holly Robinson Peete's Vanessa and Marquise Wilson's young Tyler, who was obsessed with her. (Not to mention Omar "Wild and Crazy Kids" Gooding in the hizzy.) It was also great to get another successful comedy about black characters in Friday night primetime, even if Hangin' with Mr. Cooper was created by the ultra-white Jeff Franklin.
8. Sabrina, the Teenage Witch
Admittedly, I first went into Sabrina, the Teenage Witch both a childhood fan of the Archie Comics line and of Clarissa Explains It All, and the show didn't really hit upon either of my fandoms. But it was still a goofily magical and amusing enough sitcom where the titular character wasn't even one of the biggest strengths, with that distinction going to Nick Bakay as the voice of cat Salem, as well as Caroline Rhea and Beth Broderick as Sabrina's centuries-old aunts Hilda and Zelda. Sabrina was quite popular during its four-season stretch on TGIF from 1996-2000, but it got progressively worse and ratings-deficient when it shifted over to The WB for Season 5-7. You might even remember seeing Paul Feig in Season 1 as Sabrina's favorite teacher.
7. Just the Ten of Us
A show that might not immediately come to mind when TGIF gets mentioned, Just the Ten of Us spent the majority of its three-season run in the lineup's earliest years. A spinoff of Growing Pains, the show centered on the large family of all-boys school coach Graham Lubbock, particularly the four teenage girls of differing personalities. (One of those daughters was played by a post-Nightmare on Elm Street Heather Langenkamp.) Just the Ten of Us featured both genuinely funny writing as well as an awkwardly funny plotline where the daughters started up the all-girl singing group "The Lubbock Babes," and the show really nailed the TGIF profile of appealing to multiple age demographics. It unfortunately only lasted 47 episodes, but was at least allowed to live on for years through USA reruns.
6. Step by Step
I'm almost certain that Step by Step came into existence after a clumsy wizard brought to life a journal of fan fiction in which Patrick Duffy and Suzanne Somers got together and had a lot of sex while The Brady Bunch played in the background. Step by Step remained in the TGIF lineup for six of its seven seasons, giving audiences the early 1990s version of a blended TV family, in which each character could be summed up in two stereotypes. That set-up allowed it to take on all kinds of wacky and sometimes heartwarming plots that sometimes utilized the muscular dimwit Cody that lived in his van in the driveway. I'd be lying if I said a good percentage of Step by Step's enjoyment wasn't tied to singing the theme song at the top of one's lungs while picturing roller coasters.
5. Family Matters
There was a time there in its 1989 spinoff beginnings when Family Matters resembled a normal family sitcom, with multiple generations all somewhat centered around a blue collar couple as they try to keep things under control. And then Steve Urkel happened and America's sides suddenly began splitting willy nilly for this bespectacled brainiac whose inept social methods inspired a catchphrase to end all sitcom catchphrases: "Did I do that?" Urkel became so popular and ate up so many storylines (later as characters like Myrtle Urkel and Urkelbot) that the less important Winslow daughter straight up disappeared from the show after Season 4. Audiences began moving away from the show as the plots got more and more outrageous, but few TV characters have managed to eclipse Steve Urkel's unironic pop culture takeover. And I still find myself singing that theme song, too.
4. Dinosaurs
Though a lot of what people may remember about Dinosaurs is the Baby yelling "Not the Momma," the prehistoric sitcom was often far more thought-provoking than its TGIF neighbors, tackling fairly deep subject matter for a show in which Jessica Walter is the voice of a bipedal dinosaur housewife. The show was put together by Boy Meets World co-creator Michael Jacobs and writer Bob Young, with Jim Henson Productions and Brian Henson behind it, basically guaranteeing a successful mix of 22-minute plotting and incredible production design. Dinosaurs had an understandable undercurrent of environmentalism and often took stereotypical sitcom stories and cleverly applied them to dino-culture, and it also featured one of the darkest series finales in the (pre)history of television, as global cooling occurs and everything quietly ends on the family preparing for extinction. Hilarious!
3. Boy Meets World
We all know I'm not really talking about those college years when Chet dies and Corey and Topanga get married and everything barely resembles the show's more charming early years. Boy Meets World was the rare multi-season sitcom that existed entirely within the TGIF schedule, expanding on the core friendship between the central trio (and later more with Eric, Jack and Angela), as well as their relationships with parents, teachers, and whatever job or neighborly role Mr. Feeny happened to be taking on. Besides beating Full House to the continuation punch with Disney's Girl Meets World, Boy Meets World can also boast producing what is possibly the greatest episode of any TGIF comedy with "And Then There Was Shawn," a downright delightful homage to the modern slasher genre as popularized by Wes Craven's Scream.
2. Perfect Strangers
23 years after the show ended its eight-season run, Perfect Strangers still baffles me by somehow being a pretty great sitcom (even more so by TGIF standards) despite having a Saturday Night Live sketch for a premise. Developed by Mork & Mindy co-creator Dale McRaven – you can see the similarities between the shows, right? – Perfect Strangers was a fish out of water story in which one man's neurotic retention is challenged to the fullest by a Mediterranean-born man who knows nothing of American life. Cue the weird foreign customs, the bizarre accent and inflections, the constant mispronunciations, and the zany romantic foils, and you've got this show's approach down. But actors Mark Linn-Baker and Bronson Pinchot, along with a strong supporting cast, made it work for a long time before things got completely ridiculous. Balki said "Don't be ridiculous," all the time, and no one listened.
1. Full House
I'll be damned if Full House hasn't somehow remained the most memorable and oft-mentioned comedy in TGIF history. (Okay, so the bazillion times it's played in syndication probably has something to do with it.) Full House isn't really a good show, I know, largely because it's insanely schmaltzy and full of bad jokes, unashamed performances, overused catchphrases and Popeye impersonations. But it's still an inexplicably great show, pretty much for the reasons already mentioned, plus the hairstyles, the fashion, the music, the guest stars, etc. It'll be hard for Fuller House to nail that same transparently wholesome tone for 2016 audiences, but it's got almost the entire cast back, along with a bunch of new characters young and old to make us slightly uncomfortable with how much they like to hug things. I'm guessing it'll come close enough.
Fuller House debuts on Friday, February 26, on Netflix. To see when everything else is premiering in the coming months, check out our midseason TV schedule.
This poll is no longer available.
Your Daily Blend of Entertainment News
Assistant Managing Editor
Nick is a Cajun Country native, and is often asked why he doesn't sound like that's the case. His love for his wife and daughters is almost equaled by his love of gasp-for-breath laughter and gasp-for-breath horror. A lifetime spent in the vicinity of a television screen led to his current dream job, as well as his knowledge of too many TV themes and ad jingles.