10 TV Characters Who Could Die In 2015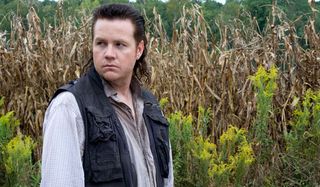 Death has become a major part of network, cable and premium cable television. From cancer to murder, fantasy dramas and crime dramas alike are more and more frequently killing off popular characters. I'd like to blame Game of Thrones' first season for creating an environment in which no character is really safe, but in all honesty, it's a concept that has been coming together for a long time. Without further ado, here are 10 big deaths we expect to see in 2015.
Obviously, we are going to get into some plot spoilers with some of these shows, but if say, you are watching a drama that is based on a popular set of books, you should be safe with this list if you haven't read the books. These predictions have been made based on what we've seen from recent seasons of the dramas. Be sure to let us know in the comments if there are any possible deaths you feel we may have missed.
Jimmy, American Horror Story: Freak Show
With just a few episodes of FX's American Horror Story: Freak Show left, we've seen enough death and destruction to fill several seasons of most shows. But American Horror Story has always gone hard, and we have one final death prediction: Jimmy Darling is going to die. Jimmy is now without his claw hands, the very things that defined his freak show existence, and he's currently a fugitive with dead cops in his wake. He has less a chance of surviving than he does of clapping.
Kalinda, The Good Wife
Normally, I would scoff at the idea that a legal drama like The Good Wife would kill another character off just one season after they killed off a main character during a tragic episode. However, Chicago is a crime-filled city, and CBS' The Good Wife has been setting Kalinda up for some sort of showdown with big baddie Lemond Bishop (Mike Colter) all season. We already know actress Archie Panjabi is leaving the series. Then again, so is Mike Colter, so maybe this showdown will end up with a different dead body than we expect.
Glenn, The Walking Dead
If you've been keeping tabs on The Walking Dead rumors and theories over the last several months, you probably already know that a certain villain may be popping up sooner rather than later, which would mean bad news for a few of the characters on AMC's hit series. Whether or not that villain happens in 2015, Glenn makes this list because unless The Walking Dead decides to go balls to the wall and kill off Rick, Darryl or Michonne, Glenn's just a big enough part of the show that he's got to go at some point, and I'm guessing that point will happen sooner rather than later.
Tom Keen, The Blacklist
Ever since we found out that Tom Keen was actually a dude posing as the love of Elizabeth Keen's life and not a schoolteacher, Tom's kind of had it coming. In fact, we thought he was dead already, until Season 2, when we found out that Elizabeth was holding him prisoner on a boat. Elizabeth recently agreed to let Tom go free, and while Red threatened Tom to keep him away from Liz in the future, I'm guessing we'll see him again. And since he's now such an antagonistic force in Liz's life, he needs to die. And he needs to die soon.
Sheriff Forbes, The Vampire Diaries
During a show where people are typically killed off due to some sort of supernatural drama, this one will be a big blow. After teasing a "major death" for several months, The Vampire Diaries recently revealed that Sheriff Forbes actually has brain cancer, which has spread to her brainstem. Devastating. The show doesn't return to the schedule until January 22, but you can bet your bottom dollar the Sheriff doesn't have a ton of time left.
Zeek Braverman, Parenthood
There's nothing Parenthood loves more than to suck all of the joy out of life and throw the most dramatic situations possible at the NBC show's fans. Thus, Parenthood's sixth and final season has been all about the downfall of Zeek's health. With just a few episodes left, we're guessing that Zeek will eventually die due to his heart problems, leaving the rest of the Bravermans devastated. Bring on the tissues.
Margaery Tyrell, Game Of Thrones
Anyone who has read George R.R. Martin's books has an inkling about what might be coming during Season 5. However, anyone who has read the books should also know that Margaery Tyrell isn't really a key player in the novels. On TV, she's a much more major player, and I present that this makes her more likely to bite the dust in an upcoming episode. Maybe she will, maybe she won't, but I'm not the only person who has asked about her fate.
Kitty, Elementary
Elementary's ratings are down, and we get the inkling this has to do with Kitty, a somewhat unstable detective-in-training who has acted as the third wheel with Sherlock Holmes and Joan Watson during the CBS crime-solving drama's third season. Kitty is a little too brazen and impetuous, and there's a good chance Elementary will kill off her character as a catalyst to bring Sherlock and Joan back together (and closer than ever). Maybe it's a stretch, but no matter how they do it, Kitty's got to go.
Eugene, The Walking Dead
Eugene's been a pretty popular character on The Walking Dead, thanks to his mullet and his southern way of speaking. However, he's also put people through a lot of bullshit during Season 5, thanks to his penchant for lying. Then, he spent some time in a coma and while he's okay now, I'm not sure where his character has to go but down. I wouldn't be shocked if we see the last of Eugene soon.
Raylan Givens, Justified
Something tells me at the end of FX's Justified that there will be a pretty high body count left in Harlan County, Kentucky. Raylan Givens is a cowboy with swagger who has always come out on top, but he may have met his match in his archenemy Boyd Crowder. In fact, I highly doubt we get through the series finale with either man left alive. Justified's ability to weave complex storylines together has always been fascinating, and Graham Yost's story is one that could have several endings. Whatever happens, we'll be watching.
Reality TV fan with a pinch of Disney fairy dust thrown in. Theme park junkie. If you've created a rom-com I've probably watched it.
Your Daily Blend of Entertainment News
Thank you for signing up to CinemaBlend. You will receive a verification email shortly.
There was a problem. Please refresh the page and try again.