12 Days of Christmas: Veronica Mars - An Echolls Family Christmas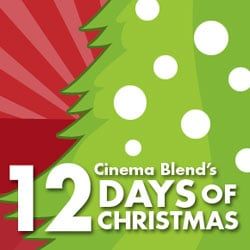 It's time to celebrate the Christmas/ Chanukah/ Kwanza/ Festivus Holiday season, so all around Cinema Blend we're enjoying Twelve Days of Christmas. Yes, we know traditionally the "12 days" start with Christmas, but we plan on being celebrated out by that time, so we're pushing the twelve days leading up to the holiday.
Here in Blend Television we're celebrating by counting down our some of our all time favorite holiday episodes, in an effort to boost your Christmas spirit. These aren't the 12 best out there by any means, just twelve of our favorites. Some of them you might enjoy like we do. Others you might want to check out for the first time. So without further ado:
On the eighth day of Christmas, my true love gave to me…
Matching reindeer boxers.
When a teen drama on (now-defunct) UPN, of all networks, is bold enough to make rape and murder two of its overarching storylines, then it's a pretty safe bet that its Christmas episode isn't exactly going to be full of yuletide cheer. Instead, the season one Christmas episode of Veronica Mars is chock-full of lying, cheating, and good old-fashioned bloodshed.
The episode's mystery of the week centers on a missing $5,000 poker pot. Weevil cleans out a group of 09ers, but when he goes to collect, the money is mysteriously missing. Now before you go thinking Veronica Mars isn't going to give you anything in the way of holiday cheer, keep in mind that Weevil strip-searches all of the poker players (Merry…), revealing that Duncan and Logan are wearing matching reindeer boxers (…Christmas!).
In bigger plot news, Logan's mom hires Veronica's dad to find out who is sending her husband death threats—she suspects a spurned lover is behind the notes. Keith investigates and finds out that Lynne's suspicions are correct and said spurned lover is a caterer who is working the Echolls family Christmas party.
The Echolls Christmas party itself is full of holiday cheer juxtaposed with violence. Veronica recovers Weevil's money and starts winning some of her own; hopefully enough to (adorably) send her father to baseball camp. Meanwhile, Keith is racing to find Aaron before the crazed caterer does. The episode ends with Keith finding out he's too late. Aaron is stabbed while we cut back and forth between scenes of carolers singing while Christmas lights twinkle and fake snow blankets the California grass.
I love this episode because it manages to do Christmas while staying true to the show's identity. Christmas shopping and gingerbread houses are nice, but they don't make class warfare just disappear. As Veronica says, "Christmas in Neptune is, was, and always will be about the trappings. The lights and the tinsel they use to cover up the sordidness, the corruption. No, Veronica, there is no Santa Claus." There may be no Santa Claus, but for my money, this episode is, was, and always will be a gift.
Read all of Cinema Blend's 12 Days of Christmas features in other sections by clicking here.
Image 1 of 4
Your Daily Blend of Entertainment News