The 12 Greatest Big Bang Theory Guest Stars, Ranked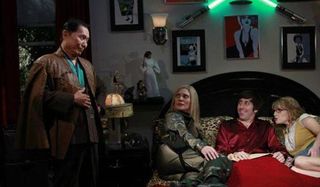 CBS' The Big Bang Theory will be heading into its final season when it hits the air this fall, and, as could be expected of a very popular show that's been on the air for eleven seasons, there have been many, many guest stars during the show's run. Since Season 12 will be our last go-round with Leonard, Penny, Sheldon, Amy and the rest of the gang, we figured now would be a grand time to pay tribute to the best of the best when it comes to guest starring appearances on The Big Bang Theory, knowing, of course, that this final season is sure to have some surprises up its sleeve with regards to guest performances. Here for you now, we'll go through our favorite guest stars who have popped up on the show, and rank them by sheer awesomeness and utilization in the plot.
So, without further ado, and with zero apologies to Charlie Sheen, here are the top 12 celebrity guest appearances that have occurred on The Big Bang Theory since the show hit the schedule in 2007.
12. Leonard Nimoy
While Leonard Nimoy is a recurring figure in Sheldon's life, once even getting a restraining order against the "Big Bang Theory" character, the only time he has technically appeared on the series is in the Season 5 episode "The Transporter Malfunction," when he popped up as the voice of a Spock action figure that Sheldon encountered while he was dreaming. It was weird, it was wacky and it just makes our list.
11. Wil Wheaton
Wil Wheaton has an ongoing presence on The Big Bang Theory and he is clearly an important celebrity on the show. The Star Trek actor and blogger has been appearing as a minor character on the hit series since Season 3, popping up as a guest star (usually) once or twice a season. His initial issues with Sheldon were amusing, but now that the two men have become less antagonistic toward one another, his appearances have been a wee bit less exciting, although catching the actor in a gorilla suit was good for some laughs.
10. LeVar Burton
Star Trek: The Next Generation actor and Reading Rainbow host LeVar Burton has popped up on The Big Bang Theory on three occasions, first in the Season 4 episode "The Toast Derivation," then again during Season 6's "The Habitation Configuration," and Season 8's "The Champagne Reflection." We've loved the "Fun with Flags" segment but our favorite joke probably has to be Burton admitting he should've listened to Wil Wheaton and "gotten a gate" when Sheldon keeps bothering him.
9. Steve Wozniak
The Apple co-founder first appeared on The Big Bang Theory during the Season 4 episode 'The Cruciferous Vegetable Amplification." The gang runs into The Woz randomly at a Cheesecake Factory and the technology guru does a great job when he is confronted by Sheldon. So, technically, the Woz's role is a small one, but we do get to see him poke fun at Steve Jobs and his turtlenecks, and even makes a jab at nerds. (This happened before Jobs tragically passed away after battling cancer, so it was a lot funnier at the time.)
8. Katee Sackhoff
The Battlestar Galactica actress may have moved on to "greener pastures" with, first, the Netflix series Longmire and her upcoming show Another Life, but she doesn't mind revisiting the character that made her famous. Sackhoff has actually appeared more than once on the CBS comedy as a figment of Howard's romantic imagination, once even popping up as herself in the bathtub with him! The second time she shows up in a flight suit... along with George Takei.
7. Stan Lee
It's no secret that Stan Lee loves the opportunity to show up on sets for cameos. The Marvel spokesman has popped up in every Marvel-produced superhero movie, and he also appeared in the Season 3 episode "The Excelsior Acquisition." Sheldon and Penny showed up, unwelcome and uninvited at Stan Lee's house, and the legendary comic creator was forced to get a restraining order. Between the outraged Stan Lee, the excellent Fantastic 4 robe he was wearing and the general ridiculousness of the setup, the guest performance was top-notch.
6. George Takei
Takei's cameo amusingly appeared in "The Hot Troll Deviation," which happened to be one of the episodes Katee Sackhoff is also in. Most fans would be excited about Sulu popping up on the comedy, but Takei also nailed his performance, appearing with Sackhoff in one of Howard's fantasies and also appearing to give advice to Bernadette. In real life he comes off as a lovable eccentric, and that's exactly how he played his Big Bang Theory appearance.
5. Carrie Fisher
The late, great, Carrie Fisher had a really short role in The Big Bang Theory, but it's still a gem. The Star Wars franchise actress appeared in an episode of the comedy that also featured James Earl Jones. He, along with Sheldon, doorbell ditches her and, well, she reacts like a crazy person with a baseball bat, out for blood. The episode actually marked the first time Fisher met Jones face to face, which ads an adorable aww moment to the crazy performance.
4. Adam West
Most guest stars on The Big Bang Theory step in for a quick scene or two, the late Adam West, though, was present throughout almost the whole episode when he appeared in "The Celebration Experimentation" in Season 9. After nine years, Sheldon has finally allowed his friends to help him celebrate his birthday, and Leonard decides to gift his friend with having Adam West at his party. Some of the highlights of this episode include West joining in on a debate about who the best Batman is, with the elder Batman throwing serious shade on Ben Affleck, and West calling Sheldon "Sherman" when he meets him. It was a pitch perfect guest spot, to be sure.
3. Bob Newhart
Bob Newhart has popped up on five episodes of The Big Bang Theory. The comedic legend is less geektastic than some of the other big names on the list, and he is also one of the few big names that hasn't shown up to play himself. However, as Professor Proton, Newhart actually nabbed an Emmy for his performance as a retired TV scientist whom Sheldon and Leonard adore. Unfortunately, the character passed away in "The Proton Transmogrification," although he's reappeared twice (the first time as Obi-Wan Arthur) as either a dream or figment of Sheldon's imagination to give advice to his life-long fan. And, luckily, he's set to reprise his role at least once more in the final season.
2. Stephen Hawking
Stephen Hawking was a "dream guest" for executive producer Bill Prady and co. for years before he actually appeared on the series. He did end up appearing in 2012, in the aptly titled "The Hawking Excitation." In the episode, Howard was tasked with taking care of Hawking's wheelchair during a guest lecture and Sheldon slipped Howard one of his papers to show the man. Hawking ended up correcting an error in Sheldon's paper, which was hilarious, but the man was also able to poke fun at himself in the episode, which made it even more endearing. While the world lost Hawking in early 2018, he was able to complete a whopping six additional guest appearances, more than anyone else on this list.
1. James Earl Jones
You would hope any cameos by individuals related to the Star Wars franchise would come up near(ish) the top, and the over-the-top James Earl Jones appearance has to be tops. In the episode, Sheldon spent time with James Earl Jones after not being able to get into Comic-Con, with the goal of asking Jones to be a panelist at the con he wanted to create with his friends. What followed was a slew of wild shenanigans. Seriously, getting to see Sheldon hang out with James Earl Jones on a ferris wheel, at karaoke, in a sauna and doorbell ditching Carrie Fisher had to be one of the most amusing comedy sequences in recent TV memory. Anytime Sheldon is able to holler, "Hey Los Angeles, I'm on a ferris wheel with Darth Vader. And he's nicer than you think," you should know you have a win.
Your Daily Blend of Entertainment News
Reality TV fan with a pinch of Disney fairy dust thrown in. Theme park junkie. If you've created a rom-com I've probably watched it.