The Hilarious Story Behind Adam West's Big Bang Theory Appearance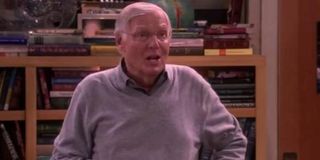 One of the most beloved actors to ever play a superhero on the small screen was Adam West for his portrayal of Batman in the 1960s. Sadly, West passed away earlier this summer after a battle with leukemia. Many of those who worked with West over the years have come out to share stories about him, and The Big Bang Theory executive producer Bill Prady has a fabulous story. During an appearance at San Diego Comic-Con, Prady had this to say about Adam West on The Big Bang Theory:
Adam West played a fictionalized version of Adam West -- as he did with surprising frequency -- in his appearance in the big milestone 200th episode of The Big Bang Theory, and he evidently had notes on the script when he first read it. In the episode, called "The Celebration Experimentation," Leonard and his pals convince Adam West to attend Sheldon's birthday party. West agrees, but he asks Leonard not to ring the doorbell, lest his pet poodles go nuts from the sound. If Adam West has originally had his way, it might have been a Rottweiler or two who risked going crazy.
It seems that Adam West's real-life poodle pets are what reconciled him to his fictionalized self also owning poodles. I have to agree with Bill Prady on this one. The image of Adam West being smothered by poodles when he returns home is adorable. I'm glad West decided to go along with the original script.
All things considered, Adam West's guest shot on The Big Bang Theory has to go down as one of his funniest TV appearances in recent years. He was never one to hold back when it came to fictionalized versions of himself, and his ranking of the Batmen in "The Celebration Experimentation" was pretty hilarious. Naturally, he ranked himself first, but there were a couple of surprises. Christian Bale's version of Batman was second to last for West, only coming in ahead of George Clooney. Lego Batman managed to even outrank Bale and Clooney. Who would have guessed?
Adam West's death is still a tragedy, but it has been truly touching to see all the tributes to his memory in the weeks since. His co-stars have had nothing but good things to say about him, and it's not every man who gets a Bat-signal shone in Los Angeles in his honor after he passes away.
Stay tuned to CinemaBlend for the latest Big Bang Theory news, and don't forget to take a peek at our summer TV guide for what you can catch while we wait for the new season on CBS in the fall.
Resident of One Chicago, Bachelor Nation, and Cleveland. Has opinions about crossovers, Star Wars, and superheroes. Will not time travel.
Your Daily Blend of Entertainment News
Thank you for signing up to CinemaBlend. You will receive a verification email shortly.
There was a problem. Please refresh the page and try again.