13 Celebrities South Park Made Fun Of In Particularly Vicious Ways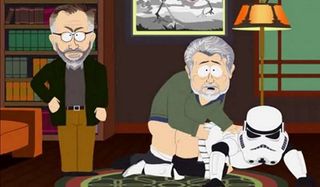 Sometimes, the worst parts of a given year are when celebrities are the subject of bizarre and cringe-worthy headlines, but there aren't any new episodes of South Park to shine a light on them as reflected off a sharp blade. When the show started back in 1997, the internet was still in its chatroom-filled youth and it was a lot easier to have an edge, but creators Trey Parker and Matt Stone haven't allowed pop culture's advancements in satire and extreme subject matter to get past their talents to tear entertainment to its core non-values.
Here are 13 celebrities that were victims of South Park's blunt force humor over the 19 seasons in which just about every aspect of our culture has been steamrolled, stacked and burned. Why don't we start with a man who could be at the center of an entire season of South Park episodes?
Kanye West
You ever had your friends laugh at a joke that you didn't get, but you laughed along anyway? Kanye West doesn't have that option in South Park's Season 13 episode "Fishsticks," in which the notoriously unpredictable rapper is incapable of understanding an extremely juvenile (and popular) joke and won't allow it to be explained. He eventually assumes it means he's supposed to be a gay fish, and because this is the show that it is, Kanye West embraces his misbegotten fate and the episode ends with him swimming around underwater and grinding up on fish. It was all a shot at West's massive ego, which the rapper memorably took with some grace after the episode aired.
Barbra Streisand
Way back in Season 1, South Park was just sharpening its claws and getting its Christmas Poo in order, but that doesn't mean Hollywood went untouched. Trey Parker and Matt Stone decided that Barbra Streisand's ego was one big enough to put at the center of a Kaiju parody. The multi-hyphenate entertainer's lust for power is so strong that it can only be manifested as the town-destroying Mecha-Streisand, who totally defeats Poitier-Turtle and Mecha-Robert Smith. Again, these early days weren't when South Park's peak fangs came out for celebrities, but find me another show on TV in 1997 that turned Barbra Streisand into a child-napping monster.
Mel Gibson
Strangely enough, South Park's goofy send-up of Mel Gibson came before the actor had made the news multiple times for racial slurs and other incidents possibly related to his admitted alcoholism. "The Passion of the Jew" came during the media hullaballoo that circled Gibson's The Passion of the Christ surrounding its release, and basically presented the actor/director as a lunatic who casually wears Braveheart facepaint and has access to the tanker from The Road Warrior. He takes a shit on Cartman's face, as well, which is probably more of a blow to Cartman than Gibson, but it was something to witness nonetheless. Not the most personally venomous takedown of a celeb, but not very kindhearted, either.
Tom Cruise
An episode so crucial to fucking with a celebrity's persona that it spawned its own mini-controversy over repeat airings, Season 9's "Trapped in the Closet" set the crosshairs on Tom Cruise as the public face of Scientology for one of the most scathingly harsh parodies of any artform. This came at a time before the curtain had been pulled back on Scientologists, and the episode barred no hold in laying out the religion's out-there concepts for viewers. And if it wasn't bad enough that his belief system got shot to pieces, Tom Cruise also spent most of the episode inside of a closet in a less-than-veiled jab at his sexuality, something the actor was known to lash out over.
Honey Boo Boo
If we're being perfectly honest, there's nothing the Season 16 episode "Raising the Bar" does to Here Comes Honey Boo-Boo that significantly outclasses the show's central mother and daughter more than any given moment during the four seasons of the show. In an episode that also takes jabs at James Cameron and Michelle Obama, Alana "Honey Boo Boo" Thompson gets the jagged end of the stick by being so obese that she surgically implants a pig heart (of her choosing), and gets to oink and waddle around as such before fighting Cartman in a sketti showdown. Highbrow? No, but why would it possibly need to be?
George Lucas
There are plenty of classic takedowns of the second Star Wars trilogy to be found in TV shows -- Spaced has one of the best -- but you'll never find a better condemnation of Indiana Jones and the Crystal Skull than Season 12's "The China Problem." The point of the episode is that Lucas and Steven Spielberg "raped" Indiana Jones with the most recent sequel, which is shown quite literally during moments hearkening back to scenes in movies like The Accused and Deliverance. Lucas is also shown raping a Stormtrooper elsewhere in the ep. It's one thing to say a movie sucks, but it's something else entirely to physically show a filmmaker immorally defiling a beloved character.
Lorde
In an episode that predated the transgender bathroom controversy, Season 18's "The Cissy" was not at all prescient when it came to the impact Lorde would have on pop culture in the years immediately following the episode's airing. In any case, it's revealed that Randy Marsh (who was impersonating Lorde one episode previous) actually is Lorde, and was inspired to take on this personality after pretending to be a woman to use women's restroom and found he loved making music in that setting. The episode was aimed more at entertainment journalists and gender politics, of course, but taking an otherwise innocent young pop star and turning her into Stan's dad is just harsh.
Ben Affleck
During that extended hiatus in Ben Affleck's career when he wasn't making movies that people loved, South Park delivered "Fat Butt and Pancake Head," in which Cartman's hand-puppet was a stand-in for Jennifer Lopez (named Ms. Lopez) that usurps the actual actress/musician's popularity. The horrid stereotype of the portrayal was something unto itself, but the episode brought in Affleck to immediately fall in love with, have sex with, and get engaged to Ms. Lopez in short order, basically calling out Affleck's romantic integrity and also insinuating that he has sex with boy's hands. (Not really.) And it turned out Ms. Lopez was just a con man all along, which doesn't help Affleck's case one bit.
Paris Hilton
It's shocking that celebrity status has gotten even more over-the-top since the heyday of Paris Hilton, but it's not shocking that Hilton was the subject of one of South Park's grossest parodies. (What else would an episode titled "Stupid Spoiled Whore Video Playset" imply?) Paris Hilton's time in South Park, which includes several moments where she coughs up semen, is basically just an excuse to pummel the socialite with insults as she uses Butters like a pet after her dog killed itself out of misery. And it all culminates in her losing a Whore-Off by getting shoved up Mr. Slave's ass. Maybe it's time for a spinoff with Hilton and Mr. Slave's various digestive tract creatures.
Donald Trump
Season 19's "Where My Country Gone?" came not long after Donald Trump put his presidential candidacy into first gear, so the current conservative frontrunner was only on the tip of the iceberg for his media splash. And to be fair, the episode didn't namecheck Trump, but turned his persona into the Canadian president who built a wall between Canada and the U.S. Still, it was pretty clear what Parker and Stone think about Trump, as the character's time on the episode ended by him getting raped to death by Mr. Garrison in a particularly brutal scene. Not a lot of impersonations end that way, I'd bet.
Michael Jackson
The King of Pop was the subject of much scrutiny and ridicule throughout much of his adult life, so there was a lot of subject matter for the creative team to pick from. But when Michael Jackson showed up in South Park as Mr. Jefferson, father of Blanket, it was the musician's endless obsession with the idea of childhood at the parody's forefront, which would have caused Blanket's death if not for a rare unhooded Kenny. So not only were Jackson's Neverland ideals targeted, but his skin color was also used for a plot arc involving racial profiling and corruption within the town's police. No smooth criminals in South Park.
Phil Collins
When South Park takes shots at people, it isn't always clear that there's a distinct personal reason for Trey Parker and Matt Stone to go berserk, but it was abundantly obvious why musician Phil Collins was getting bamboozled for Season 4's "Timmy 2000". During the Academy Awards ceremony that year, Collins' Tarzan single "You'll Be in My Heart" beat out South Park: Bigger, Longer and Uncut's "Blame Canada" for the top prize. And so he was turned into a grumpy mope (ala Monty Python's Flying Circus' Gumby characters) who sang for everyone to be inside of him and carried his Oscar around everywhere, even possibly inside his rectum. S-sussudio!
Isaac Hayes
For nine seasons, actor Isaac Hayes was a central part of the South Park community as the ever-sensual Chef, but he left the show over issues with the comedy's treatment of Scientology. The split was anything but amicable, and less than two weeks later, viewers watched "The Return of Chef," in which the character was brainwashed by a cult and turned into a child molester. (The imploding marlocks!) After being saved, he chooses to rejoin the cult just before suffering one of the most gruesome deaths ever seen on TV. He's then resurrected as Darth Chef, who has no problem with the molesting. While this is about "Chef" and not "Isaac Hayes," I think we can all read between the hand-drawn lines.
Your Daily Blend of Entertainment News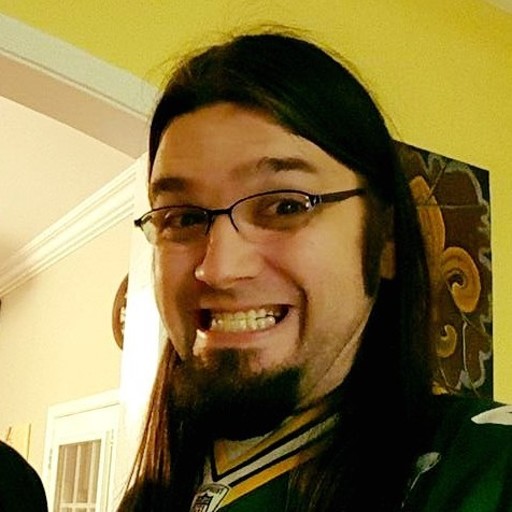 Assistant Managing Editor
Nick is a Cajun Country native, and is often asked why he doesn't sound like that's the case. His love for his wife and daughters is almost equaled by his love of gasp-for-breath laughter and gasp-for-breath horror. A lifetime spent in the vicinity of a television screen led to his current dream job, as well as his knowledge of too many TV themes and ad jingles.