Why Daredevil's Frank Castle Isn't The Real Punisher, According To Jon Bernthal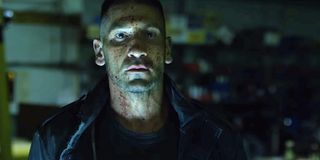 Season 2 of Marvel's Daredevil on Netflix was a binge-watchers' delight as it introduced some killer new characters to spice up the Hell's Kitchen plot. The most killer -- literally -- of the new characters was Frank Castle, whom comic fans knew as The Punisher. Frank did an awful lot of antihero punishing in Season 2, but actor Jon Bernthal doesn't think that his character was quite the real Punisher. According to Bernthal, Frank just isn't there yet.
Jon Bernthal's revelation to Awards Daily actually makes a lot of sense considering his character's arc throughout Daredevil Season 2. It's easy to call a character named Frank Castle by his comic name, but Season 2 can really be seen as his origin story, similarly to how Season 1 told Matt Murdock's origin story. Characters don't start out with the vigilante name picked out ahead of time, and Frank Castle didn't quite deserve his title as The Punisher during his first appearances on the show. He just wasn't to The Punisher point yet.
That's not to say that Frank's story in Season 2 had him totally on the straight and narrow. The Punisher of Marvel comics lore is a vigilante who fought crime using lethal means. He's willing to do bad things if he considers them for the greater good, and it can be hard not to side with him at times. How many of us can say that we've never said "Just kill him!" to superheroes when it comes to facing their villains?
Perhaps now that Frank Castle has gotten to avenge his family, Jon Bernthal will be able to play a real version of The Punisher. Instead of inflicting his murderous justice primarily on those who wronged him in the past, Frank as The Punisher can take his crusade to fight criminals on a larger scale outside of his own vendetta. He showed signs of more heroism in his antihero status at the end of Season 2 when he showed up to save Daredevil in the final big battle, so he's off to a good start to rightfully claiming the title of the good-ish guy known as The Punisher in his Netflix spinoff.
Frank Castle was a fantastically compelling character in Season 2 of Daredevil, Punisher or not. Jon Bernthal turned in stellar performances in scenes ranging from the tale of his family's death to his rampage through the prison block as he massacred his attackers within. We can bet that his spinoff will be worth watching when it finally makes it to Netflix. In the meantime, all of Season 2 of Daredevil is available to stream on Netflix, and you can check out our summer TV schedule to see what else you can watch.
Resident of One Chicago, Bachelor Nation, and Cleveland. Has opinions about crossovers, Star Wars, and superheroes. Will not time travel.