Vice Principals Review: Danny McBride's New HBO Comedy Is Hilarious And Completely Insane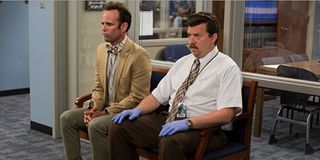 Eastbound & Down may have wrapped its four-season run over two years ago, but that doesn't mean we've ever stopped quoting the bulletproof tiger Kenny Powers, and nor have we had a reason to. But that may change later this month when Danny McBride returns to HBO for the bawdy and morally deficient comedy Vice Principals, which he co-created with his Eastbound cohort Jody Hill. It's everything I was hoping it would be, with a large splash of total insanity mixed in for flavor.
Of all the ways I could describe Vice Principals, "complicated" is not a word that would come up. Danny McBride plays Neal Gamby, the ego-driven official for a high school that is bidding farewell to a vacating principal. There isn't a doubt in Gamby's mind that he won't get the promotion, even though it's a position also being sought out by the wily and conniving Lee Russell, played with expected aplomb by Justified vet Walton Goggins. However, both men are passed over for the gig in favor of the earnest, confident and good-natured Dr. Belinda Brown (Kimberly Hebert Gregory), and they're made to share the vice principal title. That's when the madness begins.
For Gamby and Russell will stop at nothing to achieve their misguided vengeance by making their new boss' life an absolute hell on every level. Seriously. No, seriously. The first episode, while solid in its own right, is almost like a prologue to the debauchery that follows, and you might be fooled into thinking these two main characters are just a couple of douchebag bullies who like to play pranks. By the time your head is wrapped around the second episode, though, it becomes quite apparent that Russell should be in maximum security loony bin instead of a position of power over impressionable teenagers.
Six episodes of Vice Principals were available for review, and there are so many fantastic moments within them that should stay as unspoiled as possible for ultimate comedic impact. But there is, of course, more to talk about where Vice Principals is concerned, thanks to a stellar supporting cast.
Gregory is great as Principal Brown, who earns a fine line of sympathy that adds to the sporadic (and assumedly unintentional) discomfort of watching two Southern white guys dupe and terrorize a black woman. Gamby's ex-wife (and mother of his child) Gale is played by Busy Philipps - and you really wonder just how that relationship ever worked out - and she's now remarried to the genial simpleton Ray, played by Boardwalk Empire vet Shea Whigham in a relatively rare comedic role. Gamby's lunchroom worker buddy Dayshawn is portrayed by Sheaun McKinney, who will hopefully get the same kind of breakout success that JB Smoove did after his first season of Curb Your Enthusiasm. Then there's Georgia King, who is mostly charming as Gamby's uninterested crush Ms. Snodgrass, the school's new English teacher. And, of course, we have Bill Murray temporarily hanging around as the vacating principal.
Vice Principals is the latest in a line of collaborations between Danny McBride and Jody Hill, who first found fame together with the 2006 cult comedy The Foot Fist Way, and it has all the recognizable hallmarks. McBride doesn't go two sentences without saying something extremely crass. Seemingly a quarter of the dialogue is an iteration of the word "fuck." Main characters are constantly thwarted in their goals by more qualified and less conceited characters. But one difference is we get the magnificent Walton Goggins here in a character destined for his own spinoff down the line, so that gives it the edge over everything else.
HBO doesn't always shoot for straight-up comedies, often going for mixed-genre fare like Girls and Togetherness, but Vice Principals is further proof that the network should tip its scales more on the side of over-the-top hilarity. There are very few comedies anywhere on TV right now that can compare to the tag-team majesty of Veep and Silicon Valley, and while Vice Principals isn't quite that strong (yet), it is definitely deserving of its place on the same network. Even Kenny Powers would postpone a return to the Majors to watch a couple of episodes.
Vice Principals will debut Season 1 on HBO on Sunday, July 17. Do not be truant. Do not be tardy. Do not miss what could be the best comedy of the summer.
Assistant Managing Editor
Nick is a Cajun Country native, and is often asked why he doesn't sound like that's the case. His love for his wife and daughters is almost equaled by his love of gasp-for-breath laughter and gasp-for-breath horror. A lifetime spent in the vicinity of a television screen led to his current dream job, as well as his knowledge of too many TV themes and ad jingles.
Your Daily Blend of Entertainment News
Thank you for signing up to CinemaBlend. You will receive a verification email shortly.
There was a problem. Please refresh the page and try again.