In Outlander's Season 2 Finale, The Heroes Became The Villains, And The Villains Faded Away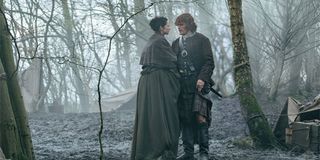 Spoilers from tonight's Outlander Season 2 finale can be found throughout this piece. Please do not read if you haven't caught the episode, yet.
War makes people do strange and sometimes ugly things. Love makes couples also do strange and sometimes ugly things. This season, the Starz drama coupled Jamie Frasier and Claire Frasier's love with Bonnie Prince Charlie's uprising and the results are not what we would have expected from Jamie and Claire a season ago. During tonight's Outlander Season 2 finale, Jamie and Claire made some tough choices that pushed away from a story about a couple in love to a story about a couple grappling with a tough fate. The story led to Claire and Jamie making choices that led to many deaths, and also Claire's betrayal of her own daughter later on.
Nearing the Battle of Culloden, Claire desperately tried to figure out a way to keep the impending battle from happening. She's always been a woman who has known history before it has happened for Jamie and the others in their own time, and she tried to convince her husband that poisoning Bonnie Prince Charlie was the best way to keep the impending doom for the Scottish soldiers from happening. Unfortunately, Dougal McKenzie heard their plotting and Claire and Jamie were forced to take him on, killing him together.
Jamie has never been a person who has shied away from fighting or taking on a challenge. It's also true that Dougal has never been a particularly likable person on Outlander, especially considering the problems he caused for Claire in Season 1. But this is the first time we've seen the union between Jamie and Claire extend into such a grey area that they would choose to plunge a weapon into a foe and watch together as the light died in his eyes. It's the first time that the two did something dastardly in preservation of themselves and their relationship, and while their decision was justifiable given that Dougal gave them no real choice but to fight, it still was the first time Outlander painted the two not as shining examples of goodness and fidelity but as people capable of doing very bad things.
The move was mirrored later in the episode, as Claire revealed to her daughter, Brianna, that she had lied to her for years and years about her father. Brianna had always believed that Frank was her father and had wondered at her parents unaffectionate relationship prior to Frank's death. The love Claire had for Jamie effectively broke everything else in her life. To Brianna, her mother is the villain of the story, as well. And when her mother, now living in the 1960s, finally is able to share her true story for the first time, an angry Brianna asserts, "Why are you doing this?" Just as before, Claire isn't trying to be the villain. But the choices she has made have left her as a woman painted in a very bad light.
Of course, Jamie and Claire's story was already cemented in stone before Ronald D. Moore and Starz (opens in new tab) opted to bring it to the small screen. The stuff that happened before Culloden might be a little different than what Diana Gabaldon initially wrote in her popular series of novels, but the essentials of the story have all been there, even if they've been shifted and reworked for a television medium.
Murdering someone and cheating on your husband---although we know the situation with Frank is more complicated than that---aren't exactly the things we'd expect from the heroes in our story, but in the case of Outlander, which has already been renewed for a third season, we need to see a little darkness seep into what has been a nearly perfect romance. You can't keep a story going through eight books by simply featuring characters who have little spanking tiffs every once and awhile. Season 2 of Outlander forced Jamie and Claire through countless trials and tribulations, through a dream of changing history and the realization that they had failed, through a separation for the ages. We needed to see the characters broken before we could see them rise up again.
"Dragonfly in Amber" left us with a hope, a hope dawning at Craigh na Dun as Claire realized she could get back to Jamie. All the obstacles they had are now behind them. Colum McKenzie and Dougal McKenzie are out of the picture. Most of the other villains who have caused Claire and Jamie problems will be out of the picture after Culloden, meaning that Outlander is going to have to reset the drama, as well as the storyline whenever the show returns for Season 3. Perhaps a "voyage" is in order?
You can find out what we know about Season 3 here.
Reality TV fan with a pinch of Disney fairy dust thrown in. Theme park junkie. If you've created a rom-com I've probably watched it.
Your Daily Blend of Entertainment News
Thank you for signing up to CinemaBlend. You will receive a verification email shortly.
There was a problem. Please refresh the page and try again.