How Jimmy Fallon, Jimmy Kimmel And Stephen Colbert Compare In The Ratings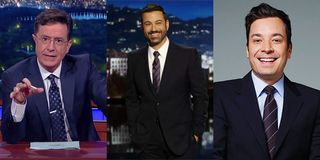 Over the last few months, we've heard plenty about Jimmy Fallon's domination in the late night ratings. We've also heard that The Late Show is in the middle of reworking to try to bring Stephen Colbert up to par during the upcoming TV season. But where do each of these shows land in the ratings? And which late night shows perform better with the younger advertising demographic? As it turns out, The Tonight Show is dominant all across the board.
A recent report from NBC regarding early July ratings notes that The Tonight Show Starring Jimmy Fallon dominated all other late night series, including Stephen Colbert's and Jimmy Kimmel's respective shows but also late late night programs including but not limited to Late Night with Seth Meyers. During the first full week in July, The Tonight Show averaged more than 2.6 million total viewers and a .7 rating in the 18-49 demographic. Those numbers may not seem insanely good when compared to primetime network and cable TV programs, but for late night they are just dominant.
In fact, those numbers are good enough to beat out Jimmy Kimmel Live by a 73% advantage and to beat out The Late Show with Stephen Colbert by 87% in the ratings demographic during the first week of July. But the race gets really close after that between the other two major late night hosts.
When looking at season-long totals to this point, The Tonight Show is averaging 3.68 million viewers, which puts it a fair amount ahead of its competitors. The Late Show is averaging 2.81 million total viewers, which puts it in second place in terms of overall viewership. Jimmy Kimmel Live! lags behind a bit, with a 2.39 average. However, Jimmy Kimmel does better with younger viewers than Stephen Colbert does, and is beating Colbert in the averages in the 18-49 demographic.
Of course, as to be expected, the likes of James Corden and Seth Meyers lag behind a little bit. Late Night With Seth Meyers has averaged 1.56 million total viewers in 2016 and The Late Late Show with James Corden has averaged 1.26 million. Carson Daly's show, which has the disadvantage of airing super late after Seth Meyers, has average .87 million total viewers in the year thus far.
As you may have noticed when comparing season averages with recent totals that late night has brought in, numbers are certainly looking lower this time of year, when families are vacationing and spending more time out-of-doors in general. It doesn't help that there's far less TV to get excited about during the summertime, too, making it less likely that people are turning to network TV during primetime and sticking around until late night. Plus, shows like The Tonight Show often take breaks during the summer, which means the late night schedule is a whole lot more haphazard. It'll be interesting to see if Stephen Colbert or Jimmy Kimmel will make some strides to catch Jimmy Fallon when TV returns this fall.
Whatever happens, I expect Jimmy Fallon to be extremely nice about it.
Your Daily Blend of Entertainment News
Reality TV fan with a pinch of Disney fairy dust thrown in. Theme park junkie. If you've created a rom-com I've probably watched it.