Big Brother Hints At Extended Live Feeds Downtime Due To The Battle Back Twist, And We Have Questions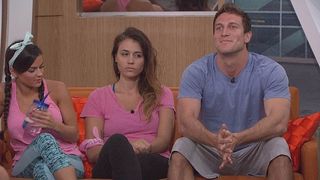 Big Brother fans are getting an extra dose of game this week, as CBS plans to air a special Battle Back episode on Friday, which will see one evicted houseguest returned to the game. Alas, it looks like this is coming at the cost of the live feeds, which will be down for longer than normal to accommodate this twist. Big Brother wasn't exactly super-specific with how this is going to work, but the Live Feeds page did include this ticker indicating that we should expect more feeds downtime than usual...
What does that mean? Well, CBS (opens in new tab) is not advertising Friday night's Battle Back episode as a live episode, therefore it's likely safe to assume it'll be taped. And it's also probable that whoever goes back in will do so soon after they win the final Battle Back round. And since CBS isn't likely to spoil that reveal for us by showing the winner on the feeds ahead of the episode, we can assume that the live feeds will be down between when whenever the winner goes back in the house, and when the episode finishes airing (possibly PST).
Assuming this is the case, the downside is that we would miss the immediate fallout of this person's return on the live feeds, but we kind of expected that.
Still, there are other questions coming to mind in terms of how this feeds outage will work. The biggest one is obviously, will the feeds go dark before the live show and stay dark until Friday night? CBS is really vague about how much downtime we should expect, but we need to consider it a possibility that we will be without live feeds until after the Battle Back competition airs Friday night PST. By that time, nominations and Roadkill (assuming that's still in play) may have already taken place. Though it's also possible some events will be delayed due to this twist.
Or, will the feeds come back after the live show on Thursday night, then go dark at some point on Friday to conceal the Battle Back returner's arrival? That would be the preferable scenario, but the realist in me is not holding her breath.
Another question to consider is, have the first few rounds of Battle Back competition already taken place? Or are they waiting until Thursday night's eviction to do all of the rounds together? That might not really matter all that much, other than that the reigning champ would likely be rested and ready to compete against Thursday's evictee.
Regardless of whether or not the Glenn, Jozea, Victor and Bronte have battled, will Thursday night's evicted houseguest compete in Battle Back immediately after the live broadcast ends? And if so, will they go back into the house Thursday night? This actually does matter, as nominations are usually held on Friday, however, even if Big Brother does declare the returned houseguest safe for a week, their return could impact the Head of Household's target and nominations. That brings us to our next question...
Will the houseguests be told during Thursday night's episode that someone is coming back? Or will they receive a major shock when whoever wins Battle Back comes through the door? I kind of think Big Brother would want to tell them, if only to get them panicking for a bit before they find out who's coming back. They've kept the information from the houseguests thus far, which makes sense, as knowledge that someone is coming back could affect the game. So it's probably for the best they were kept in the dark until after the eviction, but Julie could reveal the twist to them at the very end of Thursday's live episode. It would have no direct impact on the game, unless nominations took place between the announcement and the Battle Back winner's arrival.
And then there's this week's Head of Household competition. I'm inclined to wonder if CBS/Big Brother will try to heighten the anticipation further by leaving us without an HoH winner at the end of the live show, should the plan be for the feeds to go dark and stay dark from Thursday night to Friday night, in which case, will Big Brother torture us with an endurance competition so that we don't know who's Head of Household, in addition to not knowing who's coming back until Friday night? It would be maddening if we missed out on a cliffhanger (or wall-hanger) Head of Household reveal, and had to wait until Friday night to get caught up. But I won't rule it out as a possibility.
Finally, here's one question we do know the answer to. Do the houseguests have any idea of what is coming?
There's been chatter among the houseguests on the live feeds this week about a possible double-eviction coming as soon as next week. They're doing the math and determining that they're close to jury, which is often when the first double eviction happens (first exit of the night goes home, second exit is Juror #1). However, they don't know someone's coming back, so their math is off. Those who know the game well enough are aware that buybacks happen, and that one will eventually take place, but if anyone is seriously wondering about these past evictees coming back anytime soon, I haven't heard it brought up. Stuff like that usually gets around and worked into conversations if people begin to take it seriously. So, no, I don't think they know this twist is coming. Which is all the more reason why I'll be disappointed if they tell the houseguests during the live episode and then don't put the feeds back on to give us a glimpse of their paranoia before the Battle Back winner comes back.
Assistant Managing Editor
Kelly joined CinemaBlend as a freelance TV news writer in 2006 and went on to serve as the site's TV Editor before moving over to other roles on the site. At present, she's an Assistant Managing Editor who spends much of her time brainstorming and editing feature content on the site.
Your Daily Blend of Entertainment News
Thank you for signing up to CinemaBlend. You will receive a verification email shortly.
There was a problem. Please refresh the page and try again.