Big Brother Live Feed Spoilers: Who Won The Veto?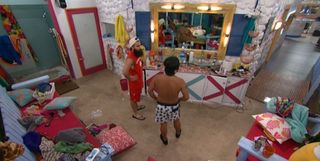 Spoilers from the Big Brother live feeds! That includes the winner of the Head of Household competition on Thursday night, who they nominated, and who won the Veto. We also have a pretty good sense of who the current target is, though it's still early enough in the week that that could change.
Here's who's in power and who's on the block...
Head of Household - Victor
Nominated - Michelle and Zakiyah
Won the Veto - Paulie
Primary target - Things aren't looking good for Michelle right now.
The Veto competition was the hide-the-item comp, where houseguests hide an item (a disc or something with their name on it) and then tear the house apart looking for it. Paulie won it, and though Zakiyah seemed thrilled over that, it sounds like Paulie has decided not to use it.
This Big Brother week is quietly becoming the week of Paul vs. Paulie. Neither are on the block, however both are trying to control who goes home this week, and each of them has their own idea of what needs to happen. It's been clear since before nominations that Paulie would rather Michelle go. His reasons include that she's emotional, a loose cannon, and that she's unpredictable and running her mouth. If I'm speculating on additional reasons, maybe he's concerned that she sees that he's running things, or he knows he has no control over what she does. And if she wins Head of Household during the double eviction, there's a chance she would put him up. He also might realize that he'll have Zakiyah in his pocket if Machelle is out.
Paul, meanwhile, has been pushing for Zakiyah to go. He's got Victor on board, but as Head of Household, Victor has no say in the matter. Everyone else seems to be prepared to evict Michelle. At least, that's the impression they're giving Paulie.
Paul and Paulie haven't gotten into an all-out fight over which houseguest should go, but they have had numerous discussions about it, and have not come to a solid agreement yet. Paulie has been acting pretty casual about the idea of Zakiyah possibly going, repeatedly saying "If it's her time to go, it's her time to go." And he's hearing Paul out every time he tries to make a case about why Zakiyah is the obvious choice to be evicted. Paulie pushes back here and there, never really committing to the idea of getting Zakiyah out. And I think Paul knows he needs to keep selling it, because he constantly brings it up.
Meanwhile, Paulie has been carefully sewing seeds in the minds of other houseguests about what needs to happen. This is particularly apparent with James and Corey. Especially now that James has the America's Care Package "eliminate two votes" power. That will likely factor in. Paulie has repeatedly confirmed with them that Michelle is the target, though he acts much less certain about the situation when Paul is in the conversation. And then Paulie says his next target is Bridgette. But I'm not sure he's being honest about that, because he keeps throwing little comments about there about Victor, and how it's fine if he sticks around, but hey, if they get a shot to take him out, they should take it.
If I were a betting woman, I'd say that Paulie's going to try to get Victor back-doored this Thursday. To be clear, he has not directly said he's trying to do it, but between how he's been playing this game, added to the things he's been saying lately, I would not be surprised at all if that's his plan. It seems evident though that he wants to maintain his bromance with Paul, which is probably why targeting Michelle and keeping Zakiyah safe especially challenging this week.And why I think if he does try to fire a shot at Victor, it'll be through someone else, not directly.
The Veto ceremony is Monday. As of Sunday, it's unlikely that he will use it, but we won't know for sure until tomorrow whenever the ceremony happens. Assuming he doesn't, we'll be seeing Zakiyah and Michelle on the block for the first eviction on Thursday. One of them could have the round-trip ticket, so there's always a chance that whoever goes will come right back. And then the double happens. If these houseguests knew what they were doing, the'd gun for Paulie. I can't imagine he'll fly under the radar much longer. But for now, he's in a pretty good position.
Your Daily Blend of Entertainment News
Assistant Managing Editor
Kelly joined CinemaBlend as a freelance TV news writer in 2006 and went on to serve as the site's TV Editor before moving over to other roles on the site. At present, she's an Assistant Managing Editor who spends much of her time brainstorming and editing feature content on the site.