Celebrity Apprentice Trailer: NBC's First Promo Reveals Arnold's New Catchphrase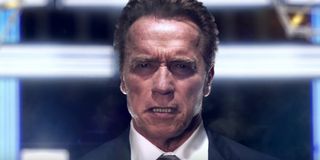 For those of you who thought that The Celebrity Apprentice just wouldn't be the same without Donald Trump, well, looks like you're absolutely right. We finally got our first look at NBC's new version of the show with Arnold Schwarzenegger, and we're loving the new catchphrase that goes along with it. Check it out.
New boss Arnold Schwarzenegger has finally debuted what sounds like the new catchphrase the show will use when it returns Trump-less in January to NBC, by way of this promo was was posted on the show's YouTube page. And, while we don't know to 100% certainty that "let's get down to business" will be that catchphrase, it's unlikely that The Celebrity Apprentice would spend so much time emphasizing that in the promo if it weren't. Also, let me just lay this on the line right now: if "let's get down to business" isn't the new catchphrase, the powers that be at NBC should be ashamed of themselves, because they have just missed a golden opportunity.
Anyone who paid the smallest amount of attention to The Apprentice or The Celebrity Apprentice while Donald Trump was hosting knows that he and those shows made the phrase "you're fired" famous for a whole new reason. Well, it was actually for basically the same reason, except that you, personally, weren't the one getting fired. The catchphrase made simple sense; it was true in the context of the show when people got booted off and it was catchy and easy to remember. Once NBC said "you're fired" to Trump about a year ago, though, any new iteration of the new show would need not only a new boss and board members, but a new catchphrase to totally set itself apart from what had come before. Let's face it, the network will likely not want you thinking about the guy it fired for saying things they didn't like about immigrants when you're watching immigrant Arnold Schwarzenegger headline the new show.
A couple of months ago, NBC president Paul Telegdy revealed that the show would definitely be looking to bring a new catchphrase on board, but, at the time, they didn't know what it would be yet. "Let's get down to business" might not roll off the tongue quite like, "you're fired," but it captures a certain new seriousness for the show that already feels just right. I'm sure the temptation to go with "hasta la vista, baby," or "you won't be back" was pretty strong, but since they already paid homage to Schwarzenegger's Terminator legacy in the promo as they're shown "building a new boss," this catchphrase comes off as way classier.
I'm already imagining that they'll be fewer ridiculous cat fights about nothing important on this new Celebrity Apprentice. All of these cat fights will matter, people. Like, big time. And, doesn't Arnold Schwarzenegger already seem more intimidating and business-like than Donald Trump did? He's got a cigar lit by robots, for heaven's sake. Maybe this new catchphrase is a sign that the show will go back to more creative challenges, and stay away from ones where the winners simply have the most friends with the most money. I mean, really, I can see Schwarzenegger making these celebrities actually work for their winnings.
Well, we can all, hopefully, get our fill of Arnold Schwarzenegger and his "let's get down to business" badass boss attitude when the Celebrity Apprentice returns to NBC on January 2, 2017.
Yennefer's apprentice, Gilmore Girl; will Vulcan nerve pinch pretty much anyone if prompted with cheese...Yes, even Jamie Fraser.
Your Daily Blend of Entertainment News
Thank you for signing up to CinemaBlend. You will receive a verification email shortly.
There was a problem. Please refresh the page and try again.