Where The Majority Of Netflix Subscribers Are Going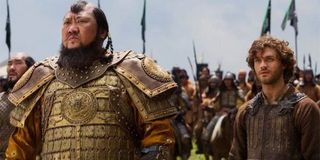 Over the last few years, Netflix has become a major player in the United States, as certain factions of the population have cut cable and shifted toward a binge-watching model. However, a new report indicates there is soon going to be a major shift in Netflix's subscriber population. In fact, by 2018, more subscribers are expected to be based elsewhere in the world than in the company's home country of the United States.
That's a pretty seismic shift, considering where the numbers are at right now. Per the research firm IHS Markit (via The Video Ink), during Quarter 2, Netflix stated the company had 79.9 million total users. Of that number, 46 million came from the U.S. and 33.9 million came from elsewhere around the world. The projections indicate that by 2018, there will be more non-US subscribers than US subscribers. In addition, the research firm believes the audience outside of the States will balloon to more than 75 million users by 2020. That's a lot of growth, and it's coming very fast.
The company has made a big push into other countries in recent years, but that push hasn't come without challenges. Some countries don't have an audience that can really afford the cost of a Netflix subscription each month. In addition, Netflix has still been shut out of certain countries, including China. Finally, the company faces challenges in certain countries because of the content the subscription streaming service has available. In certain areas, it can be hard to compete with shows like Orange is the New Black and House of Cards when other local services are offering more relevant and localized content in the country's own language. These competing services are often way cheaper, as well---especially in places like India.
Despite the challenges, it looks as if Netflix is catching on. Less than a year ago, Netflix announced it was expanding into a slew of countries. Now, the service is available in 190 countries worldwide. Netflix has also learned into creating some original content for different audiences. Narcos prominently is shot in Spanish and the French series Marseille was geared to an audience that spoke French.
This news is coming just a month after Netflix had to talk to its shareholders about slowing subscriber growth. Obviously, these numbers seem to refute those problems a little bit, but slowing subscriber growth simply means that people aren't signing up in such high droves as they once were. Since much of Netflix's stock is tied to how many subscriptions people have signed on for--that's how the company makes money, after all--any positive numbers related to subscription growth are a good thing for the company.
We'll keep you updated as this story shakes out. In the meantime, you can see what Netflix has coming up with our Netflix premiere schedule.
Reality TV fan with a pinch of Disney fairy dust thrown in. Theme park junkie. If you've created a rom-com I've probably watched it.
Your Daily Blend of Entertainment News
Thank you for signing up to CinemaBlend. You will receive a verification email shortly.
There was a problem. Please refresh the page and try again.