17 TV Remakes And Revivals That Are Currently In The Works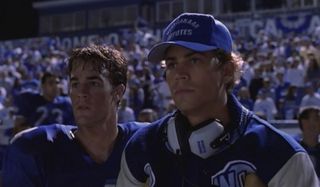 TV news nowadays is filled with remakes, revivals, and continuations. After the success of The X-Files' return to television and the levels of buzz around some of the other revivals, we can expect that networks will carry on trying to strike gold by bringing back successful premises for another go. Some remakes fall apart early on and never get past the theoretical stage, but others are still in development and moving toward the small screen. Check out our list of 17 TV remakes and revivals that are currently in the works!
Xena: Warrior Princess
Xena: Warrior Princess was a fantasy series that aired from 1995 - 2001 and followed the warrior Xena in her attempts to redeem herself from a very dark past with the help of her sidekick Gabrielle. The reboot will feature serialized plots and a new cast. We do know that the ambiguous relationship with Xena and Gabrielle will no longer be ambiguous if a remake comes together; the remake would explore a romance between the ladies.
What Stage of Development: No set premiere date, but Lost alum Javier Grillo-Marxuach is on board to write and produce for NBC.
Training Day
Training Day started out as a 2001 film following the action of a corrupt cop as he was partnered with a more idealistic cop. The series will serve as a continuation of the events of the movie, taking place 15 years after the end credits rolled. Bill Paxton and Justin Cornwell star.
What Stage of Development: No premiere date has been set, but CBS has given Training Day a full series order.
MacGyver
The new MacGyver will bring back the premise of an improvisational genius who can create something useful out of almost anything. The show will be updated to include 2016 technology in addition to the good old-fashioned office supplies. Lucas Till and George Eads star.
What Stage of Development: MacGyver debuts on Friday, September 23 at 8 p.m. ET on CBS.
The Notebook
A revival of 2001's The Notebook has been in the works for a while, but development had stalled. Now, The CW is once again moving forward with the project, which will follow the drama of Noah and Allie's courtship post-WWII after the events of the original movie.
What Stage of Development: A script was ordered by The CW.
L.A. Law
L.A. Law was a legal drama that originally ran from 1986 - 1994 on NBC. It covered fictionalized versions of real-life matters that were relevant to audiences everywhere. Original creator Steven Bochco and former writer Billy Finkelstein are looking to adapt a L.A. Law revival for the 21st century.
What Stage of Development: Bochco and Finkelstein are working on a script for Fox.
Tales From The Crypt
Tales From the Crypt started out as an HBO horror anthology series that ran from 1989 - 1996. The revival will air on TNT with M. Night Shyamalan as the executive producer. Although TNT won't have the same freedom for gore and language as HBO, we can at least count on a similarly creepy Crypt Keeper.
What Stage of Development: A ten-episode first season will premiere in 2017 on TNT.
Prison Break
Prison Break ended its original run in 2009 after four seasons. The revival will pick up several years after the events of the finale and deal with the reveal that Michael never actually died; he was just imprisoned again.
What Stage of Development: The ten-episode revival will debut in winter 2017 on Thursdays at 9 p.m. ET on Fox.
Lethal Weapon
Lethal Weapon will be a small screen adaptation of the popular Lethal Weapon film franchise that followed the exploits of a pair of mismatched cops. Clayne Crawford and Damon Wayans will star, so the series should have a good balance of action and humor when it hits the airwaves.
What Stage of Development: Lethal Weapon makes its grand TV debut on Wednesday, September 21 at 8 p.m. ET on Fox.
Twin Peaks
Twin Peaks was a bizarrely intriguing series that followed FBI Agent Dale Cooper as he tried to investigate the murder of homecoming queen Laura Palmer. The revival will pick up 25 years after the series finale back in 1991 and feature a massive cast of famous folks. Kyle MacLachlan will reprise the role of Agent Cooper.
What Stage of Development: Filming has completed, and the series will debut on Showtime at some point in the second quarter of 2017.
Lost In Space
The original Lost in Space ran for three seasons from 1965 - 1968 and followed the adventures of the Robinson family of space colonists. The new series will be similar to the first as the Robinsons are stranded light years off course and forced to deal with strange environments as well as their own troubles.
What Stage of Development: Ten episodes of Lost in Space will be available on Netflix at some point in 2018.
Gilmore Girls
Gilmore Girls was a dramedy all about the lives and loves of Lorelai GIlmore and her daughter Rory. The show is returning for a Season 8 of four episodes that will catch fans up on what Lorelai and Rory have been up to since the end of the series in 2007. Many of the original cast members will be back for the new episodes, which will be subtitled A Year In The Life.
What Stage of Development: All four episodes of the revival will be available on Netflix on November 25, 2016 at 12:01 a.m. PT.
Frequency
Frequency will be a remake of the film of the same name and feature Detective Raimy Sullivan as she discovers that she can chat with her deceased father via ham radio. Father and daughter team up to solve mysteries. Peyton List stars as Raimy.
What Stage of Development: Frequency premieres on Wednesday, October 5 at 9 p.m. ET on The CW.
Star Trek: Discovery
Star Trek: Discovery will be the first Trek series on TV since Enterprise came to an end in 2005. It will tell serialized rather than episodic stories for the latest crew that will boldly go where no one has gone before. The series lead will be female and connect to an event around the original 1960s series.
What Stage of Development: Star Trek Discovery will be available on CBS All Access in January 2017.
Mystery Science Theater 3000
Mystery Science Theater 3000 was a series that featured robots and humans delivering commentary on campy old movies, and it was so weirdly hilarious that we should all be glad that not much is changing for the revival. Felicia Day and Patton Oswald will join the old crew of characters for the next batch of episodes.
What Stage of Development: Netflix has ordered four episodes of ninety minutes each to debut at some point in the not-too-distant future.
The Exorcist
The Exorcist is best known as the 1983 movie that really introduced demonic possession as a horror trope. Supernatural series aren't hard to come by nowadays, but the upcoming Exorcist TV adaptation could be a winner as it takes the premise in a different direction. Who knows? Maybe demonic possession will be scarier than ever thanks to the upcoming Exorcist.
What Stage of Development: The Exorcist premieres on Friday, September 23 at 9 p.m. ET on Fox.
Varsity Blues
Varsity Blues was a 1999 teen flick about a backup quarterback who ended up leading his team after the star was injured, and it featured a whipped cream scene that guaranteed the movie would never be totally forgotten. Details about the TV revival are still scarce at this point, but the original movie writer in on board to contribute to the project.
What Stage of Development: CMT has ordered a script for a potential TV version of Varsity Blues.
The Departed
The Departed was a star-studded film from Martin Scorsese about undercover cops, the Irish mob, and betrayal that was a financial and critical hit. The Departed TV show would move the action away from the Irish mafia in Boston to the warring Latino gangs of Chicago.
What Stage of Development: Amazon is very early in the process of development on the Departed TV project.
Be sure to check out our fall TV premiere schedule to see what else you'll be able to watch on the small screen in the not-too-distant future.