Gilmore Girls New Episodes: What We Know So Far About Season 8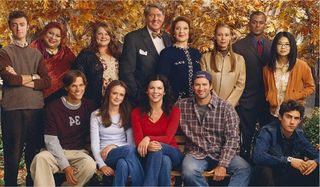 Revivals, reboots and remakes have been extremely trendy on television in recent years. If a show has a lasting audience, there's a good chance a network or streaming service is at least interested in pursuing new episodes. Not all of those projects ever make it to fruition, honestly, but there are several lucky former TV shows that are making their way back to the small screen, including the WB's former series Gilmore Girls, which is coming back for a revival or shortened eighth season, depending on how you'd like to think about it. If you've been anxiously awaiting any news about the upcoming revival series, have no fear, we've compiled a handy guide relating everything we know about the return of Gilmore Girls, including who's in and who's out. In addition, we plan to update this puppy as time goes on and more Gilmore Girls secrets are revealed. So, stay tuned, and check out what we know, below.
When Will It Premiere?
Recently the network revealed that Gilmore Girls would be subtitled A Year In The Life. The show will finally hit the schedule on November 25, 2016 at the usual 12:01 a.m. PT. Filming began on the drama way back in early February on the Warner Bros. lot. Netflix has also revealed a plan to produce more than double the originals it currently has in 2016, which is probably why the revival got off of the ground pretty quickly. You can check out more Netflix premiere dates here.
Prior to the series hitting the schedule, some outlets have posted reviews of the series. Most have been fairly positive, although not overwhelmingly so. If you'd like to check out reviews, head here.
How Many Episodes Are Fans Getting?
Fans are only getting four brand new episodes of Gilmore Girls, which I know doesn't sound like the best news ever. But there is a light at the end of the tunnel. In fact, each of the four episodes will not be your average network TV episode in length. Instead, they'll each be 90 minutes long, making them closer to two regular episodes of the original series in length. Each of the four episodes will represent one season in a year. Which means there will be a "Winter", "Spring", "Summer" and "Fall" episode, currently listed in that order.
The even better news? The creative team initially wanted to air each of these episodes separately; however, Netflix recently revealed that Gilmore Girls: A Year in the Live would be available for binge-watching. Apparently, the company was worried stagnating the episodes might annoy some viewers who were used to the normal model.
How Did It Come Together?
Some time ago, the interwebs began buzzing that Gilmore Girls could eventually get a revival of sorts. Then, Paleyfest actually got a good chunk of the cast to reunite to talk about fond memories from the time when they were shooting the network TV series. During that panel, showrunner Amy Sherman-Palladino said nothing was in the works officially, but other cast members had expressed interest in some sort of onscreen reunion. A few short months later and the rumor mill seemed to indicate Gilmore Girls could come back. Eventually, that led to Netflix's official Gilmore Girls: A Year in the Life announcement. The rest is history.
What Have We Seen So Far?
A full trailer was finally released for Gilmore Girls: A Year in the Life, and it certainly harkens back to the original iteration of the show. It also features some interesting cameos and kind-of updates us on everyone's lives. Take a look, below.
Oh, see? It's just awesome and funny and just like the Lorelai and Rory of olden days. I can't wait for this to premiere on November 25. I might just watch it more than once.
The Cast: Lauren Graham's Lorelei Gilmore
Obviously, there could be no Gilmore Girls without Lorelei Gilmore, played by Lauren Graham. Graham conveniently just ended a run on NBC's Parenthood last winter. She's popped up in a few things since then, but her schedule was open enough to allow her to come back for Netflix's Gilmore Girls.
We currently don't know much about what to expect from Lorelei during the Gilmore Girls revival, but as the series left things uncertain between herself and Luke, expect that to be addressed. In addition, Lauren Graham has been very open about how emotional returning to the set has been. She even gushed about "The House" being recreated for the drama.
Sidenote: There's almost no chance Paul Anka is around a decade later, right? (Update: In the shocker of the week, Paul Anka will definitely be back.)
The Cast: Alexis Bledel's Rory Gilmore
Gilmore Girls was always a story about a mother-daughter relationship, and Rory Gilmore is just as key to the drama as Lorelei is. Alexis Bledel is also going to be back for Season 8, and she'll probably be one of the most-changed characters, considering there is a huge difference between the time when a person is just finishing college and getting her career off of the ground and being in her mid-thirties and hopefully having a few more things figured out.
After Gilmore Girls ended way back in 2007—yes it was that long ago—Alexis Bledel has had some work in the movies and briefly appeared in TV stuff like Mad Men and Motive, but she hasn't been in a ton of projects, TV or otherwise. In fact, her big TV comeback, Us & Them, was cancelled before it even hit the airwaves. Suffice to say, we're happy to see her back on the small screen.
Scott Patterson's Luke
Scott Patterson was one of the original cast members to support a potential comeback for Gilmore Girls, so it's no shock he will be back for Gilmore Girls: A Year In The Life. His character, Luke Danes, was another big key component on the original show and his on-again, off-again romance with Lorelei was one of the reasons people watched. We know that a new version of Luke's diner has been built already, so presumably, not a lot has changed in Luke's life over the years. We'll let you know as soon as we learn anything more.
Team Logan, Team Dean or Team Jess?
As Luke proved, romance was certainly an important part of Gilmore Girls. While Lorelei swapped off between Luke, her ex Christopher, and a slew of other gentleman suitors to keep our attention, over in Rory's world, she had three main love interests: Dean Forester, Jess Mariano and Logan Huntzberger. Over time, each of these three generally attractive young men showed both pros and cons, and each were ultimately dumped by young Rory so she could go pursue her career. (You go you, girl!)
The thing is, now Rory is nearly 10 years older and 10 years wiser, and we're just going to go ahead and presume she hasn't found the love of her life at this juncture. Luckily, we do already know that Jared Padalecki, Milo Ventimiglia and Matt Czuchry have all made time to at least cameo in the new episodes, although details are mum about when or for how long they will appear. So pull out your team whoever t-shirts, as it's good news each of the actors will at least be able to show up.
Matt Czuchry's Logan
Logan was Rory's serious college boyfriend. An overprivileged and whip-smart playboy, Logan wasn't really a satisfying boyfriend when the two first started dating, but he could be charming and he was far more dazzling than Rory's high school beaus. Later in the series, he did seem to buckle down and want to stick it out with Rory, even proposing to her. Unfortunately, it was just as she began to want to spread her wings and fly off into her own career.
In the time since Gilmore Girls ended, Matt Czuchry has had plenty of other work, most notably on CBS' The Good Wife, where he has been for the past seven seasons. The show is ending this spring, and Czuchry was able to work Gilmore Girls in.
Jared Padalecki's Dean
Obviously, Dean was Rory's first real love interest, although not her first sort-of flirtation. Dean was a pretty staunch guy and even refurbished a car for Rory when they were together, but later he scorned her, got married young and then subsequently cheated on his wife with Rory, whom he clearly wasn't over. Ten years later, I'm assuming he's back to being a steadier personality, and it was great that Jared Padalecki could find time between shooting Supernatural Season 11 episodes on the CW to pop in.
Milo Ventimiglia's Jess
Rory dated Jess while she was still in high school, despite the fact her mother disapproved of the match. He was scornful and pretty angry when they were together, thanks to having an unstable home life, but Rory really did seem to bring out the best in him. The two characters even got some closure later in the series when Rory went to visit him at his new publishing job. We haven't seen him in a while, but a lot of people who love Jess are probably hoping he has continued his path into adulthood with aplomb. We have no idea if he'll appear in multiple episodes, but we are happy he found time to appear.
Kelly Bishop's Emily Gilmore
Kelly Bishop was in both Gilmore Girls and Bunheads, but she's obviously more notable for her character on the former. When last we left Emily Gilmore, she was living happily with her husband, Richard, and things were going okay in her relationship with her daughter and granddaughter. Obviously, with the actor who played Richard, Edward Herrmann, passing away, things are going to be different with Emily when the show picks up. The actress has called her character in A Year In The Life a little "manic" and "desperate to push through" her grief related to her late husband. It sounds a little bit similar to when Richard's mom, Trix died, and Emily found that letter noting Trix had never wanted Richard to marry her. Only this should be more connected to grief than regret and hurt feelings, and should be all the more raw for it.
On the bright side, this may have a good effect on Lorelei and Emily's relationship. The two have struggled throughout the years to get on the same page, but recently, Lauren Graham mentioned that some "healing would be happening between the two characters.
We can't wait to see how this particular plotline pans out!
Which Other Cast Members Will Be Back?
In addition to Lorelei, Rory, Luke, Dean, Jess, Logan and, of course, matriarch Emily Gilmore, a slew of other fun names have been added to Gilmore Girls Season 8. That includes Sean Gunn, who played Kirk during the show's original run and who was one of the first actors who was listed as coming back. Keiko Agena, who played Rory's friend Lane, will also be around for A Year In The Life, as will Yanic Truesdale's Michel, who worked at the Dragonfly Inn. Liza Weil, who has a gig on How To Get Away With Murder, will also be back. The trailer also revealed that Carole King is going to be involved in the new iteration. Go ahead, get a little excited!
This brings us to Melissa McCarthy, who played Sookie on the original series. The actress broke big after her role on Gilmore Girls ended, and initially was saying that she wasn't even asked to return for Gilmore Girls: A Year In The Life, although the creative team for the Netflix series isn't saying that's the case. Alls well that ends well, however. The team eventually worked out a way to have her pop onto the set to film a scene, and McCarthy seems stoked to be back for the revival. More recent reports have indicated that McCarthy filmed one substantial, 10-page scene.
We're obviously presuming some unconfirmed names will still be around Stars Hollow, too, but there are some originals who will not be back. That includes Scott Cohen and Wayne Wilcox, who played romantic interests for both Lorelei and Rory on the original show.
Are There Any New Cast Members?
Yes! I'm sure we'll see several new faces when the show eventually hits the airwaves. However, there has been one big casting for Gilmore Girls. The first non-original cast member to be signed on to the revival is none other than Sutton Foster, who currently stars in TV Land's Younger and formerly starred in the other quirky series from Amy Sherman Palladino, Bunheads. There's no word on how she'll fit into the Gilmore Girls universe, but we'll keep you posted as soon as we know.
More recently, former Scandal actor Dan Bucatinsky also admitted he will be a part of Gilmore Girls: A Year in the Life on Netflix. More info here.
How Will Gilmore Girls Address Edward Herrmann's Death?
As we noted prior in this article, Edward Herrmann died just after the Christmas holiday in 2014. He was only 71. Obviously, his death was devastating for fans, and instead of trying to recast, Gilmore Girls does have plans to pay tribute to the actor by dealing with his character's death on the TV series.
A few months ago, we learned the show would address Richard Gilmore's passing in order to write in a reason for Edward Herrmann's absence. Early on, the show will be a little bit about mortality and grief, and obviously Emily will be hit the hardest by the loss of her husband.
Where Will Gilmore Girls Season 8 Be Set?
We are definitely heading back to Stars Hollow, Connecticut the fictional location where much of Gilmore Girls was set before Rory went off to Yale. Leaked set photos have revealed locations being built on the Warner Bros. lot, including Miss Patty's Dance Studio and more!
Where Did Gilmore Girls Leave Off?
When last we saw the Gilmore Girls cast, the town of Stars Hollow was very much up to its usual meetings and the like, planning a going away party for Rory, who had just accepted a job on Barack Obama's campaign trail after graduating from Yale. Logan had proposed to her, but she had turned him down, deciding to put her career first. Although she ended up losing a valuable internship, she ended up gaining a job, so it all worked out. Lorelei was still in Stars Hollow, running the Dragonfly Inn, although she promised to still see her mother Emily on Fridays for dinner. Although Lorelai's brief marriage to Christopher did not work out, she seemed to finally be reconciling with Luke during the last episode of the series, and things seemed as if they might work out. Lane had become a mom of twins and got to say goodbye to Rory along with the rest of the town before she left. Everything wrapped up at the end of Season 7, although I wouldn't say neatly, and the Netflix series should have plenty of directions to go in when it does eventually return. It should be a blast.
Do We Know Any Other Juicy Tidbits?
Yes! While the cast and crew have been pretty tight-lipped about where the plot is going during A Year in the Life, new images from the set show that Rory seems to be back in Stars Hollow, possibly for good. There's the awesome photo above, which shows her teaching English literature at Chilton, a fitting position for the young lady if there ever was one. Other new images have shown Luke and Lorelei holding hands and attending town hall meetings together. While some things have changed, others haven't, at all.
Are There Any Other Juicy Tidbits?
Yes, absolutely. Amy Sherman-Palladino has been talking a lot about the revival over the past few months and she recently revealed she was less familiar with Season 7 than you might guess. (She didn't work on that season over at the CW.) Why is this so important for the revival. Well, the show creator says that while she tried to stick with canon, she did make at least one big change that she thinks fans might notice when we watch. Although she's not expressly saying what that change is, we do know to keep our eyes peeled for an Easter egg when Gilmore Girls: A Year in the Life hits the schedule.
Your Daily Blend of Entertainment News
Reality TV fan with a pinch of Disney fairy dust thrown in. Theme park junkie. If you've created a rom-com I've probably watched it.