What Needs To Happen Next On Agents Of S.H.I.E.L.D.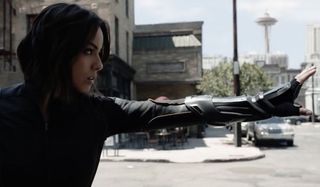 Agents of S.H.I.E.L.D. is about to return to the airwaves for its fourth season on ABC. The show has consistently gotten better and more cohesive as the years have passed, and Season 4 has the potential to be the best of all. Season 3 seemingly ended the Hydra plot for the foreseeable future and set the course toward artificial intelligence as the next threat. The show did everything it could with Hydra, and the time is right for the agents to tackle a different brand of trouble. On the whole, there are some specific directions that Agents of S.H.I.E.L.D. has to go during Season 4. Read on for our breakdown of what needs to happen next on Agents of S.H.I.E.L.D.
Bring Back Bobbi And Hunter
One of the most emotional episodes of Season 3 featured the departure of Bobbi Morse and Lance Hunter. The pair had become fixtures on the team, and the only reason that many of us were able to make our peace with their exit was that they were heading off to a spinoff of their own. Unfortunately, that spinoff never made it past the pilot stage. Their departure from S.H.I.E.L.D. was handled in a way that felt pretty final, but S.H.I.E.L.D. has tackled the impossible in the past. Surely the show can find a way to bring the dynamic and often dysfunctional duo back, even if only for guest roles every once in a while.
Give Fitzsimmons A Break
Who could have guessed back in Season 1 that the primary romance of the series would be the Fitzsimmons love story? S.H.I.E.L.D. had been toying with the idea of Fitz and Simmons getting together from almost the beginning, although it was often played for laughs early on. After only a few ups and a whole lot of downs, they finally got together and became a couple in the second half of Season 3. Iain De Caestecker and Elizabeth Henstridge have proved to be capable of handling drama together just as well as comedy, but Fitzsimmons deserves a break from the darkness. We do know that the couple will face some trouble in Season 4, but S.H.I.E.L.D. should let them dream of their Perthshire happily-ever-after for a bit before throwing heartbreak at them yet again.
Remember Coulson's Mistakes
The final scene in Season 3 featured a Coulson who had been demoted from his position as Director of S.H.I.E.L.D., and we've already learned who the show has chosen to replace him. Coulson is clearly paying for some of his big Season 3 mistakes. Still, the series really needs to continue to hold Coulson accountable beyond just demoting him to field agent. Coulson has always loved getting out from behind his desk and into the field; the demotion might not have done much more than hurt his pride. There's no denying that all of the apocalyptic trouble with Hive in the second half of Season 3 was ultimately Coulson's fault, and Lincoln payed for Coulson's error in judgment with his life. If he is going to believably learn his lesson, he needs to be held accountable for his mistakes.
Keep Ward Dead
The action of Agents of S.H.I.E.L.D. didn't really pick up and become must-see TV until Season 1 revealed that the blandly admirable Agent Grant Ward was actually a double agent working for the major villain of the year. Brett Dalton was more compelling as a bad guy with facial hair than he ever was as a clean-shaven good guy. Ward was an essential part of Seasons 1 and 2, and he even played an important role in the first half of Season 3. In the second half of the third season, however, it began to feel like the show was going too far in trying to keep Dalton onscreen in some capacity. Dalton was great as Ward and as Hive in Ward's body, but at this point, Ward needs to stay dead and gone.
Give Ghost Rider A Solid Origin Story
The biggest news to come out about Agents of S.H.I.E.L.D. over hiatus has been the reveal that Season 4 would feature Ghost Rider. Most of the promotion for Season 4 has either featured or revolved around this new character, and we already know that the season premiere will center on the agents' discovery of Ghost Rider. It's definitely worth getting excited that S.H.I.E.L.D. is apparently going to great lengths to do justice to such a legendary character. Still, the show is not about Ghost Rider or any other Marvel superhero. Agents of S.H.I.E.L.D. must find a way to introduce Ghost Rider in a way that is exciting but won't take over the entire plot.
Keep The Movie Tie-Ins Logical
As part of the Marvel Cinematic Universe, S.H.I.E.L.D. has incorporated elements from the movies from the beginning. Captain America: The Winter Soldier influenced Season 1 in a huge way, and the Avengers movies have affected the course of the series as well. Captain America: Civil War introduced some new policies by the end of Season 3. Movie tie-ins will reportedly continue into Season 4 as the release of Doctor Strange approaches. Magic will be a big change for the agents, many of whom are scientifically-minded and will need some convincing about the validity of magic. S.H.I.E.L.D. needs to connect the movies to the show in a logical way that won't necessarily require viewers to have seen the films to understand what's happening.
Incorporate More Comic Characters
Agents of S.H.I.E.L.D. has always done a good job of maintaining focus on the original main characters rather than forcing comic characters into the spotlight just because they're comic characters. So, given the show's record of using some of the most unique names from Marvel lore, there's no reason why it shouldn't continue to add more characters from page to screen. Marvel is filled with heroes and villains with fantastic powers and abilities; S.H.I.E.L.D. could stand to add more as Season 4 progresses if it continues to maintain focus on the core group. I've felt that Marvel is actually much better than DC when it comes to introducing comic characters to non-comics readers without shoving them to the forefront of the plot, and it could be fun to see S.H.I.E.L.D. reach deeper into Marvel lore in the future.
Get Creative With Artificial Intelligence
The Season 3 finale revealed that artificial intelligence would be the next twist for the S.H.I.E.LD agents. Dr. Radcliffe succeeded in creating a humanoid robot with an A.I. program at work to control its actions. We can safely assume that Radcliffe will lose control of his Artificial Intelligence Data Analyzer - or A.I.D.A., for short - at some point in Season 4. S.H.I.E.L.D. almost certainly won't go the Terminator or Battlestar Galactica route and destroy civilization to demonstrate what can happen when machines turn on their makers. At the end of the day, however, the premise of sentient machines turning on their creators has been done to death on the small screen. The 100 finished an A.I. story only last spring. S.H.I.E.L.D. needs to get inventive to set its handling of A.I. technology apart from other series.
Incorporate Crossovers
The Marvel world has become much bigger than just Agents of S.H.I.E.L.D. and the big screen releases, and the possibility of small screen crossovers with the Netflix series is pretty exciting. The show wouldn't even need to bring in Charlie Cox or Krysten Ritter as guest stars; somebody could just mention there's some craziness going on in Hell's Kitchen to connect to Netflix branch of the Marvel universe to the ABC branch. Also, now that Agent Carter has tragically gotten the axe from ABC, Peggy Carter is gone from the small screen. Agents of S.H.I.E.L.D. has managed to bring Peggy in via flashbacks in the past; surely the show could do it again to give us another look at what she was up to in the formation of S.H.I.E.L.D. Hayley Atwell is still on ABC, anyway.
Agents of S.H.I.E.L.D. Season 4 premieres on Tuesday, September 20 at 10 p.m. ET on ABC. Check out our fall TV premiere schedule to see when your other favorite shows return to the airwaves as well.
Your Daily Blend of Entertainment News
Laura turned a lifelong love of television into a valid reason to write and think about TV on a daily basis. She's not a doctor, lawyer, or detective, but watches a lot of them in primetime. Resident of One Chicago, the galaxy far, far away, and Northeast Ohio. Will not time travel, but will sneak references to The X-Files into daily conversation.
Your Daily Blend of Entertainment News
Thank you for signing up to CinemaBlend. You will receive a verification email shortly.
There was a problem. Please refresh the page and try again.