Pitch Review: Fox's New Baseball Show Is Full Of Honesty But Short On Personality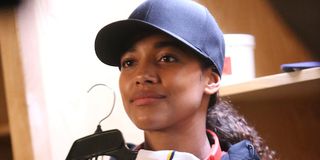 Sports are and will always be about winning and losing. That's why rosters are constructed, why games are played and ultimately, why fans pay money and devote time to watching. A baseball game offers a very clean outcome, and at the end of the year, it offers one World Champion. That's appealing in a world that's filled with murky, ambiguous grey, but for those who look very closely, sports often go a whole lot deeper. In fact, some of the most famous athletes of all-time never really won anything at all. Some of the most popular athletes, to this day, are only marginally talented. Sometimes just making the big leagues is a decade long struggle that producers a winner.
That's the story of Pitch, FOX's new drama about professional baseball and specifically, the first female professional baseball player. Her name is Ginny Baker (Kylie Bunbury), and cleverly, the Dan Fogelman and Rick Singer drama makes her a screwball pitcher. For those who don't follow baseball, the screwball is a rarely used pitch that bends the opposite way of a curveball. It's not something hitters are used to seeing, and it's an option some legendary pitchers turn to later in their careers when they can no longer throw as fast. Our hero has been throwing it since she was a little girl, and it allows her to very conceivably be competitive and make a major league roster despite not being able to throw ninety miles an hour.
At the beginning of Pitch, making a major league roster is exactly what Ginny is struggling with. She's just been promoted to The Show for the first time, and the media has worked itself up into a frenzy. Her new teammates are asked about her incessantly. The talking heads are having a field day for obvious reasons. It's a media circus, and yet, all she's trying to do is pitch well enough not to get shipped back to the minors. Throughout the league, there will be many more important games, played by many players better than her, but for her, this call-up is everything.
Pitch does a great job of getting that weird dynamic across. A girl like her isn't destined to get a lot of chances. She has to make the most of her moment. She has to play well, and yet, for her teammates, like the aging team captain Mike Lawson (Mark-Paul Gosselaar), she's a weird sideshow in the middle of a long season and longer careers. They've played for higher stakes, and in all likelihood, they'll play for higher stakes again, at least unless playing with her proves to be their legacies. It's a philosophical question that's hard to wrestle with in the moment, and it's one we'll likely see Pitch explore as it moves forward.
There's a lot going on in Pitch's pilot, and some of it works more than others. The baseball scenes are pretty solid, and the outcomes are pretty believable. The show spends a lot of time trying to be honest about how a situation like this would unfold. From her throwing a screwball to how her teammates react to her to how many dollars signs people see connected to her, Pitch stays very grounded, but perhaps because of that, it also doesn't develop many really memorable personalities. Gosselaar seems like an early standout and both Ali Larter and Wonder Years veteran Dan Lauria make the most of limited material. If the show is ever going to really breakout, however, it's going to need more from its supporting characters. Right now, it's the Kylie Bunbury show, and baseball teams that only rely on one player don't tend to get very far.
Pitch airs on Fox on Thursday Nights. You can catch its debut on September 22nd.
Your Daily Blend of Entertainment News
Enthusiastic about Clue, case-of-the-week mysteries, a great wrestling promo and cookies at Disney World. Less enthusiastic about the pricing structure of cable, loud noises and Tuesdays.