How Legends Of Tomorrow Has Already Fixed A Major First Season Problem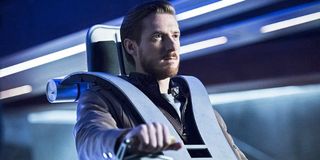 Warning: major spoilers ahead for "Out of Time," only read on if you watched the Legends of Tomorrow Season 2 premiere
Although it's far from the most popular DC series on The CW, Legends of Tomorrow has carved out a commendable niche for its willingness to embrace campy sci-fi, as well as a general sense of zany fun. The second season of the time travel series debuted this evening, and it has already become clear that Legends will most certainly double down on those qualities going forward. However, watching tonight's Season 2 premiere of Legends of Tomorrow has also revealed that the show has learned from some of its mistakes. We're only one episode into the new season of Legends, and the series has already introduced one of the most vital elements missing from last season: mystery.
Right from the first scene it was obvious that Legends would change things up this year. The episode opened with Mayor Oliver Queen and Legends newcomer Nate Heywood finding The Waverider in Star City bay with Mick Rory alive in stasis. Through a series of flashbacks, the career criminal lays out an adventure that the team had in New York circa 1942 involving Albert Einstein, Damien Darhk, Reverse-Flash, and an atomic bomb. In a last ditch effort to stop these villains from nuking New York, Rip teleports most of the Legends off of the ship, and mysteriously vanishes.
While that all sounds like standard Legends of Tomorrow stuff, the way the episode transpires is anything but that. Unlike most episodes of Legends of Tomorrow, the Season 2 premiere did not front load itself with plot details and exposition, and it teased some major mysteries going forward. What does the Legion of Doom have planned? Where the hell is Rip Hunter? With more episodes in its second season, Legends can take its time with these reveals.
Juxtapose this plot set-up with the events that transpired during the first season of Legends of Tomorrow, and you will instantly notice the difference. Even with its abbreviated first season, Legends constantly struggled to maintain narrative momentum last year, and much of that had to do with the fact that the threat of Vandal Savage was established and thoroughly laid out by the time the credits rolled on the pilot episode. The entire premise of Rip Hunter's vendetta against the immortal madman was solidified early, and the season never really felt like it was building to anything other than the final confrontation. Essentially, every episode was a procedural that more or less followed the same narrative beats, and it became tedious.
Ultimately, it seems as though Legends of Tomorrow has looked to the success of shows like The Flash and Arrow to model the story of its second season. From the mystery behind Harrison Wells' identity in Season 1 of The Flash, to the eventual reveal of Slade Wilson's survival on Season 2 of Arrow, DC's TV properties continuously fire on all cylinders when they unfold slowly, and don't give audiences too much too early.
How the mystery of Legends of Tomorrow's second season will continue to unfold is anyone's guess at this point. We will simply have to wait and see what new looming threats are waiting on the horizon. One thing is absolutely certain: DC's Legends of Tomorrow has undoubtedly found a way to improve upon one of the biggest flaws of its first season for its sophomore outing. Legends of Tomorrow airs every Thursday at 8 p.m. EST on The CW.
Originally from Connecticut, Conner grew up in San Diego and graduated from Chapman University in 2014. He now lives in Los Angeles working in and around the entertainment industry and can mostly be found binging horror movies and chugging coffee.
Your Daily Blend of Entertainment News
Thank you for signing up to CinemaBlend. You will receive a verification email shortly.
There was a problem. Please refresh the page and try again.