Happy Endings Woos Ryan Hansen For Casey Wilson Love Interest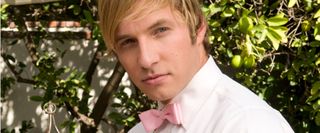 After one of the quietest debut seasons, Happy Endings still somehow ended up with a second season and good thing too, because now the sitcom is on quite a roll. ABC made the right choice staying with the young and promising show, even it was initially with a limited episode order to keep testing the waters. However, just last week, that got extended into a full sophomore season, which means plenty of time to hang out in Chicago with the funny six-some. The good news continues as ABC has also lined up an awesome guest star to play a love interest for one member of the group.
So, which member of the group will be getting lucky - or more likely unlucky - in love with a special guest star later this season? According to TVLine Party Down's Ryan Hansen (they called him Dick Casablancas but since I was not a Veronica Mars man, I had to google it to figure out what the hell they were talking about) is stepping into the show as a new love interest for Casey Wilson's Penny. The article says that he'll play a successful guy in desperate need of a make-over, which Penny feels obligated to give before finding him date-worthy. I'm sure it will all work out for Penny, just like it always does, and I'm excited to see Hansen (who I loved as Kyle) and her mix it up.
It's a little odd how ABC has been handling the show. It took a whole season for me to even hear of it and I am very thankful that I finally found it. On top of the lack of promotion, the network also took its sweet time deciding whether or not to renew it before going ahead with a measly half-season order before granting it another six episode extension. Finally, they stepped up and gave it the full season it deserves and maybe now they'll actually throw their full weight behind it and I hope so because it's one of the better traditional sitcoms on television. I love hanging out with the entire crew, even if Max is by far the best. Speaking of Max, here's Adam Pally doing Brett Ratner after the whole Oscar snafu...
Tune into Happy Endings, Wednesday nights at 9:30 p.m. ET on ABC.
Your Daily Blend of Entertainment News