New Arrow Clip Reveals Oliver's Biggest Threat May Be Hiding In Plain Sight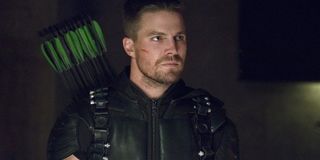 Oliver Queen is a survivor. Since the day he found himself marooned Lian Yu in 2007 he has faced off against mercenaries, assassins, gangsters, and even mystical sorcerers. However, it now seems that one of his greatest challenges to date is just ahead of him; he just doesn't know it yet. The team over at Arrow has kindly given us an exclusive look at tonight's episode, and it appears that Oliver may soon have to face off against his biggest threat yet from one of the most unlikely sources, the press. Check it out, below!
The exclusive look from tonight's episode'Vigilante' sees Mayor Oliver Queen walking into his city hall office to find Star City reporter Susan Williams waiting for him. After joking about engaging in a Twitter war with an investigative journalist from Russia, Susan reveals to Oliver that she knows about The Vigilante who has started to murder criminals in Star City. The two debate over the decision to reveal information about the killings to the rest of the city. Eventually it becomes clear that the stress of Oliver's job as Mayor has started to wear on him, and Susan once again asks him out for a drink that evening -- to which he finally says yes.
To the outside observer, that clip probably looks like little more than a simple dialogue scene. However, astute Arrow fans will likely remember that Susan Williams isn't the most trustworthy character. Despite her apparent flirtation with Mayor Oliver Queen, we must remember that Ms. Williams knows about Oliver's time as a member of the Bratva, which means she knows that he has ties to organized crime. The fact that she mentioned dealing with an investigative journalist IN Russia doesn't seem like an accident; she's likely digging deeper into his past. She has proven time and time again that she's an effective journalist, so with enough time it seems entirely plausible that she could eventually uncover his identity as Green Arrow.
There's a strong case to be made that this is one of the biggest threats that Oliver has faced since the sinking of the Queen's Gambit. Team Arrow has proven more than capable of dealing with the physical threats posed by the world's deadliest criminals and assassins, but an aggressive member of the Fourth Estate presents an entirely new challenge altogether. If Susan Williams exposes any part of Oliver's checkered history to the public, then everything he has worked for will be delegitimized, and Roy Harper won't be able to take the fall this time. Or maybe it's just a date.
It's also worth remembering that Oliver doesn't have the best taste in women outside of his social circle to begin with. Remember Isabel Rochev?
What do you think Susan Williams' intentions are with Oliver? Is she an enemy or an ally? We will begin to know for certain once tonight's Arrow, titled "Vigilante," airs this evening at 8 p.m. ET on The CW.
Your Daily Blend of Entertainment News
Originally from Connecticut, Conner grew up in San Diego and graduated from Chapman University in 2014. He now lives in Los Angeles working in and around the entertainment industry and can mostly be found binging horror movies and chugging coffee.