Two Legends Of Tomorrow Heroes Are Going To Look Way Different Soon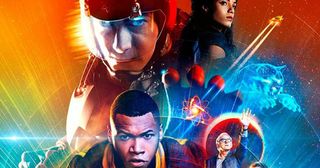 Warning: SPOILERS ahead for tonight's episode of Legends of Tomorrow, stop reading now if you're not up to date with the zany time-travel series
A super suit is not necessarily a prerequisite to be a superhero, but it definitely helps. The outfits worn by iconic comic book heroes offer all sorts of offensive and defensive capabilities, and allow our heroes to look damn good in the process. With that in mind, the heroes on Legends of Tomorrow seem to find themselves in a constant state of evolution (as is typically the case with a rag tag band of misfits) and the events of tonight's episode indicate that Ray Palmer and Nate Heywood are going to look very, very different in the near future.
After losing his A.T.O.M. suit a few episodes back, Ray finally managed to get his hands on an enormous stockpile of dwarf star allow during the events of "Outlaw Country." Now that he has finally acquired the most vital element necessary for his advanced shrinking suit, he can commence construction and eventually become Atom 2.0. He learned how to be a hero without the suit, so now it's time for him to come full circle.
This obviously isn't surprising. After all, Ray Palmer is The Atom, and as such it stands to reason that he would eventually manage to craft himself another suit to match the powers and abilities that fans have come to expect from this particular hero. Considering the fact that the show's producers now know that they're dealing with Ray Palmer (and not Blue Beetle, as he was originally intended to be on Arrow) it seems likely that Ray's new suit will be a relatively more faithful adaptation of his comic book counterpart. We will just have to wait and see.
Then there's Nate Heywood, who finally acquired his gloriously flamboyant red, white, and blue outfit (think low-budget Captain America: Civil War), as well as the codename "Steel," with a little help from his new pal, Ray. With regards to the newest member of the Legends team, the last few episodes have really served as an arc to get Nate ready for his status as a fully-fledged hero. Now that he has gone through several crucibles, he has rightfully earned the suit of a legendary DC badass. That's really the least Ray could do after Nate took a bullet to the torso tonight.
Between these two heroes, it's arguably a much bigger moment for Nate than it is for Ray. The historian turned amateur hero spent much of this episode lamenting the fact that he's often relegated to a supporting role, when he really wants to be out in the field helping others. Ray's decision to make Nate a suit serves as a perfect representation of the team's growing cohesion; it's an olive branch from the old guard to show that these heroes are ready to stand side by side in the face of greater threats.
The implications of these outfit upgrades extend beyond mere aesthetics as well. With Steel really starting to come into his own, and Atom about to acquire a new suit, this means that the Legends will soon have far more firepower at their disposal in a fight. Over the course of the last few weeks, Legends of Tomorrow has made a concerted effort to bench more powerful characters by (in Ray's case) disarming them, or depowering them in some way. However, due to the impending battle with the group of alien invaders known as The Dominators during next week's major Arrow-verse crossover event, the Legends team will soon see its most powerful members ready for action once more.
What do you think of this new development on Legends of Tomorrow? Are you excited to get a better look at Nate and Ray's new outfits? Let us know what you think in the comments section below to keep this conversation going!
CinemaBlend will bring you all of the latest and greatest news related to Legends of Tomorrow (as well as all of the other Arrow-verse series) as new details become available to us. Legends of Tomorrow airs every Thursday night at 8 p.m. EST on The CW.
Your Daily Blend of Entertainment News
Originally from Connecticut, Conner grew up in San Diego and graduated from Chapman University in 2014. He now lives in Los Angeles working in and around the entertainment industry and can mostly be found binging horror movies and chugging coffee.