8 Big Reasons Why Pitch Needs To Be Renewed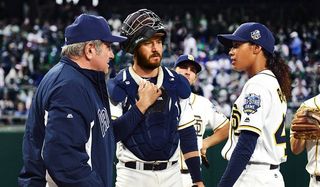 Fox debuted one of the most unique and promising new series of Fall 2016 with Pitch. The drama was set to follow the life of the first woman ever to make it to the majors in professional baseball. Ginny Baker is a pitcher who faces nearly insurmountable odds in a sports culture that seems designed to exclude her. She becomes a celebrity from the moment that she's added to the roster for the San Diego Padres, and the first season so far has seen her trying to balance stardom with her sport.
Pitch has been a pretty stellar series throughout its first season, but the ratings have sadly not delivered as well as fans hoped. While the numbers aren't terrible, they're also not fantastic, and Fox has yet to announce a renewal or cancellation. Check out our list of reasons why Pitch deserves a second season.
You Don't Need To Know Baseball
Pitch was...well, pitched from the beginning as a show about a woman joining Major League Baseball. The first trailer opened on images of mitts and cleats with the roaring of a sold-out stadium crowd in the background. Most of the characters wore Padres uniforms. Pitch looked like a baseball show that happened to have a female lead.
Pitch is so much more than baseball, and the show doesn't put so much emphasis on the sport that viewers need to be baseball experts. The show is about Ginny Baker and her struggles in a professional sport dominated by men. It's a show about Amelia the agent, Mike the veteran catcher, and Blip the all-star outfielder. You don't need to know a pop fly from a ground ball to enjoy the stories. You just need to enjoy nuanced characters in an exciting setting, because Pitch has those aplenty.
The Baseball Is Actually Pretty Great
Pitch may not be about baseball, but the baseball featured in Pitch is pretty phenomenal. A lot of work goes into creating a detailed and dynamic backdrop to Ginny's plots. Fox struck a deal with Major League Baseball that allows the show to film in its stadiums, use official uniforms, team names, logos, and even umpires. A crew from Fox Sports films the game scenes in the same way they'd film a real MLB game. The Pitch Padres play their games in the real Padres stadium.
Then there are the performers. Most of the baseball players are played by Minor League and former college athletes who know the game inside and out. Star Kylie Bunbury along with her co-stars Mark-Paul Gosselaar and Mo McRae went through a preseason training routine. The Pitch baseball just plain looks good, and it adds a grand scale to the stories.
Kylie Bunbury Is Fantastic
Pitch has a solid premise and can boast great storytelling, but it would have been a flop if not for Kylie Bunbury playing Ginny Baker. She brings such a combination of strength, vulnerability, and athleticism to the role that she has created a character who is both remarkable and relatable. Ginny has made some moves that would have been distinctly unsympathetic if Bunbury hadn't added depth to the decisions.
Kylie Bunbury's work is even more admirable when we take into account the enormous pressure she must be under as an actress. She is a young woman and person of color tasked with anchoring a series unlike anything else on primetime, and she's done a consistently fabulous job as leading lady. She deserves more than just one season to show off what she can do as Ginny.
It Has A Strong Ensemble
Of course, no performer can carry a show all by herself, and Pitch wouldn't be nearly as much fun as it is if Ginny was the only nuanced character. Luckily, the rest of the Pitch ensemble brings enough diversity of everything from race and gender to age and experience that there's plenty of dimension in the main players.
Mark-Paul Gosselaar is a highlight as veteran catcher Mike as he tries to help Ginny without treating her any differently from the other Padres. Moe McRae has been a breath of fresh air as Ginny's unfailing ally in the Padres clubhouse. Ali Larter has excelled as Ginny's agent, and Mark Consuelos has tackled a role that could have been entirely unsympathetic. Throw in Meagan Holder (Evelyn) and Dan Lauria (Al), and Pitch is filled with performers who know how to put on a good show.
It's Surprisingly Realistic
Pitch wouldn't be a particularly unique show if Major League Baseball was already filled with female pitchers, so viewers aren't going to get a ton of realism unless an awful lot of ladies are boosted to the majors in the very near future. That said, Pitch is surprisingly realistic.
Ginny doesn't have a magic arm that lets her put enough power behind a fastball to rival any of the male MLB pitchers. She's a pitcher who holds her own on the mound because she throws a special screwball. Ginny's not on the Padres because she's the best of the best; she's good enough to be in the majors, and she's guaranteed a place on the team because it would be bad press for the Padres to send her back to the minors. Blip could be traded. Mike has bad knees. There's realism to be found on Pitch, and it works.
The Naked Photo Shoot
Ginny's unexpected celebrity meant that some very regrettable skeletons were yanked out of her closet. To get ahead of some leaked nude photos from years ago, Ginny and Amelia set up a naked photo shoot to send out a message of empowerment rather than embarrassment. The scene could have put Ginny in an awkward situation that more or less forced her to grit her teeth and get through it; instead, the scene brought in the rest of the Padres in bathrobes, ready to strip down and support their teammate.
The episode turned something that could have been uncomfortable and gratuitous into something fun and funny and uplifting. The naked photo shoot that put Ginny and her male peers in the same boat is just one example of Pitch treating the leading lady with respect. Who knows how many similar situations we could get in a second season?
Mark-Paul Gosselaar's Beard
Let's be 100% honest: Mike's facial hair is practically a character on its own. Mark-Paul Gosselaar has worn a full bear from the very first episode, and it's hard to imagine him without it on Pitch. There are still so many questions to be answered.
Does he think that his beard is actually the source of his strength? If so, will he one day decide that his constant problems with his knees and back will be solved if he shaves his beard? Will he ever suffer a serious bubblegum mishap in the dugout and be forced to cut a chunk out of his beard? Will he fall for a woman who can't stand all that facial hair and be torn between his full beard and his feelings? Will he give himself a beard-less makeover in an attempt to look younger and therefore feel younger? Will we never know?
Ten Episodes Just Aren't Enough
Fox only ordered ten episodes for the first season of Pitch. Even if the ratings don't skyrocket by the end of the first seasons, the show has been so solid that it deserves more episodes. We've seen Ginny grow from the greenest rookie ever to set foot on the grass of a Major League stadium into a young pitcher who is learning to adapt to her new and very public place in the world. The rest of the Padres are accepting her as one of their own even as the politics of MLB business threaten to shake up the status quo at any moment.
At the end of the day, Fox made a bold move by placing a strong female character like Ginny in the world of baseball; now, the network just needs to keep her in the game for a Season 2. Be sure to stay tuned to CinemaBlend for the latest on cancellations and renewals, and join me in crossing your fingers that we'll soon find out whether or not Pitch will be back for more after the end of Season 1. Tune in to Fox on Thursdays at 9 p.m. ET to see what's next for Ginny and Co. on Pitch.
Your Daily Blend of Entertainment News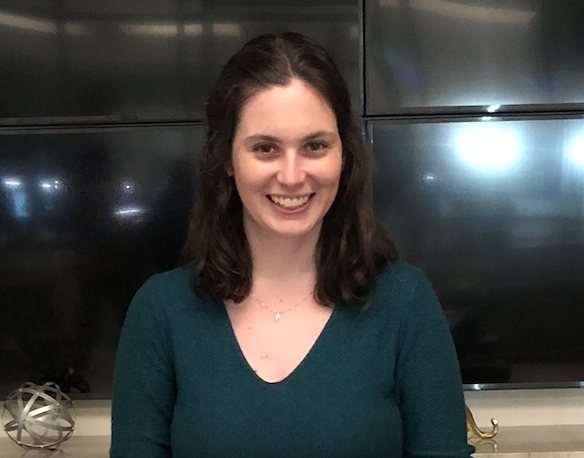 Laura turned a lifelong love of television into a valid reason to write and think about TV on a daily basis. She's not a doctor, lawyer, or detective, but watches a lot of them in primetime. Resident of One Chicago, the galaxy far, far away, and Northeast Ohio. Will not time travel and can cite multiple TV shows to explain why. She does, however, want to believe that she can sneak references to The X-Files into daily conversation (and author bios).