Outlander Season 3: What We Know So Far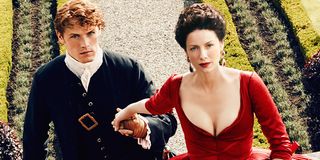 Outlander's second season was a big success for Starz. If you haven't caught the time travel-oriented romance, which switches time periods between the late 18th century and the mid-twentieth century, it has started to make major traction with audiences and is one of the must-watch TV shows on television. Although Season 3 isn't here just yet, we already know a bit about what we can expect from the highly anticipated new episodes. You can check out everything we know about Outlander Season 3, below.
When Will It Premiere?
When Starz initially added Outlander to the schedule, the subscription cable network opted to release the first season in two parts. Thankfully, Outlander got rid of that format for Season 2 and we're assuming it will premiere in one big chunk again for Season 3. Fortunately, we don't have too much longer to wait. The official premiere date for Outlander Season 3 is Sunday, September 10 at 8 p.m. ET on Starz. Season 3 marks a big time slot change for the series, as the first two seasons aired new episodes on Saturdays at 9 p.m. ET. Fans will have to wait a little longer in the week for new episodes, but they'll at least come an hour earlier for Season 3.
What Have We Seen So Far?
Outlander spent a great deal of time filming, which makes sense given all the locations and wild set pieces that will debut in Season 3, and we had to wait a long while for footage to premiere. Luckily, the trailer was worth the wait, as it gave us some epic sneak peeks (which you can see here in slowed-down gif form) at what's ahead for Jamie and Claire in the next batch of episodes. Take a look!
How Many Seasons Has Outlander Been Renewed For?
Two seasons! Go ahead and get a little bit excited, because the series has not only been renewed for Season 3 but has also been renewed for Season 4. That means we definitely know the show will cover the events in Diana Gabaldon's Voyager and Drums of Autumn. Hopefully, by the time Starz has created two more seasons, the fanbase will be so avid that the show will be able to last long enough to cover at least the material from the most recent book, Written in My Own Heart's Blood.
How Many Episodes Are Fans Getting?
Season 3 of Outlander will run for 13 episodes. The count is three shorter than the order for Season 1, but it matches the order for Season 2. Given that we had to deal with a big split of months between the two halves of Season 1, a lower episode count without a season split probably won't bother too many fans.
The Cast: Claire Fraser
Claire Fraser is a healer in the 18th Century and a nurse and later a doctor in the 20th century. She has two husbands simultaneously, Frank and Jamie, but they live in two different centuries. When last we left Claire, she had recently determined that the great love of her life, Jamie Fraser, had actually survived the Battle of Culloden. Now that her husband in the 20th century has passed away, she seems hellbent on returning to the past... and her future.
The Cast: Jamie Fraser
When last we saw Jamie, it seemed certain that he was going to perish in the Battle of Culloden. While we haven't seen him since his final moments with Claire, we did learn that he had survived the battle. Season 3 will look into his life after Culloden, as happens in Diana Gabaldon's book series. In fact, the show will go even deeper into Jamie's side of the story by showing the actual Battle of Culloden in all its bloody glory. We'll get to see a big showdown between Jamie and Black Jack Randall.
A short time ago, series lead Sam Heughan gave us some hints about what to expect from his character during the next season, noting that Jamie will absolutely be aging and joking about the appearance he will take on as time moves forward and Jamie becomes the same age that Claire was in the 1960s sequences during Season 2. If everything is up to the actor (it's not), he might lose some of his hunky physique!
The Cast: Black Jack Randall
While Jamie and Claire are obviously key anchors in this series, the show has gotten great work out of Tobias Menzies, who plays Claire's husband Frank and Frank's ancestor Black Jack Randall on the show. However, while the actor is basically the third lead on the series, Claire and Jamie's journey has pushed him out of the limelight a bit, making us wonder if he will appear in Season 3.
While it is true that Frank has passed away on the show and that Black Jack Randall has a very good chance, thanks to the novels, of perishing during the Battle of Culloden along with so many other men, Outlander is going to make a concerted effort to bring one or both characters back in Season 3. If we do see Frank, it will have to be in flashbacks, but Outlander has had no problem with telling a non-linear story.
What Do We Know From The Books?
Season 3 is based on Voyager, the third book in Diana Gabaldon's prominent series. Voyager is among the most well-liked of all of the Outlander books, most notably because it introduces us to a few characters who will become prominent parts of the series, and it features Claire and Jamie traveling across the ocean, which is a fun change of pace for the series.
We're about to get into some big spoilers for the books, so if you don't want to know what is coming, you may want to skip out of this article, now. As you would and should assume, after Claire learned that Jamie had not perished in the Battle of Culloden, she set her affairs in order and traveled to the past, where she reunited with Jamie and a now-grown Fergus in Edinburgh. Jamie is running a printing business, but he has to settle some of his affairs back in Lallybroch. He has to pay off his new wife to keep his former one, but in order to do that he has to chase after treasure.
At this point the plot might seem a little strange, but it will all make sense when it plays out, and Starz's Outlander has never minded making some changes from the books to the small screen. If all goes similar to the books though, while chasing treasure, Claire and Jamie will get involved with the kidnapping of a family member and will end up on a boat journey to Jamaica and elsewhere. Voyager is the book that really sets the couple up for the rest of the series and Season 3 will hopefully do the same for Outlander. There also should be a fun sideplot featuring the return of Laoghaire. There are a lot of key moments we are excited to see play out, for sure.
Will We See Any New Characters?
We will! Jamie is eventually imprisoned some time after the Battle of Culloden for his role in the Jacobite Uprising. While at Ardsmuir prison, he sort of becomes the de facto leader and we should meet some of his men. We'll also meet some wacky individuals on Jamie and Claire's long journey, and we should see older versions of popular characters like Fergus, although, depending on how many flashbacks are used, the younger version of the character could return, as well. In addition, there are a few key characters we should be meeting in Season 3.
Young Ian: In the novels, Ian is the son of Jamie's sister Jenny and her husband, Ian Sr. He's a major character within the Outlander novels, but we'll first meet him in Voyager when Claire travels back in time. His later story in the novels is more intriguing, but if Season 3 follows the events in the novels, he'll be involved in a treasure hunt, a kidnapping and a journey to Jamaica. A recent casting report has listed John Bell as the actor playing Young Ian.
John Grey: We briefly met a young John Grey during Season 2, when Claire tricked a young British soldier into sharing information about the British army with her. However, the character is a beloved character from Diana Gabaldon's works as an adult and even has his own spinoff series. He also is the character that Outlander actor Sam Heughan is most excited to meet in Season 3. In Outlander, he'll be played by David Berry.
Marsali: Lauren Lyle has been signed on to Outlander as new character Marsali. We may not know Marsali, yet, but we do know her mother. Her mom is Laoghaire, a character who we've come to know a bit better during the run of the Starz drama. We also know she doesn't take kindly to Claire. However, Marsali and Claire's relationship will be very different on the series. Her plotline will be heavily intertwined with Fergus', but we won't say anything more specific about that.
Joe Abernathy: We'll meet Claire's work colleague from the time when she trains to be a doctor following her reunion with Frank. Joe is her friend and confidant, becoming close as Claire deals with the uphill battle of being a woman trying to become a doctor and Joe deals with the uphill issue of becoming a black doctor. Joe Abernathy will be played by Wil Johnson.
Where Did Season 2 Leave Off?
Season 2 figured out a way to introduce Brianna and Roger, restore Geillis Duncan into the plot and give characters like Laoghaire and Colum McKenzie a bit more storyline. The second season was infinitely watchable and we expect the same from Season 3.
While a good chunk of Season 2 saw Claire and Jamie in Paris attempting to covertly put down the Jacobite Rebellion while continuing to become closer to Bonnie Prince Charlie, we also got to see Claire back in her original timeline and more. Once in Paris, Claire dealt with a mugging in an alley in which her companion was raped, she worked as a nurse and healer with a nun in a ward, she lost a baby in childbirth and she defeated one of her foes, the Comte St. Germain. Eventually, just before the Battle of Culloden, she became pregnant again. Jamie escorted her back to the stones in order to help her get back to her own time. They had an impassioned moment of romance, and she left just as the major battle was beginning.
Her life in her original timeline is shown in flashes. We saw Claire return through the stones early on during the season. Her husband, Frank, was still waiting for her, although very few people believed her story about journeying through the stones, especially once Frank and others realized she was pregnant. He takes her back, but later in the series we learn their marriage wasn't an especially happy one.
In addition, we were able to meet Brianna, the daughter of Claire and Jamie, who grew up believing Frank was actually her dad. The truth was revealed when Claire and Brianna traveled back to Scotland and attended the funeral of Reverend Wakefield, who had played such a key part in Claire's life. While there, Brianna met Roger Wakefield and the two learned the truth about Claire's time travel. At first, they didn't believe her, but they are both convinced when they traveled to the stones and saw Geillis Duncan use the stones for their intended purpose.
Most importantly, however (if you haven't caught the end of the season), through a bit of historical research, Claire found out that Jamie had not died during the Battle of Culloden after all, even though so many men did die there. Because he had not died on that fateful day, Claire still has the chance to return to her lover, but she will have to travel through the stones once more in order to do so.
Are There Any Other Juicy Tidbits?
Well before Outlander was renewed for a third season on Starz, show creator Ron Moore announced that he was most excited to bring Voyager to the small screen for one big reason: He loves working with the tall ships from history. Here's what he had to say in an interview:
He also mentioned that TV technology has gotten so good that a show like Outlander can really compete with what the big screen was able to achieve just a few years ago. In some ways, it can be a little strange that Outlander includes so many location changes, but Season 3's long journey is something we are certain the audience should look forward to. Sam Heughan was probably less of a fan of the ships by the end, but book fans should be pleased with why it was so miserable for him.
Your Daily Blend of Entertainment News
Reality TV fan with a pinch of Disney fairy dust thrown in. Theme park junkie. If you've created a rom-com I've probably watched it.