Watch The Best News Bloopers From 2016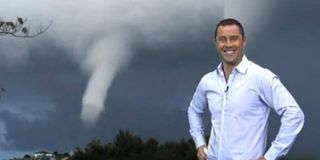 Another year, another twelve months to cultivate a collection of local news bloopers. This year's big compilation of new bloopers hits pretty much everything we'd want from a news blooper: sex jokes, phallic references, borderline inappropriate comments, animal misbehavior, wardrobe cracks, weather jokes and more. There are minutes and minutes of entertainment jam-packed into the video, which you can take a look at, below. Note: There are some borderline inappropriate jokes in there, and while it's not full-blown NSFW, it's something to keep in mind, depending on whether or not your boss has a sense of humor.
The video, which comes to us courtesy of News Be Funny, features plenty of clips from the US but also a few clips from other parts of the country, including Spanish news and stuff from across the Pond. I personally am often a fan of the wild stories and comments some people who are being interviewed by the local news tell, and this video doesn't disappoint when one Powerball hopeful admits that if he won he'd spend the money on cocaine and hookers. There are also some famous moments that went viral, including the one with Tulsa resident Michelle Dobyne, who saved a Totinos pizza during a fire.
What's surprising about this year's bloopers is that there are a remarkable number of animal bloopers. There's a guy who nearly drops a reptile and a giraffe rubbing up on a poor unsuspecting field reporter. My personal favorite is the reporter who is clearly afraid of snakes but is still handed a snake by an animal trainer. When the snake starts slithering towards his body, he literally cannot handle it and begin to panic. His co-worker finds the whole thing hilarious, probably because it is hilarious.
The number of phallic references in this video cannot be understated, from sandcastles to memorable Google flubs.
Yeah, so there are a few pretty risque jokes in there, but all in all, most of these are more amusing than intentionally inappropriate. And that's why we like the local news, because we never know exactly what we are going to get. Hopefully that won't change as a lot of news continues to move online in 2017. To find out what is headed to TV in the near future, head here. If you'd like to check out some sports-specific bloopers, we have you covered, too.
Amazing Race & Top Chef superfan with a pinch of Disney fairy dust thrown in. If you've created a rom-com I've probably watched it.
Your Daily Blend of Entertainment News
Thank you for signing up to CinemaBlend. You will receive a verification email shortly.
There was a problem. Please refresh the page and try again.