Outlander Is Adding A Baby And She Looks Adorable, See The First Picture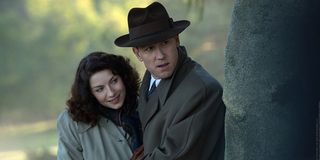 There has been a dearth of Outlander news sneaking out over the last several months, although fans of Diana Gabaldon's book series should have an idea about what to expect from Season 3 of the Starz series. Luckily, though, if you are more of a fan of tangible evidence, the first Season 3 photos are coming out from the set, and one very adorable one features Claire introducing Frank to their baby, Brianna. Only we know from context that maybe the moment won't be exactly adorable. Check it out.
When last we left off with Claire and Frank, things weren't super easy between the two of them. While Claire had left her time travel narrative, well, in the past and decided to try and give her life with Frank another go, clearly things are still strained between the couple. The time-hopping narrative of Outlander has already shown us an adult version of Brianna, who saw that strain between her parents growing up. She eventually comes to learn that Frank is not her real father, but this is years and years after her actual birth. Now per this photo from EW, it looks like Season 3 will be working to fill the gaps, between the years when Claire and Frank seem to be reaching a tentative new beginning and then to the time after his untimely death.
Most shows would have a lot of trouble with a time-hopping narrative as complicated as the one Diana Gabaldon has crafted. Regardless, Outlander has done a fine job of peppering its story across years and timelines, giving us clues about our characters along the way. When last we left Claire, she had just realized that Jamie Frasier had not died during Culloden, after all. Minor book spoilers are in the rest of this story.
Season 3 is based on the book Voyager which will, in its most lively plot, feature Claire returning to the past timeline where Jamie will hopefully await her. However, as the image above proves, a lot of the blanks will also be filled in regarding what happened to Claire in the time she was away from Jamie. Likewise, we should learn exactly what happened to Jamie in the time he was away from Claire, and not all of it will be perfect.
We've know for a while that we would delve more into Jamie's post-Culloden life, thanks to the fact that Outlander has already cast fan-favorite character Lord John Grey, who plays a key and pivotal role in Jamie's life following Claire's return through the stones. I'm mostly excited for the big adventure of Claire and Jamie reuniting, but all of this backstory stuff--and especially the introduction of Lord John Grey--should be notches in the positive column for this fun and epic series.
Currently Outlander Season 3 has not set a return date yet, although there have been some indications that it may premiere later than anticipated. As soon as Starz announces an official return date, we'll be sure to let you know. In the meantime, you can find out what else we know about Outlander Season 3 here.
Amazing Race & Top Chef superfan with a pinch of Disney fairy dust thrown in. If you've created a rom-com I've probably watched it.
Your Daily Blend of Entertainment News
Thank you for signing up to CinemaBlend. You will receive a verification email shortly.
There was a problem. Please refresh the page and try again.