Ransom Review: CBS' New Hostage Negotiation Drama Can't Quite Close The Deal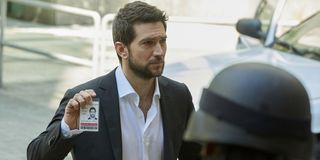 CBS has a handful of ambitious new series in the works for midseason 2017, and the first to make its grand primetime debut will be the hostage negotiation drama Ransom. The series can boast a unique premise and a promising cast, but the pilot falls short of delivering a truly compelling hour of television. The first episode doesn't twist and turn so much as list and lean, and a lot may need to change if Ransom is to have a long future at CBS.
Ransom stars Luke Roberts as Eric Beaumont. He is the founder and lead negotiator of the crisis management company Crisis Resolution, and he works with a team of specialized individuals to evaluate and defuse situations to save lives. Along with psychological profiler Oliver Yates (Brandon Jay McLaren) and former cop Zara Hallam (Nazneen Contractor), he sets out to help a family recover their long-missing son from kidnappers demanding a $5 million ransom. They are joined by recent Northwestern graduate and aspiring investigator Maxine Carlson (Sarah Greene). The crisis escalates as soon as Eric and Co. take control of the situation, and Eric must find a way to recover the child without breaking his own rule and resorting to violence.
The new drama is inspired by the real cases handled by the world-renowned crisis negotiator Laurent Combalbert and his partner Marwan Mery, so the show should have an advantage when it comes to crafting cases of the week. Creator and executive producer Frank Spotnitz has a proven eye for fascinating drama thanks to his work on shows like The X-Files and The Man in the High Castle, and Luke Roberts has proven that he can play just about any genre on the small screen. Ransom has a recipe for success; the series just seems to have misused the ingredients to turn out a pilot that doesn't have much in the way of flavor.
The biggest issue with the pilot is that it doesn't seem to know whether the focus should be more on plot or more on character. As such, both the plot and the characters are relatively underdeveloped. Anybody who has seen a crime drama or police procedural will be able to figure out what's going to happen next, and the characters aren't given enough depth to compensate for the shallower scenes. The opening sequence is an exciting look at how hostage negotiation can work; the rest of the hour feels like something that has been done before and done better.
The story of the boy who had been kidnapped many years earlier and was finally being ransomed had potential, and the story might have been truly harrowing if the episode had given Eric Beaumont any flaws or uncertainties to raise the stakes about whether he could actually pull off the impossible and bring the child back alive. Eric Beaumont always won, and he never had to break his cardinal rule. He's an interactive parent, an open-minded employer, and a magnanimous contractor who would never overcharge his clients. He seems to know everything. All in all, it may prove difficult for audiences to want to tune in on a weekly basis to watch a man try to win when the show has presented him as a man who never loses.
The bigger potential character problem lies with the Maxine Carlson. After only one episode, she is already taking shape as a character who is praised effusively despite not really doing anything, and she seems to get an awful lot of wins for somebody who hasn't proved her mettle to earn what she wants. A character whose most defining trait seems to be her sense of entitlement may not be one that viewers find palatable on a regular basis. Sarah Greene sells the sense of entitlement well; it's just not very appealing in a heroine.
Brandon Jay McLaren doesn't have much to do in the pilot beyond try to drop exposition that is somehow both informative and enigmatic. The bright spot in the cast is Nazneen Contractor as Zara, who is by far the most likable and most professional member of Eric Beaumont's team. Eric may be the star of the team, Oliver may be the brains behind figuring out what makes the bad guys tick, but Zara is the one who gets things done, and she does it with her hair tied back in a practical braid.
Pilots are notoriously shaky episodes as they try to deliver enough exposition to establish the premise while also hooking viewers into emotionally investing in the characters. Many shows' premieres can't find the balance, and it's entirely possible that Ransom will improve in subsequent episodes. CBS ordered Ransom straight to series over the summer, so the show will have at least a full first season to improve. Throw in the fact that CBS is trying something new with Ransom and trying to use it as anchor for a Saturday night block of programming, and it could have a future ahead of it on primetime. We'll have to wait and see.
You can catch Ransom when it premieres on CBS on Sunday, January 1 at 8:30 p.m. ET. It will then move to its regular time slot of Saturdays at 8 p.m. ET. Take a look at our midseason TV premiere schedule to see what else you can catch on the small screen in the new year.
Resident of One Chicago, Bachelor Nation, and Cleveland. Has opinions about crossovers, Star Wars, and superheroes. Will not time travel.
Your Daily Blend of Entertainment News
Thank you for signing up to CinemaBlend. You will receive a verification email shortly.
There was a problem. Please refresh the page and try again.