Looks Like NBC Still Doesn't Have A Replacement For Grimm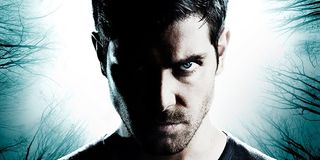 If you are a Grimm fan, or at least familiar with NBC's Friday night lineup, you should know that the channel has had a consistent issue with finding a series that could pull its weight on Friday nights. Dracula showed great promise, but was cancelled; likewise, Constantine suffered a similar fate. Right now, NBC may be wishing that either of those shows were still in the lineup, as its recent Friday night addition, Emerald City, just isn't as shining as much as NBC was probably hoping.
The dark fantasy adventure series just kicked off at the beginning of the month with a double episode that did alright in the numbers, but by no means great. This week, Emerald City dropped another tenth in the 18-49 demo, bringing in a .6 rating. That's not a great number, and it's a sign that NBC might have to go in another direction for next season.
Of course, it should be noted that Grimm has been seeing dwindling numbers of people tune in on Friday nights, so its power as a great lead-in is a lot lower than it used to be. In fact, there was a time when we thought there was a good chance that Grimm would not be back this TV season, but NBC ultimately opted to give it one final season to finish out its story arc. That season also kicked off this month to similar ratings to last season, with the most recent episode earning a .8 rating, per TV By The Numbers.
With shows like The Vampire Diaries and Sleepy Hollow heading to Friday nights in recent seasons, the competition at the other networks is a little stiffer, but NBC was doubtless hoping that Emerald City could improve on its Grimm lead-in. However, this week was the third week in a row the show has dropped in the ratings. If the trend continues, it's likely the network will be forced to look elsewhere for content next TV season.
If you aren't familiar with Emerald City's trajectory, the series got off to a rocky start. Initially, NBC ordered it straight to series, but then the network backed out of the order after the channel couldn't get on the same page as co-creator Josh Friedman regarding the direction of the series. Then, last pilot season, the project was back on with a different showrunner, as David Schulner took over. Clearly, the show went in at least somewhat of different direction than the original premise, but it's hard to say if the other version would have been better.
To Emerald City's credit, the show is on-par with a few shows on other networks, including Fox's Sleepy Hollow and Rosewood. However, the likes of Shark Tank, Last Man Standing, reruns--yes reruns--of MacGyver and even NBC's own Dateline are doing better. NBC may be better off blowing its Friday nights up next season and trying something new. We'll let you know this spring when an official decision is made. For now, you can catch Emerald City and Grimm on Friday nights on NBC.
Reality TV fan with a pinch of Disney fairy dust thrown in. Theme park junkie. If you've created a rom-com I've probably watched it.
Your Daily Blend of Entertainment News
Thank you for signing up to CinemaBlend. You will receive a verification email shortly.
There was a problem. Please refresh the page and try again.