How Milo Ventimiglia Feels About More Gilmore Girls Episodes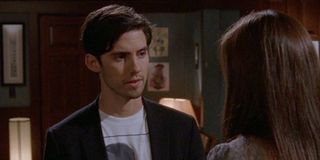 If you were one of those who flew to Netflix and binged all of Gilmore Girls: A Year In The Life the first day it was out, you probably had mixed emotions about the finale. Why did they end it on a cliffhanger? It was bad enough we had to wait this long for another season, but now we don't even know if the series will ever have a definitive ending. What we have learned, however, is if Milo Ventimiglia aka Jess Mariano is down to clown for any new episodes that may happen.
Milo Ventimiglia, dropping the dagger to thrust into all of our hearts! Thanks for the great show of support Milo! I guess I can't be too angry at him speaking his mind, but why can't he be like Karl Urban or other actors who endlessly hype franchises they were in that may be dead in the water. Look, it could be the slight scorn I have for his character in This Is Us, but Milo Ventimiglia just made my list for not saying "HELL YEAH" when asked about whether or not there should be more episodes.
Just gonna throw down a SPOILER ALERT if you haven't watched the four 90-minute episode revivals on Netflix - and by the way, if you haven't, you need to. How the hell can we end the series on Rory announcing she is pregnant? In what universe does a show creator sit down and, after serving rabid fans who have grown up watching your program for almost 2 decades, say, "Yeah, that's the way to end it." I really have trouble understanding how Milo Ventimiglia and the Palladinos don't seem to have the hunger for more like so many of us fans do! Maybe this additional quote Ventimiglia shared with Variety could be a bit more telling on how he can let the show go. Here's what he said when was asked if he theorized about Rory's baby daddy:
Yikes, sounds a little aggressive, but it's just words on paper, so who knows what was going on for him that day? Show co-creator Daniel Palladino did leave some possibility for more episodes though when he spoke about it 9 months ago, saying that everything is set up for more episodes and that "It wasn't like the characters died in an explosion." My personal opinion is, he probably doesn't know what the plans for the series are past Rory's shocking revelation. I just say that because if I had a plan, I would be pushing it out ASAP. I'm assuming Netflix is already throwing heaps of money in Daniel and Amy Sherman-Palladino's way for more episodes, and there are certainly a lot of desperate fans looking for their fix! Maybe he has plans for a movie to wrap it all up?
In his defense, Palladino was surprised that the show even returned period after its 2007 finale. So maybe, despite my nagging feeling that I should stick to my guns, Milo Ventimiglia (whose last name feels like your fingers are playing Twister when you type it) may be right. Maybe we are being greedy eyeballing the empty pie tray hoping that there's a fresh pie cooling on a rack somewhere just out of site? Pies are bad for analogies; I have no idea how Milo pulled that off in the first place.
What I do know is that you won't be seeing Gilmore Girls anytime soon, but that's okay because there are plenty of other shows premiering every week you can check out on our midseason premiere list.
Mick likes good television, but also reality television. He grew up on Star Wars, DC, Marvel, and pro wrestling and loves to discuss and dissect most of it. He's been writing online for over a decade and never dreamed he'd be in the position he is today.
Your Daily Blend of Entertainment News
Thank you for signing up to CinemaBlend. You will receive a verification email shortly.
There was a problem. Please refresh the page and try again.