Who Patton Oswalt Will Be Playing On The Simpsons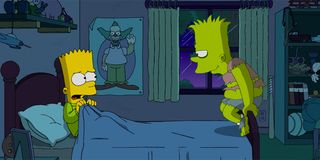 Patton Oswalt is heading to The Simpsons this weekend for his second foray onto the long-running show. During the episode he's set to play a pretty special new character: Bart's Guilt. That's right, Guilt is a pretty feisty little fellow, who Patton Oswalt says is sort-of like "The Hulk." In a special behind-the-scenes featurette, Patton Oswalt reveals what we can expect from the big character. Here's what he has to say.
During "The Cad in the Hat," Bart's Guilt will show up after Bart does something to torment his sister Lisa. Lisa will have a lovely yellow hat, which Bart will grab and then throw out the window of a moving vehicle. Apparently, the moment won't be all that satisfying for Bart, however, as he'll be tormented by Guilt in the moments that come. In the clip, Denial also briefly shows up at one point, but Guilt throws it out the window.
Patton Oswalt is a self-professed fan of The Simpsons. This won't even be the first time he has appeared on the show, as he popped up back in Season 24 as another character. That time, he guested as a hipster kid named T-Rex. Oswalt also said his goal would be to come back and play more of a recurring role on the series. I'm not sure the show would have a reason to bring back Bart's Guilt, but the actor has a pretty memorable voice. I'd love to see the animated show put it to use again in the future. In the meantime, you can catch Patton Oswalt back on TV in the upcoming Dimension 404.
It it's 28th season, The Simpsons has proven it can still be surprising, thanks to a combination of churning it out each week and signing on intriguing guest stars. Solid ratings have already propelled Fox to sign a huge renewal order for the long-running comedy. This means you do not have to worry about the show getting cancelled at the end of the season. The Simpsons will be back for Season 29 and Season 30, as well. And should Patton Oswalt play a guest character during either of those seasons, remember you heard his wish here, first.
The Simpsons airs on Sunday night at 8 p.m. ET. To find out which shows have yet to hit the schedule this winter, take a look at our midseason TV premiere schedule.
Your Daily Blend of Entertainment News
Reality TV fan with a pinch of Disney fairy dust thrown in. Theme park junkie. If you've created a rom-com I've probably watched it.
Your Daily Blend of Entertainment News
Thank you for signing up to CinemaBlend. You will receive a verification email shortly.
There was a problem. Please refresh the page and try again.