Dear Arrow, Stop Trying To Make Black Canary Happen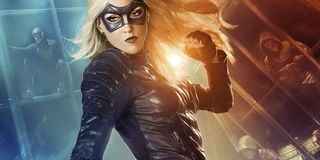 The CW's Arrow deserves quite a bit of credit for getting so many different aspects of The Emerald Archer's world right. Stephen Amell feels perfectly cast as Oliver Queen, and the show has spent the last five years nailing the core themes of the Green Arrow mythos. That said, not everything has worked out perfectly, and Arrow has continuously struggled to do Black Canary justice over the course of the last few years, and we think it might be time for the show to stop trying to make the fishnet-clad hero a thing. She's not going to happen.
I hate to echo Regina George to make this point, but it has become apparent that The CW's Arrow never fully knew how to incorporate Black Canary into the series properly. Katie Cassidy's Laurel Lance was framed as a compelling love interest for Oliver in Season 1, but the show was grounded enough to keep her away from the role of actual superhero. As things got more outlandish in Season 2, we received the fan-favorite Sara Lance (Caity Lotz) as The Canary -- which felt like a way to bring Black Canary into the story without actually going that far. However, by the time Season 3 of Arrow rolled around, the Arrow-verse had changed, and it became increasingly clear that Laurel would eventually take on her real comic book hero mantle.
That was an exciting development moving into Season 3, but that's not how it panned out. One of the biggest reasons why Laurel's Black Canary failed to gain the traction she deserved is the fact that the Olicity relationship drama eventually took up far too much of the show's time and attention during a critical transition period for Laurel's character. By the time Arrow finally committed to handing the leather jacket off to the older Lance sister, it had also reframed the show's central love story to center on Oliver and Felicity Smoak. This polarizing development sidelined Laurel's incarnation of Black Canary to a secondary position from which she never fully recovered, which ultimately made her death at the hands of Damien Darhk in Season 4 feel decidedly unearned.
Following the death of Laurel, Arrow has tried time and again to keep Black Canary alive with diminishing degrees of success. First, the show brought in Evelyn Sharp (Madison McLaughlin) as a Canary impersonator, then Black Siren was framed as a possible replacement, and now we have Dinah Drake (Juliana Harkavy) as the latest (and seemingly final) incarnation of the character.
While Dinah is an excellent addition to Team Arrow and is inherently likable, the fact of the matter is that Arrow took far too long to get to her. We've been through this process so many times and watched enough women don the Canary title that the emotional impact of Dinah taking over as the iconic hero has lost much of its power. At this point, she feels like a retcon to make up for past mistakes.
I will concede that I agree with the longstanding belief that you cannot have a Green Arrow story without Black Canary. She is a fundamental aspect of Oliver Queen's corner of the DC universe, and removing Black Canary from a Green Arrow tale is like removing Alfred from a Batman story, or Lois Lane from a Superman story. I'm not saying that Arrow should ignore the importance of Black Canary in this universe; what I am saying is that Arrow should've embraced the impact of Laurel's death, and allowed the legacy of the character to honorably end with her.
I honestly really like Dinah, but introducing her after everything we've seen from every other Canary genuinely feels like the show is just spinning its wheels and trying to undo Laurel's death. They made the decision to kill the real Black Canary; they now have to live with that.
That said, I fully understand that there are Arrow fans out there who will never completely come to terms with Laurel's untimely demise. We don't blame them, as her arc was easily one of the strongest during the early days of the series. However, if Laurel and The Black Canary mantle are going to continue hanging over Arrow, then it might simply be better and easier to keep her presence limited to flashbacks that focus on when she was alive. Season 5 of Arrow has seen great success flashing back to Oliver's first year under the hood in Starling City, so it's not an entirely outlandish proposition that later Laurel-centric flashbacks could focus on previously unseen moments from Season 1-4.
What do you think? Has the Arrow-verse finally managed to get it right when it comes to Black Canary, or have there simply been too many false starts for this character to work? Let us know what you think in the comments section below to keep this conversation going!
Arrow airs every Wednesday night at 8 p.m. EST on The CW. Check out our midseason premiere guide for more information concerning all of this spring's remaining TV debuts.
Your Daily Blend of Entertainment News
Originally from Connecticut, Conner grew up in San Diego and graduated from Chapman University in 2014. He now lives in Los Angeles working in and around the entertainment industry and can mostly be found binging horror movies and chugging coffee.
Your Daily Blend of Entertainment News
Thank you for signing up to CinemaBlend. You will receive a verification email shortly.
There was a problem. Please refresh the page and try again.