10 Breaking Bad Characters Better Call Saul Season 3 Needs To Bring Back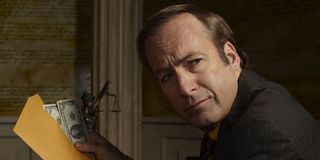 Tonight, Better Call Saul will return for its highly anticipated Season 3 premiere and it'll take us even further down the complex rabbit hole that is Albuquerque, New Mexico. The show had a tough road ahead of itself when it debuted in 2015 in the shadow of the acclaim magnet Breaking Bad, but over the course of the last two seasons, Better Call Saul has done a phenomenal job of honoring the flagship series' continuity while not enslaving itself to it. This has allowed the drama to feel like an extension of the world we know, while also standing firmly on its own.
That said, we already know that more fan-favorite characters are going to continue popping up in Better Call Saul soon. With Gus Fring set to debut this season, it's only a matter of time before more classic characters from Better Call Saul's predecessor begin showing up with more frequency. On that note, we have taken it upon ourselves to compile a list of Breaking Bad characters that we want to see come in future episodes of Saul. We have quite a few examples to get to, so let's get started with two of Saul's most trusted workers.
Huell Babineaux & Patrick Kuby
The first entry on our list is actually a package deal of Breaking Bad standouts. Saul Goodman has never really been known as a guy who likes to get his hands dirty as a criminal mastermind (and we are using that term generously), but he has always needed people to go out and do that dirty work for him. That is where Huell and Kuby come in. These two knuckleheads were Saul's loyal security guards, investigators, enforcers, general laborers and more during the events of Breaking Bad, and we are absolutely dying to figure out how they came to be such loyal employees of everyone's favorite criminal lawyer.
Wendy
For a show about the meth trade, Breaking Bad oddly steered away from showing too many characters who embodied the dark consequences of drug addiction on the streets of Albuquerque. That said, one of the few street-level characters that could easily make the time-reversing transition to Better Call Saul is Jesse Pinkman's favorite prostitute, Wendy. Wendy always seemed to have her ear to the ground and showed off a critical understanding of everything going on during her tenure on Breaking Bad, and that type of information could become incredibly useful for guys like Jimmy McGill and Mike Ehrmantraut as these two become more entrenched in their criminal enterprise.
Don Eladio
It's clear that Season 3 of Better Call Saul will take place during Gus Fring's rise to power, which means that a conflict with the Mexican cartel is inevitable. Although Hector Salamanca is the main villain in the Albuquerque territory, another bad guy who deserves to pop up once again is Don Eladio -- the man responsible for sending Gus down his dark pollos-cloaked path. Breaking Bad's storyline implies that Gus and Don Eladio had not seen each other in between their first fateful encounter and their last meeting, but a key appearance by this short-lived character would intriguingly fill in this aspect of the Breaking Bad universe's mythology.
Hank Schrader & Steve Gomez
Although an appearance by Walter White in the central Better Call Saul storyline would admittedly feel a bit ridiculous this early on, there's no real reason why his DEA-employed brother-in-law cannot show up. Hank Schrader and Steve Gomez were always portrayed as good cops who knew how to work a case during their time on Breaking Bad, and the drug trade in Albuquerque existed before Heisenberg showed up on the scene. If Saul, Mike, and Gus are about to delve into some dark criminal territory, the possibility of Agent Schrader and Agent Gomez knocking on their doors isn't entirely off of the table.
Ed
Ed was a man whose services Saul never really wanted to purchase, but Walter White (troublesome boss that he was) pretty much forced it. A vacuum cleaner repairman by day, Robert Forster's Ed developed a reputation as a "Disappearer" who could get people out of nasty situations and into new lives with minimal questions asked. Although Saul did not need to go down this road until the end of his time in New Mexico, it's clear that Saul acquired and kept Ed's information for years, and we want to see how these two aiders and abettors met each other, as well as whether or not Ed will somehow show up in Jimmy's distant future.
Badger & Skinny Pete
Badger and Skinny Pete became iconic among Breaking Bad fans as two of the best comic relief characters in this entire fictional universe -- behind Jimmy/Saul, of course -- and we want to see more of that. They don't need to be central to the main plot of any story; we simply want to see them show up (high out of their minds) talking about more fake scripts for Star Trek episodes, as well as the basic physics of teleporting pies out of stomachs. Better Call Saul is arguably even funnier than Breaking Bad, so they will fit right in with the overall tone of the spin-off series.
Victor
Gus Fring has a pretty strict vetting process for employing thugs in his criminal underworld, and it's clear that he's going to need more than Mike to turn his operation into an empire. One such thug is Victor -- the guy who "flew too close to the sun" and had his throat slashed by Fring during the events of Breaking Bad. Despite their eventual falling out, it's clear that Victor had been in Gus' employ for quite some time, and we're incredibly intrigued by the prospect of seeing how these two men came together in the first place. Let's just hope no box cutters are involved.
Jesse Pinkman
If there is one particular Breaking Bad character who definitively deserves closure after being put through hell by Walter White's reign of terror, it has to be Jesse Pinkman. The original series implies a happy ending for the former meth cook as he drives away into the night, but there is a ton of untold story there that could be mined for some solid drama. Where does Jesse go after Walter frees him? Does he meet up with "Gene" at the Nebraska Cinnabon for some midday treats? What has happened to Brock now that his mother is dead? We need answers to these questions, and only Better Call Saul can give them now.
Of course, that's just our take on the matter. Who do you want to see return to the Breaking Bad universe during this season of Better Call Saul? Let us know in the comments below, and make sure to check out the premiere of Jimmy McGill's latest exploits with Better Call Saul Season 3, which airs tonight at 10 p.m. EST on AMC.
Originally from Connecticut, Conner grew up in San Diego and graduated from Chapman University in 2014. He now lives in Los Angeles working in and around the entertainment industry and can mostly be found binging horror movies and chugging coffee.
Your Daily Blend of Entertainment News
Thank you for signing up to CinemaBlend. You will receive a verification email shortly.
There was a problem. Please refresh the page and try again.