Watch A Local News Team Celebrate Star Wars Day With An Epic Lightsaber Battle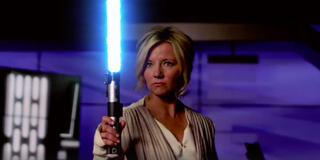 May 4 is the one day per year when Star fans Wars really get to let their Force flag fly openly without fear of judgment. May the Fourth is Star Wars Day, and on Star Wars Day, we celebrate all things Star Wars. One local news team in Denver decided to embrace their inner Star Wars fans with a celebration that is nothing short of epic. Take a look!
A few hours ago in a news studio not so far, far away, the Denver7 team got together and produced a lightsaber battle of good vs. evil -- or at least, anchor vs. traffic guy -- that took them all throughout the galaxy of office space. Lisa Hidalgo was clearly standing for the light side with her blue lightsaber and light-colored outfit, whereas Jayson Luber was obviously channeling the dark side with his all-black ensemble and red lightsaber. After all, we know now why some lightsabers turn out to be red, and it's not for a good reason. Who would have guessed that we would get Duel of the Fates, part deux, courtesy of a Denver news team?
In all seriousness, I have to give kudos crew to Denver7 for the choreography and production value that were impressive... most impressive. Lisa Hidalgo and Jayson Luber went all out, and the background extras deserve credit as well. I'm not sure if I could keep a straight face if two of my colleagues were having an epic Star Wars-esque duel through the offices, and the clip wouldn't have been nearly as funny without the short break in the action for the two rivals to exchange elevator pleasantries with a bystander.
My favorite part of the video has to be when the production value drops down to Lisa Hidalgo and Jayson Luber simply battling with toy lightsabers, because who wouldn't imagine an epic battle when playing with toy lightsabers? I did also love the tag when the stormtrooper entered the elevator, if only because I took one look at him and thought "Aren't you a little short for a stormtrooper?" The news team clearly had a lot of fun putting their video together, and considering that it has already been viewed more than 100 thousand times after only eight hours on Facebook, I'd say plenty of us have had fun watching as well.
We here at CinemaBlend are celebrating Star Wars Day in our own ways. Although we sadly did not stage an epic lightsaber battle that pitted TV vs. Movies, we do have a list of 6 Star Wars TV shows that should rise up when Star Wars Rebels is done, and a breakdown of 6 valuable life lessons all kids should learn from Star Wars, so be sure to check them out! While you're at it, don't forget to take a look at our summer TV premiere schedule to discover all your viewing options now and in the coming weeks, and drop by our rundowns for cable/streaming and broadcast TV renewals and cancellations as well.
Resident of One Chicago, Bachelor Nation, and Cleveland. Has opinions about crossovers, Star Wars, and superheroes. Will not time travel.
Your Daily Blend of Entertainment News
Thank you for signing up to CinemaBlend. You will receive a verification email shortly.
There was a problem. Please refresh the page and try again.