The 15 Best Comedies On TV Right Now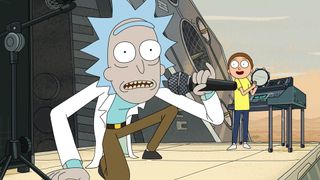 The phrase "Golden Age of Television" has been thrown around consistently over the course of the last decade or two. With shows like Mad Men, Breaking Bad, and The Sopranos paving the way for hard-hitting dramatic narratives to take over the small screen, TV has never been more prestigious. That said, there's an argument to be made that few series have risen up to replace these long gone "golden age" series in the world of drama. However, there's no need to fret just yet.
TV dramas' heyday may have come to an end, but that leaves us free to bask in the heat of The Golden Age of TV Comedy. With that in mind, we have gone through the current television landscape and pulled out the 15 best series that showcase how far small screen comedies have come over the years. On that note, let's start this list with one of the most groundbreaking animated series in recent memory.
Archer
Adam Reed's Archer has shown a level of flexibility that's almost unheard of in the realm of animated comedies. Formerly little more than a James Bond spoof with jokes to spare, Archer (if not its swilling titular character) evolves considerably with each passing season, and has never shown any fear with regards to completely upending its own premise for the sake of trying something different or exciting. Beyond that, the show's writing remains razor sharp, and long-running jokes still continue to pay off after eight seasons, so if Adam Reed has another eight in him, we'll gobble it all up. Phrasing!
Rick and Morty
All of the comedies on this list are great, but Rick and Morty stands out for the way in which it has become an absolute pop culture phenomenon in its two short seasons on the air. Dan Harmon and Justin Roiland's Adult Swim genre-masher has found a perfect synergy by combining tried and true science fiction tropes with existential nihilism, and what started as a liquored-up parody of Back to the Future has (d)evolved into something that (in all honesty) shouldn't have the broad schwifty appeal that it has achieved.
Catastrophe
Let's make one thing clear: not every great comedy that airs in America comes from America. There has always been great small screen entertainment being made across the pond, and easily one of the best imports of late is Catastrophe. It centers on co-creators Rob Delaney and Sharon Horgan's characters contending with an unexpected pregnancy following a one-night-stand, and the Amazon Original has received rave reviews since its debut in 2015, and it's turned into one of the streaming platform's best comedies -- which is saying something when we consider the rest of Amazon's content. (Plus, Carrie Fisher!)
It's Always Sunny In Philadelphia
If Archer has become a better series for its ability to evolve and change over time, then It's Always Sunny In Philadelphia has become a modern classic for the exact opposite reason. The FXX sitcom is closing in on the record for the longest-running live-action comedy of all time, and the core DNA of the series has remained relatively unchanged since it first premiered back in 2005. That consistency is unheard of in pop culture, and It's Always Sunny continues to deliver again and again. Hiatus be damned.
Veep
Even if Veep was not the show that definitively helped Julia Louis-Dreyfus escape the dreaded "Seinfeld Curse," the endlessly vulgar HBO political satire would still go down in the annals of comedy history. Earning more Emmys than a single person could ever physically hold, the biting series has consistently delivered over the course of its (mostly) six seasons on the air, and its particular brand of fault-highlighting comedy only gets sharper as political humor becomes more and more relevant in our current media landscape.
Horace and Pete
Of all the entries on this list, Louis C.K.'s surprise series Horace and Pete stretches the idea of what even constitutes "television" the farthest. Independently funded, created, and distributed by the iconic stand-up comedian, the dark and dreary take on the Norman Lear sitcom formula is a complete experiment in how to manipulate the format, and it's all channeled through Louis C.K.'s trademark cynicism in a way that feels equally theatrical and honest. Horace and Pete is a rare show by several values, and it's worth seeking out.
Master of None
Aziz Ansari's Master of None has become one of those rare comedies that have managed to elevate itself to the status of high art. Channeling the best of Woody Allen and its co-creators' ideals, Master of None is a full-bodied comedy viewing experience. It's completely unafraid to try new and innovative things episode after episode -- such as letting one-third of an episode play in silence as it follows the story of a deaf girl, or recreating Vittorio de Sica's The Bicycle Thief in black and white.
Broad City
Arguably none of the comedies on this list speaks to the millennial audience more than Broad City. Equal parts Girls and Workaholics, the Comedy Central sitcom has managed to create an eclectic and absurd depiction of New York City that still manages to feel overwhelmingly grounded within the never-ending friendship of yas kweens Abbi Jacobson and Ilana Glazer. The series has served as a springboard for both of these actresses, but it still manages to deliver as their stars continue to rise above all the weed smoke.
Atlanta
If you are in the market for an absurd combination of grounded and gritty human drama and David Lynch- esque surrealism, as scored by Migos and Sam Cooke, then Donald Glover's Atlanta will feel right up your alley. The Emmy-winning series offers an unflinching and colorful look into the lives of Atlanta's struggling lower class, while also feeling like it plays out in an entirely higher plain of existence. The focus and format changes from episode to episode and each narrative is exponentially weirder than the one that preceded it.
Crazy Ex-Girlfriend
Crazy Ex-Girlfriend has fought tooth and nail to maintain consistent ratings since it debuted on The CW in 2015. That is nothing short of deserving a funeral dirge spoof, because Rachel Bloom's musical comedy has handily turned into one of the most clever and unpredictable romantic comedy series on TV. Much of this has to do with Bloom herself, as the wise-beyond-her-years actress throws herself into each and every scene with an intensity and manic energy not seen since the heyday of a comedic icon like Lucille Ball.
BoJack Horseman
BoJack Horseman, in many ways, stems from the same school of thought as Rick and Morty for the way in which it balances its colorful animation style and lighthearted sense of fun with downright depressing themes that are all too real. However, the substance-abusing Netflix comedy also manages to stand apart for its ability to skewer the Hollywood/Los Angeles landscape in ways that HBO's Entourage could've only dreamed of. What other show can make the entire film industry AND three kids stacked in a trenchcoat (pretending to be an adult) equally hilarious?
Silicon Valley
In our current device-obsessed times, there quite literally might be nothing more ripe for satire than the tech bros of Northern California. The browbeaten brainchild of Office Space's Mike Judge, Silicon Valley has handily become one of the most enjoyable HBO series since its premiere in 2014. The series' ensemble is damn near perfect -- T.J. Miller and Jimmy O Yang are priceless together -- and the Seinfeld-esque plotting and character development has quickly turned Silicon Valley into one of the most quotable and attention-grabbing comedies on TV.
The Mick
It has become increasingly difficult to find high-quality comedies on network television, as the small screen landscape continues to provide new outlets for different creatives. That said, a unique gem such as The Mick occasionally rises from piles of wine bottles. The freshman series has become a modest hit for Fox since its debut this year, thanks in large part to a killer cast led by Kaitlin Olsen's ability to channel and surpass the energy she brings to Sweet Dee on It's Always Sunny. (Fitting fact: Creators Dave and John Chermin were Always Sunny writers.)
The Eric Andre Show
An acid trip of a TV series, The Eric Andre Show is the type of comedy that necessarily only comes around once a generation. Equal parts Jackass, The Tom Green Show, and "Johnny Carson after swallowing way too many psilocybin mushrooms," the Adult Swim talk series is a masterclass in awkward, alternative humor, with its titular host ambushing his B and C-list celebrity guests with some of the most innovative and gut-busting pranks imaginable. Throw in a deadpan Hannibal Burress as sidekick, and you have a recipe for magic.
Unbreakable Kimmy Schmidt
In many ways a spiritual successor to 30 Rock, Tina Fey and Robert Carlock's Unbreakable Kimmy Schmidt proves that the SNL alums still know how to craft a hilarious comedy landscape even without Fey in the cast. Centering on a wide-eyed young woman eager to live life to the fullest after being freed from an underground bunker, Kimmy Schmidt quickly established itself one of the best original comedies on Netflix in its two short and joke-stuffed seasons on the streaming platform -- with the highly anticipated third season debuting this month.
What's your current favorite small screen comedy? Let us know below! Beyond that, we still have plenty of summer TV debuts on the horizon, so make sure to check out our summer TV premiere guide and fill out your television viewing calendars accordingly!
This poll is no longer available.
Originally from Connecticut, Conner grew up in San Diego and graduated from Chapman University in 2014. He now lives in Los Angeles working in and around the entertainment industry and can mostly be found binging horror movies and chugging coffee.