The 5 Biggest And Best Moments From Marvel's Inhumans' First Trailer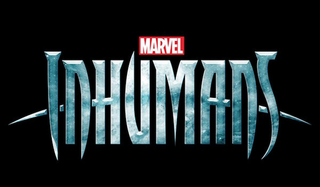 After so many weeks of fan-filled waiting, the trailer for Marvel's Inhumans finally debuted, and it is absolutely awesome. We couldn't be more excited (or IN-thused) about it, and here are 5 of the big trailer's best moments that got us extremely pumped for this new and unique ABC series.
Lockjaw's Introduction
The first superpowered doggy of the Marvel universe has been revealed, and he is just adorable! This 2,000-pound super-puppy had some hype prior to the trailer, and some questioned just how realistic Marvel could make the Kree-modified and teleportation-friendly dog look. Apparently, the answer is "pretty damn realistic," as this lovable ball of fluff could pass for a real dog. It looks like having that on-set CGI guy paid off! Lockjaw jumps to the aide of Black Bolt just before the non-canine leader uses his booming voice to blow his brother (and possibly everyone) to smithereens. Even if Marvel's Inhumans is a big steaming pile of garbage, which is highly improbable, Lockjaw would still likely live on through merchandise and cute factor alone.
Maximus' Speech
Iwan Rheon is a fantastic actor, but he's on a whole other level when he plays The Villain. Rheon killed it as Ramsay Bolton in Game Of Thrones, and if this speech in the trailer is any indication, he'll kill it again as Maximus in Marvel's Inhumans. What really elevates Rheon here is that his words don't come out like your typical villain. In fact, if you were someone who's been a refugee struggling to live life away from your home world, what Maximus is saying doesn't sound bad or evil at all. The malice clouded within righteous leadership, which itself feels roughly Game of Thrones-ian, gave me chills and makes me very excited to see what Maximus' true plan is when he arrives on Earth.
Anson Mount's Faces
When Anson Mount signed on for the role of the mostly silent Black Bolt, Marvel's Jeph Loeb remarked that the actor's regal look and facial expressions really sold him as the character. Indeed, Mount looks every bit the part of ruler in the trailer, and he does it without a cape and scepter. Mount's face goes through a variety of emotions in the trailer, but not so much that he was cartoon-like. Overreaction would be a detriment to the character of Black Bolt, and being in control (as to not let his voice slip out) is vital to the safety of those around them. It's challenging to carry a lead role with minimal dialogue, and this trailer gives us hope that Mount can pull that off for an entire season.
First Look At Crystal And Triton
Two of the more interesting-looking Inhumans are seen rather briefly in the trailer, but their presence was felt nonetheless. Crystal lost the red hair in her transition from comics to television, but that black streak remains, and it looks more natural in this interpretation than in past incarnations. Crystal's ability to control the elements was not seen, unfortunately, so hopefully they're saving a lot of that action for when Marvel's Inhumans premieres. On the flip side, Triton appears somewhat like a rumbling fish out of water in our brief look, but all that surrounding rain should allow him to breathe if his specialized suit is not available. Look for Triton to really shine when the Hawaii setting takes him into the ocean, but he's no slouch on land either.
Gorgon's Hoof Stomp
This may not have been immediately apparent from the trailer, but Marvel's Inhumans Gorgon has the legs of a bull. Bull-like is wholly more accurate, as it would be difficult to create a shockwave of that magnitude with the tiny little non-superpowered hooves bulls typically have. Using his massive strength, Gorgon can stomp his feet and make it appear as though a hefty earthquake is rocking the world around him. Those unlucky gun-wielding fellows looking to take him down are likely human, and being imprisoned by humankind has not played out too well for Gorgon in the comics. So for his sake and ours, let's hope that he's allowed to evade capture for as long as possible.
What moments did we miss? Share your favorite moment form Marvel's Inhumans trailer in the comments and be sure to catch the first two episodes of the superhero series when they run for two weeks in IMAX beginning September 1st. The series will then premiere on ABC in full beginning on Friday, September 29th. Wind down the wait for this awesome series by visiting our summer premiere guide and checking out all the awesome shows premiering every day.
Mick likes good television, but also reality television. He grew up on Star Wars, DC, Marvel, and pro wrestling and loves to discuss and dissect most of it. He's been writing online for over a decade and never dreamed he'd be in the position he is today.
Your Daily Blend of Entertainment News
Thank you for signing up to CinemaBlend. You will receive a verification email shortly.
There was a problem. Please refresh the page and try again.