The Jetsons May Get A Live-Action Remake, Get The Details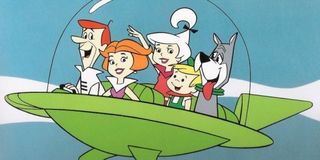 TV nowadays is filled with all manner of remakes, reboots, and revivals that make all that was old new again. Some remakes have been quite successful, while others... not so much. Now, a new remake is in the works that will be putting a huge twist on the original. A remake of the classic 1960s animated series The Jetsons is currently in the works, and it will bring the Jetson family to live action on the small screen.
A live-action version of The Jetsons is currently in the very early stages of development. Warner Bros. is looking to introduce viewers to a new version of the classic Jetsons characters. The series would be a multi-camera sitcom starring actors on screen rather than lending their voices in a studio. TVLine reports that Warner Bros. has hired Family Guy executive producer Gary Janetti to work on producing the project.
No network has yet been attached to the potential remake. Warner Bros. will reportedly start shopping the sitcom around to networks -- both broadcast and cable -- in the not-too-distant future. Gary Janetti would serve as an executive producer, along with Robert Zemeckis and Jack Rapke. Zemeckis is best known on the small screen for his work on Tales from the Crypt, with Rapke bringing his experience as executive producer of The Borgias.
The Jetsons was a staple of American television for years as a show about a typical suburban family... living in the year 2062 with flying cars, wondrous technologies, and a robot maid named Rosie. George and Jane Jetson raise their kids, Judy and Elroy. Judy is a teenage girl who loves clothes, boys, and confiding in her diary. Elroy is an intelligent young boy with a mind for science and a love for the family dog, Astro. The remake would also be set 100 years in the future, which is probably a good thing. Something tells me we aren't going to have flying cars the likes of which appeared in the original Jetsons in the next 45 years, and a Roomba is still a far cry from Rosie.
Interestingly, there were rumors back in 2012 of a live-action Jetsons movie with Kanye West on board as a creative director. Nothing ever came of that project, but there has been an animated Jetsons movie in the works for a while. Even if the movie and show somehow debut around the same time, we can be pretty confident that they'll be separate entities.
I have to wonder who could possibly play characters like George, Jane, Judy, and Elroy on the small screen. These are iconic characters of the small screen, but there are no other live-action actors to invite comparison. I'm not sure that I ever needed a live-action Jetsons remake, but stranger things have happened on television. I can't be the only one who still remembers the puppy-monkey-baby.
Stay tuned to CinemaBlend for the latest in TV remake news, and swing by our summer TV guide to see what you can watch these days.
Resident of One Chicago, Bachelor Nation, and Cleveland. Has opinions about crossovers, Star Wars, and superheroes. Will not time travel.
Your Daily Blend of Entertainment News
Thank you for signing up to CinemaBlend. You will receive a verification email shortly.
There was a problem. Please refresh the page and try again.