Arrow Season 6 May Bring One Awesome Comic Villain To TV For The First Time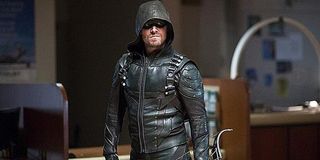 Arrow is poised to enter a brand new era when it returns for Season 6, and we can bet that the brand new era is going to introduce some brand new bad guys. The Season 5 finale actually ended on the deaths of several of Oliver's recurring villains, including the big bad. The CW hasn't yet announced the identity of the new big bad for the sixth season, but we may now know of one bad guy who will make his debut in a few short months. The DC Comics villain by the name of Ricardo Diaz may well appear in the new season this fall.
According to what Bleeding Cool describes as a casting announcement, Arrow is looking for a male in his 30s or 40s of diverse ethnicity to play Ricardo Diaz. He's a hardened ex-con who spent time in prison after being convicted for crimes he didn't commit. After receiving $25 million in settlement money, Ricardo moves to seize control over the underworld of Star City. An expert martial artist due to his years on the street and then in prison, he'll be a formidable fighter on top of everything else. The actor would be a fractional series regular.
Ricardo Diaz is a significant villain for the Green Arrow in the New 52 era of DC Comics. After the death of his drug lord father, Ricardo traveled the world and trained under a man known as Richard Dragon to transform his body into a weapon. When Richard Dragon tried to teach the value of compassion, Ricardo murdered him and took the Richard Dragon name for himself. Believing that the Green Arrow had murdered his father --- which is an Arrow plot we've seen before --- he sought revenge on Green Arrow. He placed a bounty on Oliver's head -- which an Arrow version would be able to do with his $25 million -- and teamed up with villains like Danny Brickwell and Killer Moth to try and take him down.
All things considered, Ricardo Diaz/Richard Dragon could be a pretty great Arrow villain. Arrow tends to handle non-superpowered villains better than superpowered villains, and Richard Dragon would fit the bill. Additionally, some of Dragon's comic cohorts have already appeared on Arrow, and others could definitely pop up in the new season. That said, I could definitely do without Killer Moth, and not just because he's best known as a Batman/Batgirl villain. Killer Moth is just a bit... goofy for Arrow. If he appears on a CW superhero series, let it be on The Flash or Supergirl.
All of this said, the casting announcement has not been confirmed by either The CW or Warner Brothers, so we can't verify that Arrow really is looking for the perfect person to play Ricardo Diaz in Season 6. Filming has already commenced for Season 6, and it's difficult to imagine that Arrow still hasn't cast its big bad for the year. My fingers are still crossed that we're getting a certain female DC character for the supervillain of the year. Still, we can't rule Richard Dragon out. We'll have to wait and see.
Arrow will return to The CW on a new night this fall. Check out our summer TV schedule for what you can watch in the meantime, and don't forget to explore our breakdown of what we know so far about Arrow Season 6.
Resident of One Chicago, Bachelor Nation, and Cleveland. Has opinions about crossovers, Star Wars, and superheroes. Will not time travel.
Your Daily Blend of Entertainment News
Thank you for signing up to CinemaBlend. You will receive a verification email shortly.
There was a problem. Please refresh the page and try again.