10 Worst Netflix Original Series, According To Rotten Tomatoes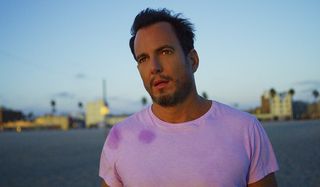 Netflix gets a lot of love and acclaim for its original programming, but it's released a fair amount of stinkers in the eyes of critics. Excluding children's shows and a couple shows that haven't gotten enough attention stateside to get reviewed, here are the top 10 worst Netflix shows, as rated by critics on Rotten Tomatoes.
10. Flaked
While Will Arnett's other Netflix shows, BoJack Horseman and Arrested Development, rank on the high side of Netflix originals, Flaked sits with a 42% aggregate score on the Rotten Tomatoes critic list. While the series received a relatively positive reception from audiences (84%), critics say the series is dull and pointless and not representative of an effort that includes Arrested Development creator Mitch Hurwitz. With both Hurwitz and Arnett heavily intertwined in Netflix projects, it seems like a Season 3 of the series could still happen -- critics be damned -- although the status of the series is still pending at the time of this writing.
9. Hemlock Grove
The oldest original series on the list, marking one of the first times Netflix basically struck out with critics in its quest to provide original content. Season 1 is the worst rated of the three, and had Netflix not given the greenlight for Season 2, which managed to raise the overall rating of the series to 38%, this title would be far lower on the list. Reasons for critical disinterest range from poor acting to an all-around baffling storyline, but the overall consensus is that the show was overall a genre-infused mess in its first season, and that's always hard to bounce back from.
8. Girlboss
There were no mincing words when it came to the cancellation of Girlboss, as critics who shaded the series all seemed to focus on its main character, Sophia. This doesn't appear to be the fault of actress Britt Robertson, however, but rather the actual person on which whom the series is based, Sophia Amoruso. Some critics would say that while the series itself had some good moments, Amoruso's character was the worst part of the whole deal, which is a pretty rough thing to overcome when the character's rise to prominence is the crux of the plot. Given that, Girlboss achieved a 32% critical rating, and its walking papers from Netflix came not long after its launch.
7. Fuller House
The critical ratings behind Fuller House are a little off, as only Season 1 has a full rating, but "Oh, Mylanta," it is not good for that season, which netted a 32% from critics who complained the show format had grown stale for modern television, while others claimed the series was meaningless nostalgia. Honestly, no amount of bad reviews or a dwindling viewership is gonna stop this train rolling, as this show is chugging along to Season 3. Maybe another dip in viewership for Season 3 will prompt Netflix to reconsider its future, as it will likely take something drastic like that for the streaming service to "have mercy," on critics by putting this show down.
6. Chelsea
With 114 episodes to date, Chelsea is one of Netflix's most prolific shows. Unfortunately for both Netflix and comedian Chelsea Handler, the talk show hasn't gotten a ton of positive recognition, as the show's critical score peaks at 27%. In all fairness, a majority of the reviews done were published within the first week of its airing, and with shake ups behind the scenes coming not long after that, it might not have gotten a fair deal. The chat series switched to a longer runtime and new locations for Season 2, so anyone who might have initially been turned off by the series might want to pop a newer episode on to see if the alterations were enough to improve things.
5. Gypsy
A recent drop by Netflix, Gypsy managed to rise and fall in the span of a couple months. The time between the first trailer and the series cancellation was about two months, and it took Netflix less than a month and a half after Gypsy's premiere to drop the ax. Part of this might have something to do with how much Netflix was paying Naomi Watts to play the sexually-charged and issue-plagued therapist, as well as the fact that it currently has a 25% critical rating. Watts' fans should be pleased that few were critical of her specific performance, although many found the general story surrounding her character to be pretty boring.
4. Friends From College
One of Netflix's newest offerings showing up on this list, Friends From College has seen some relatively harsh criticisms. Many of the ratings that comprise this 24% cumulative score cite that, despite the series featuring an all-star cast of Keegan-Michael Key, Cobie Smulders, Fred Savage and others, they aren't really used for what their natural comedic talents. Another big complaint has been that all of these characters are "friends," although as they continue to associate and ruin each other's lives, it really makes one wonder exactly why the friends label still applies. Not all reviews are bad for this series, as ours is rather positive, and audience reviews sit at a respectable 72%.
3. Marco Polo
While technically tied at 24% with Friends From College, Marco Polo gets the bump up due to its polarizing status and multiple seasons. While less than a hit with critics, the series has a whopping 93% for an audience approval rating with over 2,000 ratings. (Just as a frame of reference, that's a higher audience approval percentage than that of Master Of None, which has a perfect critical review on both of its seasons.) Fans who loved Marco Polo likened the drama and historical setting to Game Of Thrones, while some critics would do the same and note the series fell well below the excitement bar GoT has set. Regardless of who is right, the critics won out, as the series was canceled before Season 3.
2. Between
While the show is titled Between, the ratings of critics are far from middle ground, and this Canadian teen drama netted a 22% critical rating. Jennette McCurdy plays a pregnant ministers daughter in a world where everyone over the age of 21 has been wiped away by a mysterious disease, and in addition to criticisms pointing to poor performances, most critics commented that the series is just flat-out boring and does little in the way of adding ingenuity to the typical post-apocalyptic story. Regardless, the series has managed to see a Season 2 and is pending for Season 3, although it seems less likely to return after its year-and-then-some absence.
1. Iron Fist
Unlike it's Marvel peers, which all have scores in the mid-to-high 90th percentile, Iron Fist has the worst critical reception aggregate score of any Netflix show at 17%. While the series' critical lashing is leaps and bounds away from other Marvel shows, Iron Fist is only one percent lower than Luke Cage among audiences, earning a 78% approval rating. With Season 2 already confirmed, it seems like Danny Rand's greatest superpower is survival in numbers, as he's already already earned more positive opinions for The Defenders, and even if critics were bored with the show in general, Iron Fist reportedly had a huge watch rate, so it's not wrapping up at Netflix anytime soon.
Shocked and chagrined by everything? Be sure to hit up the next page for a radically different bonus list based entirely on Rotten Tomatoes' audience ratings and reactions.
Bonus: Top 10 Worst Netflix Shows Audience Ratings
Because critics aren't the only people that are actually watching everything that Netflix puts out there, we thought we'd also note what shows audiences weren't wholeheartedly into. Some surprising entries here, too.
##
Do the critics have it right? Did the audience members do a better job? Those who disagree with the list may state their case in the comments. For more great television that will undoubtedly be scrutinized by people like us, visit our summer premiere guide and fall premiere guide.
Mick likes good television, but also reality television. He grew up on Star Wars, DC, Marvel, and pro wrestling and loves to discuss and dissect most of it. He's been writing online for over a decade and never dreamed he'd be in the position he is today.
Your Daily Blend of Entertainment News
Thank you for signing up to CinemaBlend. You will receive a verification email shortly.
There was a problem. Please refresh the page and try again.