The Big Way Game Of Thrones Has Affected The City Used As King's Landing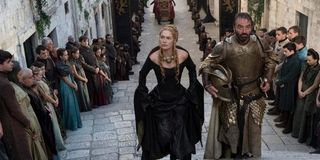 Game of Thrones has become a cultural phenomenon of a television show, and the scope has only gotten bigger and bigger with every passing season. The intense global popularity of the show has translated into fans attempting to follow in the footsteps of their favorite characters and visit the places from the show. While nobody will be able to visit a magical Wall of ice any time soon, folks have been able to visit the city of Dubrovnik in Croatia, which doubles as King's Landing. In fact, so many people have visited the old town that the mayor intends to put a cap on summer tourist traffic.
Dubrovnik, Croatia has served as the capital of Game of Thrones' Seven Kingdoms from the very beginning. The city has been a major tourist destination in the region for many years as an official World Heritage Sites with historical and cultural significance. The classification gives Dubrovnik protection by certain international treaties. Unfortunately, the throngs of Thrones fans who want to wander through the streets of King's Landing might be doing unintended damage to Dubrovnik. Telegraph Travel reports that Mayor Mato Frankovic intends to stop overcrowding in Dubrovnik before it's too late and the city loses its status as World Heritage Site.
This particular city is notable for its grand walls, known as the Walls of Dubrovnik, which date back to the Middle Ages. Heavy foot traffic from tourists risks permanent damage to the structures. UNESCO--that is, the United Nations Educational, Scientific and Cultural Organization--recommended to Mayor Frankovic that no more than 8,000 people per day should be allowed to walk the walls. Frankovic intends to go even further; he plans to cap tourist access to the wall at only 4,000 per day. Given that more than 10,000 people bought tickets to walk the walls in a single day in August 2016, Frankovic may meet serious resistance to his plan. Plans to reduce tourist access will unfold over the next two years.
The influx of Game of Thrones fans in Dubrovnik over the years has made for a big boost to the economy. Mayor Mato Frankovic acknowledges that his intended cap on tourists will cost the city money, but he believes they will "gain much more" as a "top quality destination." The first stage of reducing tourist overpopulation will involve stopping cruise ships from dropping hundreds of thousands of passengers in the area to explore. Another facet of the plan will involve imposing limits on day trips to the city run by tour operators.
Dubrovnik is primarily a tourist destination in the summer months, so Mato Frankovic doesn't need to worry about tourist overpopulation all year round. That said, film crews frequent Dubrovnik in the winter, and not just Game of Thrones. While Thrones' use of Dubrovnik is likely the most iconic (especially in scenes like Cersei's super expensive walk of shame), Star Wars and Robin Hood have filmed there as well. We'll have to wait and see if Frankovic has any plans to limit how movies and shows can be filmed. Assuming King's Landing isn't consumed by any of Cersei's wildfire or burnt to ash by one of Dany's remaining dragons, Dubrovnik probably has at least one more season of Game of Thrones in its future.
King's Landing will be the site of a big meeting in this Sunday's Game of Thrones Season 7 finale, so be sure to tune in at 9 p.m. ET on HBO. Don't forget to take a look at our fall TV premiere guide as well.
Resident of One Chicago, Bachelor Nation, and Cleveland. Has opinions about crossovers, Star Wars, and superheroes. Will not time travel.
Your Daily Blend of Entertainment News
Thank you for signing up to CinemaBlend. You will receive a verification email shortly.
There was a problem. Please refresh the page and try again.