This How I Met Your Mother Fan Theory Has Fans Rethinking The Entire Series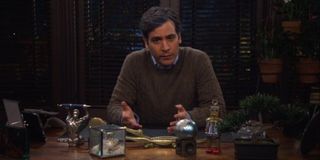 Over the course of its nine-season run, How I Met Your Mother played with traditional sitcom structures in interesting ways. Perhaps most notable was its narration from future Ted Mosby, whom we later discovered was trying to earn his kids' approval to win Robin back after the titular Mother's death. Infuriating finale or not, it was a unique take on a well-worn concept, and now a new fan theory has suggested that Ted was being an unreliable narrator all that time, meaning perpetual womanizer Barney Stinson might not have been the pig he was made out to be. Let's talk this out.
Here's how the theory lays things out: because Ted Mosby spent all of How I Met Your Mother relaying his version of events to his kids in 2030, everything seen on the show must be taken with a grain of salt. As a result, Ted's version of Barney was an exaggerated caricature of the "real" Barney Stinson, who may have exhibited some of those traits, but actually wasn't the arrogant, womanizing, laser tag-obsessed douche portrayed by Neil Patrick Harris. Because Ted, Barney, and Robin regularly found themselves in a love triangle through many of the show's storylines, Ted intentionally framed Barney in a negative light so he could get the blessing from his kids to pursue another relationship with Robin after her and Barney's divorce. Interesting, right?
This theory arguably makes more sense when we juxtapose Barney with the rest of the How I Met Your Mother gang. While most of the other characters in the group were relatively grounded in reality, Barney's characterization and actions always felt more cartoonish in nature. From his innumerable catchphrases to his legen-wait for it-dary skills with women, he's definitely the friend who seems the most exaggerated within Ted's stories of those good ol' days.
This How I Met Your Mother theory, posited on Tumblr, makes even more sense when we look at the precedent established by the long-running sitcom. Throughout the show's run, Ted was consistently portrayed as an unreliable narrator in other ways. Whether it was the omission of names for minor characters (replacing them with monikers like "Blah Blah" or "Honey"), or the erroneous birthday tied to the goat incident on the How I Met Your Mother timeline, the show regularly played with the idea of subjectivity by filtering its story through Ted's version of events. For him to do the same with Barney all of way through the show would be a logical choice for him to make, especially when we consider his kid-convincing endgame.
After the somewhat polarizing final season and series finale -- opinions even shared by members of the cast -- this theory could very well continue to polarize fans. What do you think of this How I Met Your Mother fan theory? Do you think it makes sense? Does it change your opinions about Ted and Barney? Give us your take in the comments below, and take a look at CinemaBlend's fall TV premiere guide for more up-to-date information on all of the biggest small screen premieres -- such as Stranger Things Season 2 and The Walking Dead Season 8 -- over the next few months!
Your Daily Blend of Entertainment News
Originally from Connecticut, Conner grew up in San Diego and graduated from Chapman University in 2014. He now lives in Los Angeles working in and around the entertainment industry and can mostly be found binging horror movies and chugging coffee.