Marvel's Runaways First Look Shows Off The Heroes And Villains Of The New Series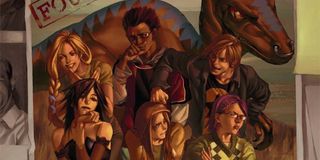 Superheroes are all the rage nowadays, and a whole group of teen heroes is on the way to the small screen in November. Marvel's Runaways promises to deliver characters with a variety of powers to oppose evildoers, but it won't be just another case of good guys vs. bad guys. No, for this group of young crimefighters, the bad guys will be none other than their parents. Hulu has released some sneak peek photos of what's in store with the new series, and they give a first good look at the young crimefighters and their nefarious parents. Let's start with the good guys:
In this photo, we see all six of the teen heroes congregated together in what looks like the dining room of a very big house. Starting from the left, we have Karolina Dean, who is a model with a big secret that sets her apart as less perfect than she lets on. Then, we have Nico Minoru, who possesses magical powers and favors a goth aesthetic in everyday life. Third in line is Alex Wilder, who becomes the group's leader and doesn't actually have any superpowers of his own, although he does have acute senses of both logic and guile.
Next, we have lacrosse player and teen hunk Chase Stein, who is actually a brilliant young man and tech genius despite sometimes giving the impression of a dumb jock. To the right of Chase is Gert Yorkes, a sarcastic cynic who will hopefully end up with a non-human pal by the name of Old Lace. Finally, there's Molly Hernandez, who gives off a sense of innocence but intends to be a part of everything with her group of friends, and things might get pretty weird. Now that we've seen the heroes, let's take a look at the villains:
We have Victor and Janet Stein. Victor is an engineer who seems to have all the answers, but he's quite strict when it comes to his son. Janet is brilliant as well, although much less content in her current life than her husband is, and she wants more. Then there are bioengineer spouses Dale and Stacey Yorkes. Dale is more talented with science than with people in real life, and Stacey has a wandering mind, which can be dangerous for somebody on the wrong side. Catherine and Geoffrey Wilder are there as well. Catherine is a lawyer known for her loyalty and her calculating streak, and she has some close mob ties. Geoffrey is strategic and domineering, which is a dangerous mix.
Leslie Dean is lovely in her white dress, and we can bet that she'd be willing to get her hands dirty if necessary to keep the big family secret. Her husband Frank isn't pictured, but he's surely around. Then, we have Tina Minoru, who is an accomplished CEO who got where she is because of her status as a very guarded perfectionist. She's standing (and probably up to no good) with her husband, Robert.
These photos give us something to go on as we wait and speculate about what's to come on Marvel's Runaways. If you're not entirely up on who will be playing all the characters, take a look at our list of the cast. The series won't premiere until Tuesday, November 21 on Hulu. To pass the time, take a look at our breakdown of what we know about the Runaways kids from the comics, and check out our fall TV premiere schedule.
Resident of One Chicago, Bachelor Nation, and Cleveland. Has opinions about crossovers, Star Wars, and superheroes. Will not time travel.
Your Daily Blend of Entertainment News
Thank you for signing up to CinemaBlend. You will receive a verification email shortly.
There was a problem. Please refresh the page and try again.